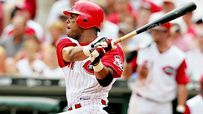 Barry Larkin won a silver medal in the 1984 Olympics.
Welcome to SportsNation! On Friday, we'll have baseball hall of famer, and ESPN MLB analyst, Barry Larkin, stopping by to chat about the MLB season and College World Series.
Larkin, @BLarkin_ESPN, a 12-time all-star, won the 1995 NL MVP and was a member of the 1990 Cincinnati Reds team that won the World Series.
Larkin played collegiately at Michigan, where his No. 16 is retired and this spring is working with the Capital One Cup. Teams compete to earn points based on the final standings and polls across 39 sports. The winners get the Capital One Cup trophy and $400,000 for student-athlete scholarships. Florida State men and UConn women currently lead the points standings, which were just updated last week with the winter sports season's results.
Send your questions now and join Larkin Thursday at 2 p.m. ET!
More Special Guests: Previous chats | SportsNation
Buzzmaster
(2:05 PM)
Barry is here!
John (Cleveland, OH)
Hi Barry, I wondered if there was any rivalry between the Indians and Reds when you played?
Barry Larkin
(2:06 PM)
Oh yeah. We played in interleague play. That was one of the games we always looked forward to at the time. We would play a home and home. It always proved to be a great series against Cleveland.
Nick (MN)
What's your take on instant replay a month into the season? I'm on both sides of the coin as it seems great on TV, however I think it hurt the flow of the game at the ballpark in person. I know it's still early, but could you see MLB still using this same system long term? 5, 10 or 20 years down the road?
Barry Larkin
(2:08 PM)
It's a work in progress. It will get better. I was happy to see them change the transfer rule. As the season plays on, instant replay will get to work itself out. I don't the process right now of the manager coming out and waiting for his bench coach to tell him to challenge it or not. I really miss the manager going out there and losing his mind at the umpire. I thought that was an entertaining part of the game. But I grew up with Bobby Cox and Lou Pineilla going out there and letting him have it.
Courtney (Arizona)
How will the College World Series affect the Capital One Cup race?
Barry Larkin
(2:10 PM)
Well, last year UCLA won it on the men's side. On the women's side, UNC won it. I am more aware of the college baseball side. Virginia, FSU, Oregon State are all near the top of the rankings. If any of them win the CWS title, they will get the 60 points in the standings. UConn, Stanford, Penn State, UCLA and Wisconsin are the top five in the women's Cup standings. The College World Series is an important part of the standings, because it's the final championship teams can win and get those 60 points.
Keanu (Honolulu)
Hi Barry, what do you think of Texas shortstop Elvis Andrus and do you think he can develop into one of the games best shortstops?
Barry Larkin
(2:12 PM)
I love him. I think that eventually he will start hitting for more power. I think him and Profar will be an incredible combination. I don't like the thickness of that beard he's wearing. That's for power hitters, us middle infielders have to stay nice and tight.
Mike P (Greater KC Metro)
As an overall baseball fan, should there be concern for teams like the Pirates, Reds, Rangers, Royals who were in the playoffs (or close to playoffs) last year and are off to slow starts and havent found what made them successful last year? Am i looking into too much or can i take the the Ditka approach and say your record is who you say you are?
Barry Larkin
(2:14 PM)
Yes, I think they should be concerned. However, teams like Milwaukee, who didn't make the playoffs are playing great. Colorado, too. Baseball is like that. There is always a concern, after a month of play, if you're not playing up to the level you expect. Pittsburgh had a lot of excitement last year. But look at what they lost in the offseason with Morneau, Byrd and Burnett. They weren't actively going out there and adding to the club. That's what you're dealing with when you have some smaller market teams that win. The larger market teams that win are going out there and bringing in talent. The smaller market teams can't always do that.
Casey (Loveland, OH)
Are you pleased with the job Brian Price has done so far, with the reds?
Barry Larkin
(2:15 PM)
I think he's done a very nice job. Unfortunately, he's had to deal with a lot of injuries. The team has been somewhat consistent. They're 3 games under .500, but based on what they've had and how they've had to deal with the injuries, they've done good. Giving Billy Hamilton a chance, I like. Having Joey Votto hit higher in the lineup. Jay Bruce batting fourth. I like it. He's done a marvelous job. I think he'll be good for them.
Jones (Florida State)
I see that Florida State is currently No. 1 in the Winter Standings and are having a strong spring season in baseball. Do you think they can win the CWS this Year? If they do, will they win the Capital One Cup?
Barry Larkin
(2:18 PM)
Absolute, they have a chance. UCLA was in the top 5 and they were able to beat Mississippi State to win the College World Series. Absolutely they can win it. FSU has a chance. The interesting thing about the College World Series is it's the last championship of the spring season. Last year, down to the wire, UCLA won bot the CWS and the Capital One Cup, which means for the third straight year, the winner of the Cup came down to the winner of the CWS.
Barry Larkin
(2:19 PM)
Follow the Capital One Cup standings on Facebook: Facebook.com/CapitalOneCup or on Twitter: @CapitalOneCup.
Buzzmaster
(2:19 PM)
Thanks for chatting Barry!