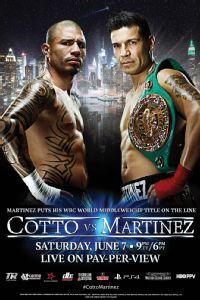 Welcome to SportsNation! On Monday, we're going inside the boxing ring when Miguel Cotto stops by to chat about his WBC middleweight title fight on June 7.
Cotto (38-4, 31 KO) takes on Sergio Martinez (51-2-2, 28 KO) for Martinez's WBC middleweight belt. The fight will be live from Madison Square Garden in New York City Saturday at 9 p.m. ET/6 p.m. PT on HBO PPV.
Cotto will be taking on ESPN.com's No. 1 ranked middleweight in his first fight of 2014 and his second since dropping two fights in 2012. Saturday's fight will be Cotto's first at middleweight.
Send your questions now and join Cotto Monday at noon ET!
More Special Guests: Previous chats | SportsNation
Buzzmaster
(12:01 PM)
Miguel is here!
matt (el campo)
What is one aspect of training camp with Freddie Roach that you are enjoying as far as a new exercise/sparring/training method?
Miguel Cotto
(12:02 PM)
The whole camp has been great. The people around me with Freddie. The whole camp has been great.
Krys Ramos [via mobile]
How are you Miguel, Sergio Martinez tends to fight with his hands down and fades with the later rounds. Is that something your going to exploit
Miguel Cotto
(12:03 PM)
Freddie made a really good plan. If we stick to it, we are going to do really well on June 7.
diego aviles [via mobile]
what's your experience like working with Freddie Roach, and also being in the Wild Card gym? How is this different from your past training camps?
Miguel Cotto
(12:04 PM)
Being able to train as hard as I can and be 100 percent.
Slater (West by God Virginia)
Cotto I'm a big fan of your career and I'm really looking forward to the fight. My question is whether you have changed your training habits to adjust for the jump up to middleweight, or are you not concerned with the size disadvantage?
Miguel Cotto
(12:04 PM)
It feels good. I drove myself to make weight. I feel good.
jay brock seymour indiana [via mobile]
i'am pulling for you saturday.do you think sergio being out for so long will play into your favor?
Miguel Cotto
(12:05 PM)
The training camp we had, we have no doubt, whether he is in great shape or whether he was out for a long time or not, we're going to win.
Tony tiger [via mobile]
What do you eat daily when your training for a fight ? And does your diet change when your not fighting ?
Miguel Cotto
(12:05 PM)
I just try to eat well and be better for myself.
Joaquin , from Aruba [via mobile]
Cotto , against Sergio what style do you gonna use : a more aggressive or more technical style of boxing. And do you think in 160 pounds your power and stamina are going to decrease ? Good luck Cotto , I'm a big fan.
Miguel Cotto
(12:06 PM)
We're going to follow the whole plan that Freddie made for us and follow the instruction the entire fight.
New Jersey [via mobile]
Are you working on your defense and speed?
Miguel Cotto
(12:06 PM)
We just follow the instructions for the training camp. We're ready for our fight on Saturday.
Ali (London)
Are you going for a decision or KO?
Miguel Cotto
(12:07 PM)
I'm going to take advantage of what we are given.
Miguel Cotto
(12:07 PM)
Thank you for your support on June 7. We will put on a good fight.