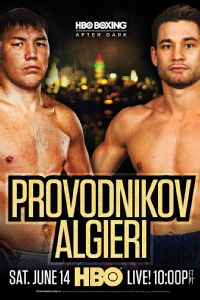 Welcome to SportsNation! On Thursday, we're going inside the boxing ring when Chris Algieri stops by to chat about his WBO junior welterweight title fight this weekend.
Algieri (19-0, 8 KO) takes on Ruslan Provodnikov (23-2, 16 KO) for Provodnikov's WBO junior welterweight belt. The Barclays Center in Brooklyn, N.Y. will host the fight Saturday as a part of HBO Boxing After Dark at 10 p.m. ET/PT.
Algieri, @ChrisAlgieri, fights for the second time in 2014, winning a 10-round decision over Emmanuel Taylor in February at The Paramount in his hometown of Huntington, N.Y. on Long Island. Algieri was a two-time world champion kickboxer before becoming a professional boxer.
Send your questions now and join Algieri Thursday at 11:30 a.m. ET!
More Special Guests: Previous chats | SportsNation
Buzzmaster
(11:31 AM)
Chris is here!
Evan (Houston)
What do you think the atmosphere will be like at the Barclays on Saturday?
Chris Algieri
(11:35 AM)
I think it will be electric. It will be a big crowd. A lot of energy in the air. I think it will be a pro-Algieri crowd, but I'm sure Ruslan will have his fans there too. Plus there is a great undercard. I think it will be a very energetic crowd.
Jeff (NYC)
You fight late at night, so what do you do the day of a fight to get yourself ready?
Chris Algieri
(11:36 AM)
Great question. You have to prepare for it. You don't generally box at midnight. I stay up late the night before. Sleep as late as I can. I do my normal routine, but I start it later. I take a solid, couple of hours of a nap in the afternoon.
Karl (Philly)
Many of your fights go the distance...is that planned? are you content to outbox your opponents?
Chris Algieri
(11:37 AM)
It's not necessarily the plan. I go out there and do what I do. I use my boxing skills. If the KO is there, I'll take it, but I'm ready for 12, 15, 18 rounds. We train hard and are ready for anything.
Erik (Denver)
You have a definite reach advantage in this fight...how will you use that against your opponent?
Chris Algieri
(11:38 AM)
I don't think Ruslan and other people realize how much bigger I will be until fight night. They'll realize when I get inside that I'm a stronger and more physical guy. They'll see that on fight night.
Ryan (ATL)
this is your first time fighting outside of The Paramount in a few years...what will it be like to not fight there this time?
Chris Algieri
(11:38 AM)
I'm actually excited to be fighting somewhere else. I've been asking to fight somewhere else for a while now, not because I don't like it there, but I want to expand and see other venues. I'm excited for it.
Nick (NYC)
How important is it for you to get that first boxing title?
Chris Algieri
(11:39 AM)
This is a dream come true. The excitement that is swelling around it, I haven't felt it yet, because I'm right in it. I can be excited about it on Sunday, after.
Peter (Dallas)
do you find that many of your kickboxing skills transfer to your boxing career?
Chris Algieri
(11:40 AM)
I think more than my skills, my experiences. Dealing with a one on one sport. Being the underdog or fighting in someone's backyard. Those types of scenarios have helped me prepare for this situation.
G (Battery Park)
How was training camp? did you do anything different this time around?
Chris Algieri
(11:40 AM)
Training camp went really great. It helped with my confidence going into this fight. I would say I came into this camp in great fight. I thought something great was on the horizon after my last fight. So I stayed in great shape.
Dave (DC)
Your opponent has some good power...how do you counteract that?
Chris Algieri
(11:41 AM)
Power is great, but if you can't land, then I won't have to deal with it. The plan is to not get hit. This is the sweet science and it's about hitting and not being hit. That's the game plan.
Dustin (Texas)
I hear that you are a clinical nutritionist...are there certain dietary restrictions that you adhere to the week of the fight? Any particular foods you try to eat more of or cut out of your diet altogether?
Chris Algieri
(11:42 AM)
Absolutely. I've been doing this for years now. My diet is pretty set and standard. My training diet is my life diet. It's a lifestyle. I like the way I eat and maintain that year round. There is a little bit of water manipulation for the weigh-in. The weight is not difficult to make.
anthony (philly)
which famous boxer (past or present) would you most likely compare your fighting style to?
Chris Algieri
(11:43 AM)
I have taken a little bit from a lot of different fighters over the years. De La Hoya, Lopez, guys who were tall in the weight class, use great technique and hand position, great jabs. Those are some guys that I try to take things from, but not model myself after.
Larry (Philly)
What's the biggest key to winning Saturday?
Chris Algieri
(11:43 AM)
Focus. Mental focus. Absolutely. Whoever can stay focused and stick to the gameplan, I think will be in a good place.
Dennis (Virginia Beach) [via mobile]
As a tall technical fighter, do you see yourself moving up soon? What divisions would you look at for your future?
Chris Algieri
(11:44 AM)
I have a large frame for the weight class, but we're still making the weight for now. Until we really feel like we need to move up, for the bigger fights, then we'll stay at 40.
will Philadelphia [via mobile]
Hey cris how was your training i think you can pull this fight off
Chris Algieri
(11:45 AM)
I have a training coach who makes a customized program for each fight. He is a student of the game and will study my opponents. It's a really systematic approach from my entire team.
will (chicago)
how will celebrate a win?
Chris Algieri
(11:46 AM)
As far as I'm concerned, June 15 doesn't exist. I am totally focused on the fight on Saturday night. I'm totally focused on accomplishing the task at hand and not the celebration afterward.
Chris Algieri
(11:47 AM)
Keep checking in. Keep checking me on social media. If you can spell my name, you can find me!
Buzzmaster
(11:47 AM)
Thanks for chatting Chris!