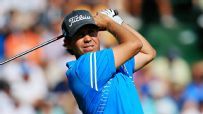 Erik Compton earned his full-time PGA Tour card in 2012, after graduating from Georgia in 2001 and playing golf's mini-tours.
Welcome to SportsNation! On Wednesday, we're hitting the links when PGA Tour golfer Erik Compton drops by to chat about his second-placed finish at the U.S. Open that also gives him an invite to the 2015 Masters.
Compton, 34, finished the weekend at Pinehurst No. 2 at 1-under in a tie for second, which gives him the automatic invite to Augusta National next year, his first time playing The Masters. Playing in just his second major, Compton earned the best finish of his career.
Compton's finish is remarkable, considering six years ago he underwent his second heart transplant. He was diagnosed with viral cardiomyopathy when he was 9 and he had his first heart transplant at 12. He works with Donate Life to help raise awareness of organ donation.
Send your questions now and join Compton Wednesday at 1 p.m. ET!
More Special Guests: Previous chats | SportsNation
Buzzmaster
(1:02 PM)
Erik will be here in a couple of minutes to take your questions!
Buzzmaster
(1:07 PM)
Erik is here!
Mike (Miami)
We heard all week about the restoration at Pinehurst....what did you think about the changes?
Erik Compton
(1:08 PM)
The players loved it. Great challenge. I didn't see the course prior to the Open, first visit there, I really enjoyed it.
John (Cincinnati,OH)
Congratulations on your strong performance at the Open. Now that you are in the British Open, how does oversees travel affect you?
Erik Compton
(1:09 PM)
I actually am not in the British. We just found that out. I will have to play myself in the next few weeks. I feel pretty healthy now, so long distance travel is not an issue. It's a tournament I would really love to play. So let's make it happen.
Vick (Philly)
Your game has really evolved over the last couple of years...what's changed for you/
Erik Compton
(1:10 PM)
I've been working with Charlie DeLuca in Miami on all aspects of my game. Being strong helps.
Erik Compton
(1:10 PM)
My putting has been much better this year.
ryan (dallas)
do you want to be known as just erik compton, pga tour golfer? Or are you ok with being known as erik compton, pga tour golfer who has had two heart transplants?
Erik Compton
(1:11 PM)
Both. I think the impact I can make off the golf course is more inspirational than my play and it helps people with disabilities and hard times to overcome adversity.
Carl (Denver)
how does your transplant impact you on a daily basis?
Erik Compton
(1:12 PM)
It impacts me in a great way, because now I have a future. I am able to live my dream. Living with a transplant can be tough at times, but the positives outweigh the minor issues I have.
Kevin (MA)
I read that you were diagnosed with viral cardiomyopathy...so does that mean it is something that developed in you or something that you caught?
Erik Compton
(1:12 PM)
They are not quite sure. But most doctors believe that it is a virus.
Chris (NH)
Are you able to do anything and everything you want or does having had the transplant limit your activities?
Erik Compton
(1:13 PM)
I am able to do everything really. I work out hard in the offseason. It's more difficult to work out hard during the season. I think every golfer feels that way.
Kyle (NJ)
What part of the game do you work on the most?
Erik Compton
(1:14 PM)
I love hitting fairways. It makes the game easier, so I'm always working on getting the ball in play. Improving driving accuracy is huge.
Sam (Dallas)
What was the hardest part about Pinehurst?
Erik Compton
(1:14 PM)
Where to land the ball on the green from the approach shot. Having the discipline to play away from the pins.
David (Detroit)
what's cooler -- finishing second at the u.s. open or being able to play in the masters next year?
Erik Compton
(1:15 PM)
Great question. But I'd have to say, as of right now, I have a second place finish at the U.S. Open so I have that. I hope to do well at The Masters. Maybe win. Why not? My teammate in college Bubba Watson won one. :)
Larry (Houston)
After having made the tour full time and now having sustained success, does that make you feel like all of the dedication and sacrifices you've made along the way were worth it?
Erik Compton
(1:16 PM)
Absolutely. I love the fierce competition and the preparation it takes to play well. The last three years have been some of the greatest years of my life.
Derrick (Chicago)
Is there anything you need to do to make sure that your last transplant remains a success?
Erik Compton
(1:16 PM)
Take my medicines. And follow up with doctors.
Erik Compton
(1:16 PM)
And live a clean, healthy lifestyle.
Jay (Toronto)
When you didn't have your Tour card, was it challenging having to ask for sponsor exemptions?
Erik Compton
(1:17 PM)
Yes, but I focused on playing on the Canadian Tour, the Web.com Tour. It's very difficult to rely on sponsor exemptions. The best way is to earn it with the Web.com or Q School.
Jay (Toronto)
Have you ever played Augusta National before in a non-competitive round?
Erik Compton
(1:18 PM)
Yes. We got to play because I was at the University of Georgia.
Greg (VA)
were you aware that you were headed toward a second transplant 6 years ago? Did the doctors know that it could be possible or was it something that happened all of a sudden?
Erik Compton
(1:18 PM)
It happened all of a sudden.
Ed (Queens Village)
Is there a different preparation this week at Travelers then last week at US Open or same preparation?
Erik Compton
(1:19 PM)
Preparation is a lot harder for an Open because you have to study every hole. This week the course will play softer. Truthfully, I haven't had much time to map out the course, because I've been busy with social media and helping out with Donate Life. Which has been a lot of fun. Hopefully my game is ready Thursday morning.
Kevin (ATL)
As an organ recipient, are you made aware of the history of the person that donated organs?
Erik Compton
(1:20 PM)
It's very confidential between donor families and recipients. Sometimes the donor family reaches out and the recipient reaches out as well. But this is done privately.
Chris (NJ)
Erik, you truly are an inspiration to everyone. When did you start playing golf and did you take lessons when you started?
Erik Compton
(1:21 PM)
I started in 1987, I think. I took lessons with Charlie DeLuca and his family and attended their summer camps. I worked with Jim McLean for many years. And now I'm back working with Charlie.
Erik Compton
(1:21 PM)
For the last six years.
Aaron (LA)
do you plan on using your platform as a successful PGA Tour golfer to help others who have been through similar health issues as you?
Erik Compton
(1:22 PM)
Yes of course. Now we have access to a huge fan base and promote organ donation.
Jay (Toronto)
How big (or not so big) is the discrepancy between talent on the PGA Tour vs. PGA Tour Canada or the mini-tours?
Erik Compton
(1:23 PM)
There is a lot of great players that come out of Canada. The difference on the PGA Tour is every player is a great player. That's where everyone wants to play.
Erik Compton
(1:24 PM)
Thank you for all of the support. It's been a really special week with the U.S. Open finish. I look forward to contending in more majors. The fan base at Pinehurst was tremendous. I can't wait to do it again.