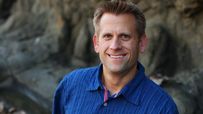 Welcome to SportsNation! On Friday, Sport Science host John Brenkus stops by to chat about his Emmy Award-winning TV show.
Sport Science uncovers sports' biggest myths and mysteries by utilizing cutting-edge technology to measure momentum, friction and the laws of gravity. In addition to his role as host of Sport Science, Brenkus, a Univeristy of Virginia graduate, is also the director and creative director of all BASE Productions programs.
Send your questions now and join Brenkus Friday at 4 p.m. ET!
More Sport Science: Chats | Index | Videos | Blog | @Sport_Science
Buzzmaster
(4:01 PM)
Host of Sport Science John Brenkus is here!
Steve (Seattle)
did you become more and more impressed with Zink's back flip attempt the more you and your team researched it?
John Brenkus
(4:06 PM)
Yes. The science behind it is mind blowing. The courage to do it is even more impressive. Pretty amazing to witness something that no one on the planet has ever done.
Derek (NY)
I kept hearing people talk about how Cameron Zink was jumping from dirt to dirt...did that play a significant role in the science behind hte djump?
John Brenkus
(4:07 PM)
It's significant, that's why this specific record goes out of its way to indicate the surface involved in the jump.
Vick (Houston)
How cool was it to get Helio and Josef to participate in your biopatch experiment in IndyCar?
John Brenkus
(4:08 PM)
Very exciting. It's always fun to work with great athletes in every sport.
Ed (Atlanta)
John, have you seen the show American Ninja Warrior? If so, which sports would produce athletes best suited for these obstacles?
John Brenkus
(4:08 PM)
Gymnasts.
greg (dc)
what stories are you looking forward to telling in SS this NFL season?
John Brenkus
(4:08 PM)
Of course. Many to come. Stay tuned.
Ryan (CA)
did you do anything fun during your summer?
John Brenkus
(4:09 PM)
My wife just ran the Leadville 100-mile Ultramarathon. She's a baller. Went up to Yosemite to spend some quality family time. I've always been a big fan of summer.
larry (sc)
does a jump on a car or bike just come down to getting up to the right speed?
John Brenkus
(4:10 PM)
No. If that were the case, everybody would be jumping and setting records. Tons of skill and timing involved.
Neal (NC)
Based on what you saw with Tiger Woods, do you think he still is putting too much torque on his back? is it possible to solve for that in a golf swing?
John Brenkus
(4:11 PM)
Based on our analysis, Tiger Woods has put arguably the most torque on his back in history. Tough to teach an old dog new tricks.
phil (fla)
how is your next book coming along?
John Brenkus
(4:11 PM)
Still going.
Kevin (Chicago)
Do you think other little leaguers could hit 70mph or does mo'ne davis have a special talent?
John Brenkus
(4:12 PM)
There are a bunch of Little Leaguers who throw 70 ... even harder than that!
Chris (TX)
what was hte most importnat part to Cam Zink's back flip?
John Brenkus
(4:12 PM)
Speed, the timing of his pop off the kicker and a lack of wind.
John Brenkus
(4:12 PM)
That gets you the distance. Then it's all about the skill to nail the landing.
ryan (la)
how impressed were you with that zink flip?
John Brenkus
(4:13 PM)
It was very cool to be there in person. That's a special place for me.
PJ (TX)
do you think derrick rose can get back to form, based on his injuries?
John Brenkus
(4:14 PM)
Hard to think of anybody not named Adrian Peterson who has been able to return to form. Peterson is the anomaly. Perhaps Rose can follow in his footsteps, but it's going to be a tough road. The odds are not stacked in his favor.
John Brenkus
(4:14 PM)
But you never know.
Andre (DC)
harder to do a long back or front flip?
John Brenkus
(4:15 PM)
Without question, the front flip is much more difficult.
John Brenkus
(4:16 PM)
More great Sport Science segments coming your way. Thanks for your support!