Chat about the NFL season!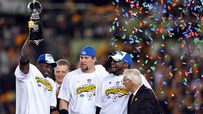 Will the Pittsburgh Steelers repeat? Ask our experts!
Welcome to SportsNation! On Thursday, we will be chatting all day as we prepare to kick off the 2009 NFL season Thursday night.
Here's the schedule:
11am: James Walker, AFC North blogger
11:30am: Kevin Seifert, NFC North blogger
Noon: Mike Sando, NFC West blogger
12:30pm: Matt Williamson, Scouts Inc.
1pm: Matt Mosley, NFC East blogger
1:30pm: Pat Yasinskas, NFC South blogger
2pm: Bill Williamson, AFC West blogger
2:30pm: Jeremy Green, Scouts Inc.
3pm: Paul Kuharsky, AFC South blogger
3:30pm: Tim Graham, AFC East blogger
4pm: KC Joyner, Football Scientist
Send your questions now and join the chat Thursday from 11a-5p ET!
More NFL coverage: NFL index | NFL Nation | NFL Insider
James Walker
(10:59 AM)
Let's start this NFL kickoff chat with the AFC North division as the Pittsburgh Steelers host the Tennessee Titans later tonight.
Josh (Oklahoma City)
Will the loss of Albert Haynesworth really have as big of an impact on the Titans as the experts say it will?
James Walker
(11:01 AM)
Good question, Josh. The Titans will be fine without Albert Haynesworth to a degree. If you recall, Tennessee beat Pittsburgh without Haynesworth last season. But I think long-term, the Titans are not going to win a Super Bowl this year in part because of losing Haynesworth.
Rob (Georgia)
James!! You are the man and rightly positioned as first in line for the chats. What do you think Pgh. will do differently this time as compared to the last time they played Tenn.?
James Walker
(11:03 AM)
Thanks for the kind words Rob. Pittsburgh's biggest adjustment will be trying to win the turnover battle. The Steelers had four turnovers on the road in Tennessee, and that's why the game got out of hand. If Pittsburgh runs the football and controls the clock, that will help a lot.
Matt (Chicago)
Who is the biggest sleeper team that will enjoy atleast moderate success this season? RAvens maybe?
James Walker
(11:04 AM)
I don't consider the Ravens a sleeper, Matt. They went to the AFC title game last year. I've said for months that the Bengals have that sleeper potential. I think they have a great shot at doubling last year's win total of four.
Doug (Jacksonville, Florida)
James, do you think the Bengals have any shot at making the postseason this year, possibly as a 2nd wild card out of the division? I don't think they will, but their schedule looks favorable, will they be in the hunt in your opinion?
James Walker
(11:06 AM)
Timely follow-up question, Doug. Health permitting, Cincinnati has a shot for the wild card. But Carson Palmer will need better protection and play all 16 games. I picked the Bengals to finish third in the AFC North, because I'm not sure they're physical enough to surpass Baltimore and Pittsburgh in the division. And I doubt three AFC North teams get in the playoffs this year.
Jonathan Jones (Akron)
Who gets more carries in Cleveland-Jamal Lewis or James Davis?
James Walker
(11:09 AM)
Jamal Lewis initially, Jo-Jo. He is a veteran that the new coaching staff trusts with the football. Eric Mangini likes James Davis, but you never really know how a rookie will react in actual regular season games when it matters. He has good skills and will be a good player. But rookies make rookie mistakes and Cleveland can't afford any this Sunday against a good Minnesota team.
Todd (Virginia Beach)
The Steelers have upgraded every part of their team: Special Teams, Wide Receivers, healthy backfield. I don't see any team at their caliber that has improved every weakness of the team, I see a Keystone Super Bowl. Steelers over Eagles !
James Walker
(11:11 AM)
Todd, I wouldn't say the Steelers are without any weaknesses. The offensive line has been a concern for the past several years, and Pittsburgh didn't do anything to improve it in the offseason. I think it's just an average unit, but the team believes it will improve with another year together.
Doug (Jacksonville, Florida)
James, thanks for your time for the chat! I think the Ravens can win the North this season, overtaking the Steelers; they did really well last season and they look stronger. Do you think they can?
James Walker
(11:13 AM)
The Ravens have a good shot, Doug. I've spent some time around the team this summer and I got the sense that was one of Baltimore's biggest goals was how to beat Pittsburgh. The Ravens are not far behind. Joe Flacco looks goods and if he plays better against the Steelers this year, that could be the difference in winning some of these meetings in the regular season.
jordan crane (west virginia )
steelers suck LETS GO COWBOYS!!!!!!!!!!!!!
James Walker
(11:14 AM)
Jordan, come talk to our AFC North community when the Cowboys finally win a playoff game, Ok?
Matt (NJ)
What do you expect out of Braylon Edwards this season?
James Walker
(11:16 AM)
I expect a more focused Braylon Edwards this year. I think he lost sight of some things last season, and sometimes that happens with success. But Edwards looks closer to his 2007 form this summer. I'm just not sure Cleveland will be able to get him the football as much as he would like.
Jon (Saint Peters, MO)
Who do I go with Big Ben vs Titans or Jay Cutler vs. Packers in week one?
James Walker
(11:17 AM)
I don't expect a high-scoring game tonight. So I would go with Jay Cutler. Most weeks, though, you have a pretty good pair of quarterbacks.
Dan (Bmore)
What are the chances Ngata can get DPOY with so many other candidates in the same division?
James Walker
(11:19 AM)
I don't think those chances are good. Ngata is a strong candidate for the Pro Bowl, which would be a good next step for him.
Neal (New York, NY)
What kind of season do you see chad Ochocinco having? Does he return to Pro Bowl form?
James Walker
(11:21 AM)
Ochocinco has looked great this summer. I'm convinced he still has the physical tools after a good offseason working out in LA. But as with every year, you have to be worried about Chad's ability to maintain focus. If the Bengals stay in contention all year, he should be fine.
Walt (West Virginia)
Who gets more carries tonight? Willie or Mendenhall?
James Walker
(11:23 AM)
Willie Parker will get the most carries. He's the starter and the tailback the team trusts the most. I still get the sense Pittsburgh is trying to figure out the best way to use Rashard Mendenhall and will continue to feel out that process during the course of the season.
KJ (Murfreesboro, TN)
Everybody talks about the Steelers LB's: Woodley, Harrison, Timmons, and Farrior; but the Titans have some really good LB's too: Bulluck, Tulloch, and Thorton, why aren't they getting any attention?
James Walker
(11:24 AM)
Without a doubt, the Titans have good linebackers, too, and a very good defense overall. I expect a hard-hitting game.
Chris (Washington, D.C.)
Who's finishing in last this year, the Browns or the Ravens?!
James Walker
(11:25 AM)
I picked the Browns to finish last in the AFC North and the Ravens to finish second behind Pittsburgh.
Mike (Boston, MA)
Do you see Santonio taking the next step and reaching pro-bowl caliber?
James Walker
(11:27 AM)
It's hard for any Steelers receiver to make the Pro Bowl, Mike. That's just not in their indentity, which is a credit to Hines Ward because he's made it several times. But Santonio Holmes has a lot of momentum after the Super Bowl and I think this could be his first 1,000-yard season of his career.
Mark (St. Louis, MO)
Who wins the battle in the trenches? Is that the deciding factor in the game? Or does CJ or SHolmes break the game?
James Walker
(11:29 AM)
I see both defenses winning in the trenches tonight, Mark. It's just going to be a matter of which offense makes a few more plays. I expect a low-scoring game.
Chris (A-town)
who do you like more arizona def or Pitts this week?
James Walker
(11:29 AM)
Can't go wrong with the Steelers' defense, Chris.
James Walker
(11:31 AM)
Thanks for the time everyone and check out the AFC North blog before and after tonight's game. I'm going to pass it over to NFC North blogger Kevin Seifert.
al_harris (ILL)
kevin, who wins the sunday night game? also all i hear is that the W Wall is just bidding time and that they really have no legit chance at winning.
Kevin Seifert
(11:33 AM)
I like the Packers in this one. Just seems like a toughly-timed matchup for Chicago. Their secondary isn't healthy and the pass rush isn't proven. And the Packers' passing game seemed totally locked in this preseason.
Paul (MD)
Are the Lions rushing to get Stafford on the field?
Kevin Seifert
(11:35 AM)
I wouldn't say that. The big thing is that he signed his contract in April, so he had a full training camp. He showed he won't be completely overwhelmed out of the gates. To me, it was always ideal if the Lions could give him some time to develop on the bench, but that's not mandatory.
dallastexas4life ((Dallas, TX))
Kevin, Is Matt Mosley the best blogger in the history of blogging?
Kevin Seifert
(11:35 AM)
He is the guy we all try to live up to.
Travis (Minneapolis)
What's your comment on the Vikings dropping Bobby Wade?
Kevin Seifert
(11:37 AM)
Yeah, just heard about that. Really surprising. (And doesn't make my Have at It position look too good.) Usually when a player accepts a pay cut before the season, it means he will be on the team. And by not being on the roster in the first week, Wade doesn't get his contact guarnateed for this season. They replaced him with Greg Lewis, a Childress guy. Really surprising all around.
Nick (Thorndale, PA)
In 2001 Minnesota went 4-0 in the pre-season ... they went 5-11 that year.. should Green Bay take note?
Kevin Seifert
(11:38 AM)
I'm not sure if the two are comparable. But I remember that season. The Vikings were dealing with the death of Korey Stringer and just never had themselves together. I think the Packers were much sharper in winning three games this summer than the Vikings were in winning four that year.
David (Indianapolis)
Do you think Devin Hester will be a legitimate threat at WR this year now that he has a proven QB to throw to him?
Kevin Seifert
(11:39 AM)
Definitely a deep threat. But I wonder if Cutler isn't going to be looking more at Greg Olsen and Earl Bennett.
Tex Premium Lager (NJ)
Does the Wade cut signal more touches for Percy Harvin?
Kevin Seifert
(11:40 AM)
I really don't know. I think Harvin was going to play a lot. Maybe this means the Vikings are more concerned about Bernard Berrian's hamstring than we knew.
Matt (Owatonna, MN)
What are your projections for the NFC North standings this year?
Kevin Seifert
(11:41 AM)
I'm going: Minnesota, Green Bay, Chicago and Detroit. I think both the Packers and Bears could be the wild-card teams.
Greg (Detroit)
How do you see Calvin Johnson doing this week in New Orleans and for the season as a whole.
Kevin Seifert
(11:41 AM)
Definitely looks like he has a connection with Matthew Stafford. That's a good start. But if I'm the Saints, I load up on Johnson and see if anyone else can fill in behind him.
al_harris (ILL)
kevin you still think minn is deeper at WR then GB hahahah i thought it was a joke when you said that.
Kevin Seifert
(11:42 AM)
Egg on face.
Alex (Fort Meade, MD)
Will the Bears go after Bobby Wade?
Kevin Seifert
(11:42 AM)
I wonder what Brian Urlacher would say.
Eric (San Diego, CA)
If you're Coach McCarthy who are the defensive front 7 for a majority of the downs? and why?
Kevin Seifert
(11:43 AM)
I think the DL will eventually include Raji, Pickett and Jenkins. LBs should be Kampman, Matthews, Hawk and Barnett if he's healthy. Those are the seven best players, in my opinion.
BJ (Minneapolis)
is Greg Lewis really better then Wade? I don't get it. Really looking forward to the season and seeing Harvin blow out communal minds. But I do not get this last minute wr swap one bit.
Kevin Seifert
(11:44 AM)
Lewis = Philadelphia = Childress. ... Also, as Sean Jensen is saying on KFAN right now, maybe the Vikings are more concerned about Bernard Berrian than we thought.
Jimmy (Wallace, MI)
Who do you see as the MVP of the division this year?
Kevin Seifert
(11:45 AM)
A fight between Adrian Peterson and Aaron Rodgers. And quarterbacks always get the edge.
Chris (Washington, D.C.)
The power rankings had the Bears and Packers higher than teams like the Redskins, Cowboys, and Dolphins. HUH?!?!?!?!
Kevin Seifert
(11:45 AM)
It's the year of the NFC North!!!!
Ron (Palm Bay FL)
"Maybe this means the Vikings are more concerned about Bernard Berrian's hamstring than we knew."I am confused... If Berrian is hurting more then we think, why would they drop a WR?
Kevin Seifert
(11:46 AM)
Because Lewis is more of a deep threat, outside type of receiver ... like Berrian. ... Wade is a slot guy and doesn't necessarily excel on the outside.
Joe (Geology Class)
How are you feeling about Kevin Smith this year? Is this his year?
Kevin Seifert
(11:46 AM)
I see him as a 1,000-yard guy in Scott Linehan's offense. Now, get back to class.
Bob (Boston , MA)
Who has the better season Favre or Cutler?
Kevin Seifert
(11:46 AM)
Statistically? Cutler.
Matt (Owatonna, MN)
Any news on the Williams Wall suspensions?
Kevin Seifert
(11:47 AM)
Nothing yet, other than the NFL deciding not to enforce the suspensions this weekend regardless of the legal situation.
B Mac (Indianapolis)
What are the chances of Matt Forte having the sophomore slump?
Kevin Seifert
(11:48 AM)
Unlikely. With Cutler at quarterback, teams aren't going to be able to load up on the running game.
Chris (Pittsburgh PA)
Who's more overrated: Jay Cutler or Tony Romo?
Kevin Seifert
(11:48 AM)
Mr. Simpson.
Paul (DC)
How much of the dominance did the Bears defense get back?
Kevin Seifert
(11:49 AM)
At this point, I don't think much. Still waiting to see if Tommie Harris is a player anymore. And the health of the secondary is rough right now.
Ben (Michigan)
Now that Stafford has been named the starter, what should/will the Lions do with Culpepper?
Kevin Seifert
(11:50 AM)
Nothing, in my opinion. History shows you usually need your backup at some point in the season. This is one position where the Lions actually have some depth. Why squander it? Maybe when Drew Stanton gets healthy they can trade Culpepper, but I wouldn't do it yet.
Gray (Chicago)
Hey Kevin, you started a nice debate in Chicago when you discussed the ESPN 1000 radio hosts calling Minnesota fans the worst...but they were 100% correct. How can any Minnesota fan defend the fact that the can't sell out that stadium?
Kevin Seifert
(11:51 AM)
I guess I can never question people not wanting to spend hundreds of dollars on tickets in these economic times. But you would think there would be enough people excited by this season that they would do it.
Nick (Thorndale PA)
Didn't Wade come from Philly also?
Kevin Seifert
(11:51 AM)
No. Tennessee and Chicago.
Rob (New Orleans)
best player in the NFL, not necessarily fantasy player, just best player. Brees or Peterson??
Kevin Seifert
(11:51 AM)
I'd never pick a running back over a quarterback in that debate.
Jeremy (Ridgecrest, CA)
Who do you think has the best offense in the division?
Kevin Seifert
(11:52 AM)
At this point, the Packers. Wow, they were sharp this preseason.
al_harris (ILL)
kevin , what is your thought on GB realeasing A smith at SS, bibgy hasnt looked great by no means and the new guy martin doesnt know H . E double hockey sticks about our D yet.
Kevin Seifert
(11:53 AM)
It's not like Smith was going to be on the field right away, and neither will Martin, at least not a lot. Smith made a really nice INT in Arizona. Thought he would make the team.
Ron (Palm Bay FL)
Who has the most receptions by years end? Olsen, Forte, Hester or Bennett?
Kevin Seifert
(11:54 AM)
I'll go with Olsen, followed by Forte and Bennett.
Zach Magnuson (Philosophy class)
Has the Bears secondary improved at all?
Kevin Seifert
(11:55 AM)
If they're healthy, sure. But to this point they're not. Both starting corners -- Tillman and Bowman -- have been limited. Same with Danieal Manning at safety. You think the Bears really want to start a rookie safety (Afalava) on Sunday night at Lambeau Field?
Tyler (utah)
Thanks for not ansering my questions
Kevin Seifert
(11:56 AM)
Any time.
Jackie Change (GA)
whats the differences of Greg Jennings and Donald Driver? minus the age?
Kevin Seifert
(11:57 AM)
Jennings much faster at this point, I would think.
Andrew (Missouri)
I've noticed that ESPN as a whole has fallen in love with the Vikings since Favre came back. Green Bay looked as good as anybody in the preseason and I feel that they are going to take the Division crown. What are your thoughts?
Kevin Seifert
(11:57 AM)
They'll push the Vikings in the division and, one way or the other, be a playoff team.
BAG over face (Detroit )
What do you think of the Lions this year and their upgrades,and how many wins you see them having.I think they have the best LB crew in NFC North.
Kevin Seifert
(11:58 AM)
They have a better linebacking crew than they've had, but I think I would still choose Minnesota's or Chicago's over them. I think they had no choice but to sign all of these veterans, just to give them a chance to be credible this season, but I don't see them winning more than six games this year.
Tom (Virginia)
If Favre has to miss time this year, who gets the nod to start, Jackson or Rosenfels?
Donn (Milwaukee)
Rogers for MPV what do you think
Kevin Seifert
(12:00 PM)
Start the campaign.On the previous question: If I had to guess, I'd say Jackson. Childress factor.
Kevin Seifert
(12:00 PM)
Ok, let's turn things over to Mike Sando of NFC West fame.
Jerry (Folsom, CA)
Any word on potential WR's for the Rams? I doubt they'd ever have 5 WR's sets, but 4 total on a roster seems painfully few.
Mike Sando
(12:03 PM)
I've charted personnel for about 6,000 NFL plays over the years and have never seen five true wide receivers on the field at the same time. Teams generally keep four and sometimes five active on game days. The Rams seem content with four at this point.
Mark ((Phoenix))
I am a little discouraged about the Cardinal's offense in the preseason. Do you think the Cards will be fine starting this Sunday? Hopefully Q and Breastan are back, and our defense finds the edge.
Mike Sando
(12:04 PM)
The 49ers are a tough matchup for the Cardinals. Larry Fitzgerald did not catch a pass on third down in two games against the 49ers last season. I noticed that in breaking down those games last night. I think the Cardinals' offense will be a top-10 offense this season. But it's a potentially tough matchup in Week 1.
Matt (Denver)
Hey Mike, what's going on with the situation in San Francisco with Crabtree? Is he going to wisen up and sign this season?
Mike Sando
(12:06 PM)
The more time he misses, the more I think he'll dig in. No movement so far.
Chris (New York)
Will Shaun Hill still be starting by week 8, or will Alex Smith regain his job?
Mike Sando
(12:08 PM)
I think Hill will probably be the starter at that point. He was more efficient than people realize last season.
Chris Matysuk (Modesto, CA)
I think 49ers might be the suprise team this year due to the fact it's coach Singeltary's first full season as head coach. We all know every player on that team is willing to take a bullet for this man, and the only thing that will slow them down, as we all know will be their quaterback play.
Mike Sando
(12:10 PM)
The 49ers look like a team that is going to learn not to lose before they learn how to win. They will have an identity and that helps. They will be a smarter team this season.
richard (dallas)
Heard some predictions that Shaun Hill will be a top 10 fantasy qb this year. Your thoughts?
Mike Sando
(12:12 PM)
That would shock me. The 49ers will want to establish a power running game.
Sam (Chicago)
Last Season, seahawks Rookie TE John Carlson, had a great year, what do you predict on what him performance may be when he takes the field this year.
Mike Sando
(12:14 PM)
John Carlson will have another good season. The Seahawks will use him more on third down. His total receptions might not increase because this season the team has better options outside Carlson. But I still think Carlson is a terrific young player.
Dan (Philly)
What do you expect to see out of Josh Morgan this year?
Mike Sando
(12:16 PM)
I've thought he had the potential to catch 50 passes this season, based on his role relative to the other receivers and also based on his health this season relative to last season. But it's also possible Vernon Davis pumps up his numbers this season, giving the 49ers a more diversified attack. And you also wonder how much the 49ers will throw the ball.
Scott (Norfolk)
Does Hasselbeck have a sure shot as second best comeback player this year? After Brady, few have seen the upgrade in WR (TJ Houshmandzadeh) and RB (E James).
Mike Sando
(12:16 PM)
Yes. I think the Seahawks' personnel lends itself to throwing the ball as long as the tackles hold up OK in protection.
Mike (New York )
What I still don't understand is, betting in the NFL is frowned upon. So why do they continue to make a big deal about submitting injury reports ? It looks like Brett Favre has gotten the Jets in hot water with his comments ! Why do you need to know who is hurt on my team ? Maybe I won't take the 6 1/2 then ?? NFL's bunch of phonies !
Mike Sando
(12:18 PM)
The league wants injury information on the table. Hiding that information makes that information more valuable to everyone, including gamblers. And if that information is too valuable, criminals might have more incentive to pay players, coaches or team employees for that information.
Maj (Vienna, VA)
As you mentioned, the main difference for the 49ers this year is attitude and identity with Singletary having the reigns for a full offseason. The roster is almost identical to the one that finished last year at 7-9. My question is how many more (or less) wins can the 49ers expect based on this change in identity given the similarity in talent?
Mike Sando
(12:20 PM)
The rest of the NFC West is arguably tougher. I see the 49ers in that same range this season, maybe between 7-9 and 9-7. Anything less is a terrible disappointment. Anything 8-8 or better is a very good first step under Mike Singletary. We'll know more once we have a better feel for their schedule.
Mike (Ohio)
Glen Coffee to bring anything to the table this year?
Mike Sando
(12:21 PM)
Jimmy Raye has been clear in saying this is Frank Gore's show in San Francisco. Coffee is not really a change-of-pace guy, either. For that reason, I think Gore gets the vast majority of touches. Coffee would have to make a huge impact in limited snaps to siphon significant carries, provided Gore remains healthy.
Kris (Sacramento, Ca)
Are you gonna be mad when i beat you in the Gridiron Challenge?
Mike Sando
(12:22 PM)
My goal is to finish in the top 1,000. Sign up here if you want to join us.
Otto (CA)
How overrated is Nate Clements? Are his struggles related to the lack of pass rush?
Mike Sando
(12:24 PM)
How overrated he is depends on how you rate him. He is a good, physical, starting-caliber cornerback who isn't afraid to get in a receiver's face. Is he a shut-down corner all the time? No. But few are.
Bill (Kansas)
Why does everyone not think the Rams will be better this year than last year with Spagnolo at the helm?
Mike Sando
(12:24 PM)
It would be difficult to be worse.
Jackie Change (GA)
with a handful of injuries of the rams offense do you really believe st. louis has what it takes to win more than 6 games?
Mike Sando
(12:25 PM)
No. I look at the schedule and see four or five victories. Lots can change, though. Sometimes a team exceeds expectations for reasons we cannot identify at this stage. So many variables. The human element matters.
Chris (Danville, Ca)
If the 49ers offense does manage to control the ball a lot, do you think that Willis's production goes down with less time on the the field? He is a tackly machine, but less time on the field means less tackles.
Mike Sando
(12:27 PM)
Tackle stats are irrelevant to me. I never give them any credence. Patrick Willis is a Pro Bowl-caliber player either way.
Tim (CA)
Hey Mike,What would you say is the biggest concern of yours that might prevent the Niners from making the playoffs?
Mike Sando
(12:28 PM)
It's fair to wonder whether they have what it takes in the passing game to score enough points against good teams.
Mike Sando
(12:28 PM)
Matt Williamson from Scouts Inc. is here. All yours, Matt.
James (LA)
Hey Matt, how many touches do you see Sproles getting this year with a healthy LT?
Matt Williamson
(12:30 PM)
Plenty. I really do. It will be tough to take touches away from LT, but I also bet that deep down, he realizes that it would be for the best. Plus, I see SD being up in many of their games (divisional) this year-then you put LT on the bench. But, just watching Sproles, he blows me away. Is there a quicker or more explosive guy in the league right now? He was amazing this preseason and looks better than ever. He needs touches.
Chris (Pittsburgh PA)
Who has the better year: Thomas Jones or Leon Washington?
Matt Williamson
(12:31 PM)
I really lean towards Washington. He is going to catch a lot of passes from the rookie QB. What a great safety valve option. I am obviously extremely high on what Washington brings to the table, but R Ryan must realize that Leon is far and away his best overall O playmaker. That being said, T Jones should grind out a respectable total as well behind a very good OL.
Royce (San Francisco, CA)
How much of the load do you think will be shared between Lendale and Chris Johnson?
Matt Williamson
(12:32 PM)
Johnson should get a higher % than he did last season and I also expect his reception totals to increase. He is a home run threat who can break a game open at any point. Star.
Brian (De)
Do you see Dustin Keller having a big (for TE's) year with the rookie QB looking for a dump off pass?
Matt Williamson
(12:33 PM)
I do and for much of the same reasons that I mentioned with Leon. 2nd best weapon on that O. Safe. Up and comer. Dallas Clark-type. Really good young player.
Rick (Cleveland,Ohio)
What's your opinion of Cleveland rookie back James Davis, a sixth round pick from Clemson?
Matt Williamson
(12:34 PM)
I like him and obviously he has exceeded expectations in the preseason. He runs hard. Pretty low to the ground. Some big run ability. He doesn't really have any special qualities, but physically, I also don't see any glaring weaknesses. RBs really fell in this past draft.
cliff ((phoenix))
do you think willie parker will be productive enough to keep mendenhall on the sidelines
Matt Williamson
(12:35 PM)
Yes-early in the season. I don't trust FWP to carry the load for a season. Not a true workhorse and when he starts to wear down, he loses his big play ability. PGH would be very wise to keep Mend and M Moore involved early in the season.
Dan (Buffalo, NY)
MW, FF trade proposal: Roddy White for Thomas Jones and Devin Hester?
Matt Williamson
(12:35 PM)
I would want to be getting White in that scenerio. Excellent young WR with a stud-in-the-making QB.
Dave (Chicago)
Who gets the carries for Denver the first few weeks? Will Peyton Hillis get any love this week or will Buckhalter split carries with Moreno? Thanks.
Matt Williamson
(12:36 PM)
Hillis would be the guy I would feature while slowly aclimating Moreno. He looks great and I love his versatility. Runs hard. Catches the ball very well.
dmyth12 (Phila)
Ray Rice....Does he maintain the starting role all year?
Matt Williamson
(12:37 PM)
I think so, but the Ravens will run the ball a ton once again and there should be quite a few carries to go around. McGahee will factor in for sure. Curious to watch Rice run out of the I and between the tackles.
Ekoue (PHILLY( Mansfield university))
do you think the steelers can repeat??
Matt Williamson
(12:37 PM)
That was my prediction. Pittsburgh over Atlanta.
Mike (Boca Raton)
how do you see the steelers oline matching up with the titans dline tonight?
Matt Williamson
(12:39 PM)
Poorly. Even without Haynesworth, the Steelers are overmatched in the trenches against that DL. Also, I just said it here in PGH on local radio, but I would worry about the Steelers' OL fatigue. Tenn will rotate in a lot of DLinemen during this game and should be very fresh in the fourth quarter. Meanwhile, the Steelers' OLinemen are heavy and slow footed. Plus, they haven't played 60 minutes yet this year. If it is real close in the 4th quarter, the Steelers' OL could be in trouble.
Mike (Boca Raton)
did you watch "America's Game: 2008 Steelers" last night?
Matt Williamson
(12:39 PM)
Sure did. Excellent. I have seen them all.
Ekoue (PHILLY( Mansfield university))
how effective will the titans run game game be tonight??
Matt Williamson
(12:40 PM)
Johnson is always capable of breaking off a long run and he could be esp valuable tonight on draws and screens against the Steelers' blitz. But overall, I don't see a lot of running room for Tenn.
Justin (St Paul)
What do you think of Carson Palmer this season? I know the O line is a risk but he still has the talent.
Matt Williamson
(12:41 PM)
I like him to rebound in a big way. You mentioned the OL and that does worry me for Palmer with his deep routes, but overall, that team has a lot of weapons and I am a beliver in Palmer.
Ace Tanker (Seattle)
With all the injuries in Seattle last year, AZ limped out of the NFC West. If Seattle can stay healthy, how come nobody gives them a chance to win the West. Does everyone not remember Warner is OLD and frail, milk only helps the old bones so much ya know!
Matt Williamson
(12:41 PM)
Who knows if Warner will hold up, but I did pick the 'Hawks in the West. Expect that front seven to be back in a big way.
Doug (Morgantown, PA)
over/under 1.5 - C. Johnson crossing the goal line tonight
Matt Williamson
(12:42 PM)
UNDER. The Steelers really don't give up TDs.
dmyth12 (Phila)
LenDale White lost a lot of weight for this season. Have you seen a difference in his running ability?
Matt Williamson
(12:43 PM)
He has always had very good feet and I think he is quicker now without the extra lbs. Would imagine that it will not hurt his ability to plunge at the goal line either. Amazing how becoming a free agent after this season can drive someone to let up on the tequila.
MIKE (BETHESDA, MD)
Is Michael Crabtree going to play this sesson or sit out the year?
Matt Williamson
(12:43 PM)
I don't think anyone knows the answer to that, but I do think this is a wasted year for him even if he were to sign this afternoon.
Brian (De)
Who will end up leading Miami in receptions in 2009?
Matt Williamson
(12:44 PM)
That is a tough one. Could be Ronnie Brown, but I will go with Bess. I like that dude. Sure hands.
Anthony (NYC)
M-Dub which player in your eyes is on the hot seat to produce this year? I nominate Vernon Davis.
Matt Williamson
(12:44 PM)
That guy in Minnesota wearing #4 on his back comes to mind. Good call on Davis.
Erik (San Francisco)
Will Aaron Rodgers have a better year than Brady/Manning/Brees?
Matt Williamson
(12:45 PM)
No-but he will be right there.
Mike (Boca Raton)
Is Kerry Collins as legit as he played last year or does he turn into a pumpkin in '09 (and tonight)?
Matt Williamson
(12:45 PM)
Pumpkin
David (Minneapolis)
Are Antonio Bryant's prospects good? Even without a sure thing at QB?
Matt Williamson
(12:46 PM)
Certainly are major QB problems there, but I also think that most Ds will stack the LOS to take away the run. That should bode well for AB and K2. Still, would like to see TBay come up with another legit WR.
Jonathan (Atlanta)
Do you see Matt Ryan putting up numbers like the top 5 Qb's this year?
Matt Williamson
(12:46 PM)
Right on the fringe of that group.
Alex (New York)
Do you see Kevin Smith having a productive game against the Saints this Sunday?
Matt Williamson
(12:47 PM)
I do and I see him having a very productive season. Not sure that many realize how good he is in the passing game. That will be a huge help to Stafford. That OL is far from great, but they are gritty and should be able to open up some running room as well. I like Smith a lot this year.
nick (san francisco)
what do you think it will take for big ben to be considered as good as brady and manning? winning doesen't seem to count much.
Matt Williamson
(12:48 PM)
Those two are just in their own stratosphere. Ben is #4 on my list and very well could be #3, which is where I have Drew Brees right now. Brady and Peyton have just done it so long and so consistently.
Tim (Portland, OR)
What do you think about T. Hightower - is B. Wells going to take his job??
Matt Williamson
(12:49 PM)
I do think Wells will take his job, but it might take some time. Wells is not a factor in the passing game and anyone who has watched Zona knows that could be a problem. He needs to really work on catching the ball, running short routes and esp in pass pro.
Xavier Thomas (Greensboro)
What do u think of Pat White?
Matt Williamson
(12:51 PM)
Long term project who can impact a game immediatly. I must say that I am not overly enamoured with all the Wild Cat stuff, but White will surely help in that phase. But-I still contend that he doesnt throw the ball well enough to be an everydown QB at this level.
Jason (Moon Township)
Matt...Good stuff as always. Interesting on your take with Casey Hampton. I just get the feeling they aren't going to resign him. Do you believe his best years are behind him, and do you think Hood can effectively replace him despite not having the typical 3-4 frame to do so?
Matt Williamson
(12:52 PM)
I don't think Hood can be a NT in the Hampton mold. I also think that Hampton is beginning to decline. But-assuming PGH does well, how do you replace him? NTs are extremely important and teams keep changing to the 3-4, so there are not enough of them to go around. If PGH picks 25-32 overall, they won't get an impact NT. So, maybe franchising Hampton this off season in the right call.
Drew (Clearwater, FL)
Are the Bucs going to do anything worthwhile this year? Or can we finally call it a rebuilding year?
Matt Williamson
(12:53 PM)
Oh. Call it a rebuilding year. Could be ugly-esp on D.
Alex (New York)
Does New England become next year's favorite to win it all also after having 2 first round draft choices (Raiders' has to be a top 7 pick)?
Matt Williamson
(12:54 PM)
That Raiders pick isn't in the next draft. Instead, it is in the following draft. A little early to predict such things, but I will still bet that the selection is in the top 5.
jOHN (BALTIMORE)
Not a cowboys fan, but how much will romo miss T.O.?
Matt Williamson
(12:55 PM)
Not all that much. They forced action to him too much last year. They are still one WR short though. Still, Witten eases that a lot, as does Felix and Bennett-both of whom are ready to emerge. More running. More double TE sets.
Mike (NJ)
Even with some lackluster receivers, could Eli Manning still have a top 10 QB year?
Matt Williamson
(12:57 PM)
Not statistically. Remember, his numbers always falter late in the year in some terrible throwing conditions. Plus, that team is to run like crazy...and play great D. If you are just talking about how good of a QB Eli is right now, I would take all of these QBs over him: Brady, Ben, Palmer, Peyton, Rivers, Cutler, Rodgers, Warner, Brees, Ryan, McNabb, Romo and maybe Flacco or Schaub or Hass
Bruce (DC)
Matt, do the 'Skins have any shot at the playoffs?
Matt Williamson
(12:58 PM)
Sure, the D should be very much improved. But, I still really worry about the passing game and OL in general-esp for the long haul of an NFL season. Such a tough division as well. I see them as a 7 win team.
ED (NY)
Will Hicks emerge as a starter this year? Do you think Bradshaw will have more yards then Ward did last year?
Matt Williamson
(12:59 PM)
I do think Hicks will emerge as a starter and quite possibly the Giants top overall target. More than Ward? Hmmm, quite possibly. Don't sleep on Ware, but surely Jacobs will miss some games.
Matt Williamson
(1:00 PM)
Along the NFC East thread, Matt Mosley is going to take over from here. It was a lot of fun as always. Enjoy Opening Night.
Shawn (Philly)
Who's got the best D in the East? D-line? LBs? Secondary?
Matt Mosley
(1:05 PM)
What's up guys? I'd say the Giants have the best line followed by the Redskins, Eagles and then the Cowboys. Let's go with Cowboys, Giants, Redskins, Eagles at LBs. At secondary, I might be leaning toward Giants, Redskins, Eagles and Cowboys
Brook (Williamsport, PA)
Is it me does Ellis Hobbs not living up to expectations so far?
Matt Mosley
(1:06 PM)
He was much better late in the preseason. He's having to learn a new system on the fly. He was very aggressive late in the preseason -- and that's a sign that he has a better understanding of what's going on.
Gus (FL)
Are the Eagles weaker at LB with the loss of Stewart Bradley or in the secondary starting rookie Macho Harris at FS?
Matt Mosley
(1:06 PM)
I think the MLB is harder to replace. You can sort of hide a safety. You can't hide the middle of your defense.
Lane (Kukuihaele, HI)
The best TE in the east is....
Matt Mosley
(1:07 PM)
1. Witten2. Cooley3. Boss4. Celek -- But Celek's gaining quickly!
Daniel (Raleigh NC)
Which rookie has the biggest impact this year for the Eagles? Maclin, McCoy, or Macho?
Matt Mosley
(1:07 PM)
McCoy. He'll have the most opportunities.
Matt (College Park, MD)
Does Cooley find the endzone more this year?
Matt Mosley
(1:08 PM)
Six TDs this season, so yes.
Joel Brink (Tri-Cities, WA)
Everyone's questioning Mcnabb's ability to get along with Vick and handle any pressure he might feel about losing his. I think people can question things that Mcanbb has said in the past--but hasn't the guy always handled adversity well? Ex.: Being booed on draft day, the Limbaugh comments, leading his team to the Super Bowl after T.O. went down, bouncing back after multiple NFCC losses, having a huge game on Thanksgiving right after he was benched in Baltimore.
Matt Mosley
(1:09 PM)
You're right. He's handled adversity pretty well over the years. But he's a sensitive quarterback. And now that the Baltimore thing happened, it makes it more likely that Reid would be willing to repeat the move. you can see where this thing is headed. Vick doesn't think of himself as a backup. Not now. Not ever.
Trevor (Minneapolis, MN)
Starting with week 1, what do you see Felix Jones' role being with Dallas? Is he really going to split carries 50/50 with Barber as Phillips suggested?
Matt Mosley
(1:10 PM)
I'd be surprised if he split carries. I think they want Barber fresh so that he can finish games. I think 20 carries for Barber and 15 carries for Felix sounds about right.
Dan (Philly)
How much longer is Reggie Brown an Eagle?
Matt Mosley
(1:10 PM)
I think they'd like to trade him, but I'm not sure he'd bring them much of anything in return.
Tyler (Arkansas)
What needs to happen for the Redskins to make the playoffs this year?
Matt Mosley
(1:11 PM)
We don't have enough time. But for starters, stay healthy up front. And give Campbell some time in the pocket.
Brandon (South Carolina)
Do you think the Eagles will win over Carolina, with all the ups and downs in preseason? Even being at Carolina.....
Matt Mosley
(1:11 PM)
Yes, I think they'll win.
Alex (New York)
Hey MM, quick question for you... Why do you rank NFC East so much higher above the NFC South (excluding Tampa all legitimate playoff teams)?
Matt Mosley
(1:12 PM)
Why do we assume the Saints are a legit playoff team? I know they put up big numbers on offense, but have you seen them play defense. Let's put it like this. Compare the fourth team in the NFC South (Bucs) to the fourth team in the East right now (Redskins). Head to head, I think the Skins are a much better team.
Paul ((Miami, FL))
What do you expect from Chris Johnson tonight??
Matt Mosley
(1:13 PM)
77 yards and a touchdown.
Matt (Baltimore)
What kind of impact do you see Malcom Kelly having now that he's the #2?
Matt Mosley
(1:14 PM)
I'm really bullish on this guy right now. Spent some time with him after a preseason game. Very mature young man -- and he catches everything.l think he could have 45 catches for 600 yards or so.
Daniel (Philly)
Do you think Sheldon Brown's contract issue is behind him allowing him to play at the pro-bowl level again? You always see him on tv joking around with Andy. I gained a lot of respect for the way he handled it, didn't take the winey receiver approach.
Matt Mosley
(1:15 PM)
Wait a second. He was very whiny at first. But at some point, he realized he was barking up the wrong tree.
Matt (Charlotte)
Is Barden still going to be a factor in the red-zone or was the pre-season hype a little over done?
Matt Mosley
(1:15 PM)
Probably a little overdone -- and I'm certainly guilty of that. But yes, he could help them in the red zone. Big, tall guy who adjusts well to the ball. Yeah, he can help you sure.
Eric (Boston (Ma))
Can the 'Skins beat the Giants on Sunday? Seems like the Giants running game plays right into the Skins strength with Haynesworth up front, and the Giants passing game will be a work in progress.
Matt Mosley
(1:17 PM)
Can it happen? You bet. Would I put money on it? No way. The Redskins are much better on defense, but let's see how it plays out. I think it will be a close game, but the Giants' pass-rush will eventually get to Jason Campbell.
chris (The Netherlands)
similar to the a question that was asked earlier..... can you rank the offensive positions of each team? best qb? wr? rb? te? ol?
Matt Mosley
(1:19 PM)
1. Eli2. Donovan 3. Tony4. JasonWR1. DeSean Jackson2. Santana Moss3. Roy Williams4. Steve Smith
Josh (Overseas)
Who is your sleeper team and what are their chances of winning the Super Bowl
Matt Mosley
(1:19 PM)
Dolphins
Jon ( Arlington VA)
Mosley, stop hating and answer my questions about D. Thomas and Marko Mitchell. Any chance Mitchell has Colston type success?
Matt Mosley
(1:20 PM)
OK, I'll stop the hating. That's way too much to ask of Mitchell. He's a guy that can help you as a fourth or fifth receive.
Bob (Phoenix, NY)
What kind of season does Steve Smith (NYG) have?
Matt Mosley
(1:20 PM)
I think he'll be solid. Nothing spectacular. I could see 700 yards and five or six TDs.
Harley (Ramsay)
Gosh, not looking good when the Eagles make a last second switch at safety and put in a rookie.
Matt Mosley
(1:21 PM)
Have you seen the guy play? He's got some ability. I know it seems a little far-fetched, but I liked what I saw in the preseason. Hey if he's better than your vets, get him out there.
G (Alexandria VA)
Breakout player for each team in the Beast. Any thoughts?
Matt Mosley
(1:23 PM)
Cowboys -- Felix will have a huge season if he stays healthy.Giants -- Kenny Phillips is about to blow down the doors. Eagles -- Maybe more people will finally hear about Quintin Mikell. Really, really good playerRedskins -- Brian Orakpo will have a breakout rookie season. I just heard McShay say it.
Dan (MD)
Whats the chance Orakpo wins DRotY?
Matt Mosley
(1:23 PM)
Great chance
aasimon (DC)
On Sunday, it's likely that two fresh youngsters will be matched up, Malcolm Kelly and Terrell Thomas, and one or the other could provide the difference in the game. Who do you have with the upper hand there?
Matt Mosley
(1:23 PM)
Thomas has a little more game experience. I think he'll play really well.
Mike Shanahan (USA)
Matt - Where am I going to coach next year? Dallas or Washington?
Matt Mosley
(1:24 PM)
Probably neither. But Dallas if I have to pick one. Shannny and Jerry are tight.
Leon (Dallas)
Who's more over rated Romo or Galloway?
Matt Mosley
(1:24 PM)
Galloway by far!!
Tex Premium Lager (NJ)
What Redskins player do the Giants have to gameplan around the most, and vice versa?
Matt Mosley
(1:26 PM)
You always have respect Clinton Portis first and foremost in that offense. The Redskins have to try to slow down Brandon Jacobs early in the game. If you get some zero gains going, you can build momentum along the line. Stopping the RBs is the key in this game. Or at least offering some resistance. You don't stop those guys cold.
Eric (Boston (Ma))
Matt, not a question, but a comment. Your blog has been EXCELLENT this year, its great to have someone really keyed in on the NFC East. Keep up the good work.
Matt Mosley
(1:26 PM)
Wait, how did this one get through! Sorry guys.
Chris (D.C)
Laron landry or kenny phillips? who are you taking
Aaron (Hammond, la)
Pat, im beating a dead horse here, but do you see the saints getting brook?? if not, do the saints bench shanle for dunbar???? second what was that putting the saints 3rd, we will see my friend, we WILL see!!!!!!!!!!!!!!!!!!!!!
Matt Mosley
(1:27 PM)
Give me Landry -- for this week.
Drew (Buffalo)
Why do people keep thinking Jason Campbell is going to be good?
Matt Mosley
(1:28 PM)
Because he's actually played really well in stretches. Last season, he was really solid in the first half. Didn't turn the ball over and managed the team well. This is the season where he needs to play well the whole way.
Thom (Durham, NC)
Who steps up for the Giants? Hixon, Smith, or Nicks?
Matt Mosley
(1:28 PM)
Need all three to make contributions. But I think Hixon might be the guy who really impresses everyone. People aren't really talking about him. That reminds me. I need to call him.
Jim (Tampa)
Matt, what's it like being the king of ESPN NFL bloggers, and isn't the re-made Philly O-Line overrated and overhyped? Do you really believe that Andrews and Peters will be better than what they had with Tra Thomas and Jon Runyan?
Pat Yasinskas
(1:30 PM)
All right, thanks to Matt Mosley. Let's switch it over to the NFC South for the next 30 minutes. Aaron, I think there's at least a possibility you could see Brooks sign with the Saints next week -- his salary isn't guaranteed for the season if he signs after the first game. Shanle might not be special, but he's functional with a good defense around him. As for picking the Saints third, yes, I did. But I also qualified it and said I can see them winning the division if things go right.
Tevon (Bristol CT)
Will Reggie Bush hav a great season?
Matt Mosley
(1:30 PM)
Sometimes it gets to you, but you have to persevere man. I think the Eagles' O-line is completely up in the air. The talent's there, but I'm not too confident that Shawn Andrews will make it through 16 games at RT. Peters is a better player than Thomas. But you're totally right about the continuity not being there. OK, I have to step aside now. Enjoy Yasinskas!!!!
Pat Yasinskas
(1:31 PM)
I think so -- as long he stays healthy. Look back and what he did in first six games last year and project that over a whole season and I think that's what you may see this year.
Jason (Cape Coral, FL)
Are we EVER going to get an update on the Aqib Talib situation or can we start to assume that he might be in the clear on this one
Pat Yasinskas
(1:32 PM)
No, don't assume that one just yet. They've got to wait for the legal system to play out. Might take some time.
Mike (Tampa)
Is Barrett Rudd seriously not going to get an extension... what is the deal???
Pat Yasinskas
(1:33 PM)
Amazed that hasn't been done yet. The guy has kept quiet and they've got his face on billboards all over town. They've got the cap room. They should take care of him.
Tom (Charlotte)
Is it Julius Peppers last year here at Carolina?
Pat Yasinskas
(1:34 PM)
Could be. Just because he's back with Panthers doesn't mean he's happy. $18 million can make you put up with something you don't like.
Nathan (Cary, NC)
Any word on who the Panthers will have starting at DT? Or will they rotate so much it does not matter?
Pat Yasinskas
(1:35 PM)
Think Hayden will start opener, only because he's been there all preseason. They'll rotate a lot and you still could see them adding more DTs as season goes on.
Kyle (Ruston, LA)
Pat -- Why is everyone set on the Saints at 3rd in the division when the D is clearly upgraded and the schedule is stupid easy for the most part? I'm smelling anywhere from 13-3 to 10-6.
Pat Yasinskas
(1:36 PM)
Could happen. I think a lot of experts are just hesitant because of last two years. But Saints should be better.
Tom (Hattiesburg)
Mike Bell to get a bulk of the carries this weekend?
Pat Yasinskas
(1:36 PM)
I say, start him if you've got him -- on your fantasy team.
Sean Marz (Gettysburg)
What do you think Todd McShay and Qadry Ismail see in the Saints that the rest of the bloggers don't see?
Pat Yasinskas
(1:37 PM)
I don't think the Saints will be bad. I was just cautious with my pick. Seriously, they could win the division. So could Carolina or Atlanta.
Brock (Boulder)
You think the Falcons might take a look at picking up Bobby Wade for receiver depth or do you think they are set at this point?
Pat Yasinskas
(1:38 PM)
Think they've come to like what they've got.
Nathan (Cary, NC)
Whats this about P. Thomas cutting himself on a fence? What was he doing climbing a fence with an injured knee anyhow?
Pat Yasinskas
(1:38 PM)
He was supposedly chasing his dog.
Tevon (Bristol CT)
who u got wining da NFC south diz year?
Pat Yasinskas
(1:39 PM)
I picked Falcons -- for what it's worth.
Sam (Apex)
Do you think Philly picking up Leman will give them an edge on the Panthers?
Pat Yasinskas
(1:39 PM)
Maybe slightly. He can share some of the secrets of the play book.
Redskinsalltheway26 (Houston, TX)
I'm a skin fan, but I know that Jason Campbell is going to be dealt out of town this season after he performs poorly again. I think Leftwich (a DC native) would make a huge upgrade, but I'm not sure how strong Tampa's commitment is to him and whether they would consider a trade (possibly straight up) for Campbell. Do you think such a trade might work? Do you get the feeling that Tampa is looking to keep him as a long-term starter??
Pat Yasinskas
(1:40 PM)
Could happen after the year. Leftwich is just a bridge to Freeman.
Mike (New Orleans)
If the saints wanted to, could they elect to have have grant and smith start there suspensions this week instead of waiting to see how the williams' situation plays out?
Pat Yasinskas
(1:41 PM)
No, Saints have no choice in the matter. They're at mercy of legal system. If they had a choice, I think they would have sat them from the start because they should be able to beat Detroit without them.
Scott (LA)
Will Meachem have a break-out year? Sure looked like it in the preseason.
Pat Yasinskas
(1:41 PM)
I picked Meachem as break-out player for NFC South.
Gary (Charlotte )
Pat, why are people not considering Deangelo Williams as an MVP candidate this year? He was the best back in the league a year ago.
Pat Yasinskas
(1:42 PM)
Start the campaign now -- I like it. Williams kind of started getting mentioned very late last season, but was behind everyone else. Start lobbying for him now and you might get your wish.
Jeff (ATL)
Pat, 3 Falcons questions: 1)Will we be seeing much Wildcat with the Falcons and Jerious Norwood? 2) How soon will it be before Brian Williams and Tye Hill are in the lineup. 3)Last question...what's the latest on John Abramham's injury?
Pat Yasinskas
(1:44 PM)
1. No, why would you run the Wildcat when you have a real QB?2. Think you'll see Hill play some this week. Give Williams a week or two.3. From what I know, they're just playing it cautious like they did last year and giving a veteran guy some practices off.
Lloyd (Baton Rouge, LA)
Pat I gotta ask. Why are there 90 more blogs about TB than the next NFC South team? It seems a bit much even for someone who lives in TB.
Pat Yasinskas
(1:44 PM)
You're seriously going through and counting numbers???
Ryan (Napa, CA)
Matt Ryan, sophmore slump or division winner?
Pat Yasinskas
(1:45 PM)
Division winner.
Jason (CAR)
Who do you think will be the Offensive MVP and Defensive MVP for the NFC South?
Pat Yasinskas
(1:45 PM)
Brees and Beason.
Nathan (Cary, NC)
Do you think either Tye Hill or Brian Williams can be effective joining the team at such a late juncture?
Pat Yasinskas
(1:46 PM)
Yep, Foxworth came in at roughly same time last year and helped them.
Drew (Clearwater, FL)
Lloyd, its because no one knows whats going on in Tampa. Not even the coaches.
Pat Yasinskas
(1:46 PM)
Might have a point.
Sean Payton (Nawlins)
Hey Pat, how many kickers and punters am I gonna go through this season? Maybe Deuce can kick?
Pat Yasinskas
(1:47 PM)
Please, do yourself a favor and stick with one punter and one kicker. Something to be said for continuity.
John (Charlotte )
Pat I think the Panthers are the most complete team in the South, do you agree?
Pat Yasinskas
(1:48 PM)
If you took DT out of the equation, I'd agree.
Tim (Orlando)
Pat seriously why did the Bucs Cut Matt Bryant he has been amazing ever since he got here... does dominck or Rah have an issue with him... it seems like they were never high on the guy
Pat Yasinskas
(1:49 PM)
Gruden almost cut him last year. Remember he brought in three kickers for workouts before the season. Look at Bryant's recent stats on long FGs, I think that's your answer. Still, it's sad. Good guy and he did some good thing for Bucs.
Lloyd (Baton Rouge, LA)
I gotta know another thing Pat. Sorry if you've already answered this since I joined the chat late. How come 2 weeks ago you had the Saints in the SB, and now they're a .500 team?
Pat Yasinskas
(1:50 PM)
Not sure where in the world you're getting I said the Saints in the Super Bowl. I never said that.
dmyth12 (Phila)
Cadillac, Ward and Grahm do you see the Bucs trading one of these guys?
Pat Yasinskas
(1:51 PM)
No, be glad you've got three good RBs. You're gonna need them all over the course of a season.
Sam (Apex)
Are there any other DT's on the market worth a look by Fox/Hurney?
Pat Yasinskas
(1:52 PM)
Rule out Shaun Smith for the first for weeks.
ATLJBO (Atlanta)
I feel like everyone is sleeping on Stephen Nicholas.... The guy is a sideline to sideline tackling Machine...... What are your thoughts on Stephen Nicholas ?
Pat Yasinskas
(1:53 PM)
I'm totally with you on Nicholas. I know Falcons coaches are real high on him. They think he's ready for big year now that his son is healthy and he can focus on football.
Allen (Mandeville)
Hey Pat, you said you might change your SB pick to the Saints during the Raiders-Saints preseason game, but I don't think you taking it seriously since it was just preseason.
Pat Yasinskas
(1:55 PM)
Jeez, if you couldn't see that was a joke ...well, nevermind.
Grant (Atlanta, GA)
who do you think has the best linebackers in the division?
Pat Yasinskas
(1:55 PM)
Carolina.
Nathan (Cary, NC)
Also, why did Mark Richardson have to step down from the competition committee if he is still a part of the ownership team for the Panthers?
Pat Yasinskas
(1:55 PM)
Because he's not a team employee.
Lloyd (Baton Rouge, LA)
http://espn.go.com/blog/nfcsouth/post/_/id/2332/observations-on-saints-preseason-gameIts from your blog. You didn't say they would go to the SB, but you pretty much said they were spectacular. So how do the Saints go from looking like a SB caliber team to a .500 club?
Pat Yasinskas
(1:57 PM)
Come on, Lloyd. You're really reaching on that. I was talking about them playing against the Raiders in a PRESEASON game. If the Saints blitz as much as you're doing today, they just might end up in the Super Bowl.
Drew (Clearwater, FL)
Please tell me why the Bucs made Leftwich their starter when he can't even complete half of his passes in the preseason? The way everything is going they might as well just throw Freeman behind center to start off the season.
Pat Yasinskas
(1:57 PM)
Preaching to the choir here.
jay (ga)
pat ; about the falcons; will j. anderson loose his starting spot by years end to davis or sidbury
Pat Yasinskas
(1:58 PM)
That's a bet I'd consider making.
Sam (Apex)
How is Mr. Richardson's recovery going? Should we expect to see him in the stands Sunday?
Pat Yasinskas
(1:59 PM)
He felt well enough to fire his sons. I'd guess he'll be at the game. All indications are he's coming along well.
Shawn (London, Ontario, Canada....eh!)
Pierre Thomas was not climbing a fence or chasing his dog, he was squeezing through a part of the fence to get at this dog that was tangled in the fence with his chain, for what it's worth.
Pat Yasinskas
(1:59 PM)
Just to clarify.
CJ (Texas)
Pat, any new news on Derrick Brooks?
Pat Yasinskas
(2:00 PM)
Nothing. Maybe next week. All right, I'm handing off to Bill Williamson of NFC South fame.
Pat Yasinskas
(2:02 PM)
Sorry, I meant Bill Williamson of AFC West fame. Just force of habit because everything else I type is NFC South.
Ryan (Denver)
What is the likelihood of Denver fans seeing Chris SImms this weekend?
Bill Williamson
(2:04 PM)
I think it could happen. Orton has not said he beleives he can play, only that he hopes to play. An index figner injury on your throwing hand is not an easy thing to play with. If he sturggles, Simms could see aciton. Simms, himself, is coming off a high anle injury, so he's not 100 percent, either.
Mike (NJ)
Do you think the Chiefs will start or sit Cassel in week 1? afterall, they do have tyler thigpen!
Bill Williamson
(2:06 PM)
Cassel will try to play, but he will not be at his full mobility. I think the Chiefs may be better off playing Brodie Croyle and rest Cassel. Let him take another week to heal his sprained knee. Baltimore has a nasty defense and they can really hurt Cassel and keep him out several weeks, if he is not 100 percent. It may be smart that he doens't play this week.
Jonathan (Boston)
Is Seymour going to play in Oakland on Monday? Or ever?
Bill Williamson
(2:08 PM)
It's starting to look like Seymour won't play Mondyay The guy has to start praciticing with his new teammates and learr the game plan, doesn't he?As of this morning, he was not on his way to Oakalnd. This could end up being a 15-game rental for Oaklnad. Yikes.
Brian (Council Bluffs)
Is it time for KC to hand the reigns over to Charles? Larry Johnson looks like a ghost of his past self.
Bill Williamson
(2:09 PM)
Give Johnson one more year. I think he still has something left in the tank.
MIKE (BETHESDA, MD)
Breakout year for B. FLowers??
Bill Williamson
(2:11 PM)
Yes, I think so. This kid (a cornerback from Kansas City) is a playmaker. I relaly like him.
Austin (Denver)
Will Eddie Royal be the Broncos top wideout this year?
Bill Williamson
(2:12 PM)
If Marshall keeps messing around. Royal had 91 catches last season. So he is no slouch. Josh cmDnailes loves this kid and he is going to get him the ball. Royal is a top-nothc talent.
Ryan (Denver)
I'm Interested to know your predicitons for this Sundays AFC West games...Scores and winners?
Bill Williamson
(2:13 PM)
Just for kicks ... Cincinnati 24, Denver 17Baltimore 16, Kansas City 3
Kyle (Lafayette,LA)
Bill, Do you think that Marshall and the broncs will get a deal done before the season, if not then what can we expect out of Brandon?
Bill Williamson
(2:14 PM)
Our Adam Schefter is a smart cookie, so if he says a deal is in the works, you need to listen. So we'll see. If Marshall has his hed on straight (which is no sure thing), I think he can have a great year. He's a large talent.
Your mom (Your childhood)
Stop reading all that sports crap and go and and find a girlfriend!
Bill Williamson
(2:15 PM)
My wife wouldn't like that too much, Mom.
Pa Raider (Pennsyalvania)
Sir, in your estimation, have the Raiders improved enough to at least go 7-9 possibly 9-7 with Seymour?
Bill Williamson
(2:16 PM)
I think 8-8 is the ceiling for Oakland, Seymour or no Seymour.
Adam (NY, NY)
Can the seymour trade be reversed if he never shows??
Bill Williamson
(2:16 PM)
Yes, it would be ugly, but it could happen.
Shawn (Toronto)
Is there a division in football that has better punters than the AFC West? Lechler, Scifres, and Colquitt are pretty good.
Bill Williamson
(2:17 PM)
Welcome to the AFC West, where three teams can go 4-12, but we got great punters ... And they're going to be used.
Ryan (California)
Has the Broncos defense improved since last year?
Bill Williamson
(2:18 PM)
it sure looks like it. New cooridnator Mike Nolan seemed to do a nice job in the preseason. But the proof is in the regular season.
MIKE (BETHESDA, MD)
Of Denver, KC and Oakland, which team has the most potential to be dominant in years to come?
Bill Williamson
(2:19 PM)
I say Kanas City has the best chance down the road.
Eric (Tennessee)
How do you see the Raiders RB situation shaking out? Do you think Bush has a chance to start?
Bill Williamson
(2:19 PM)
I'd be surprised if Darren McFadden isn't the starting running back Monday night against the Chargers.
Wayne (Topeka)
You hearing anything on Runyan to the Chiefs after the reported workout? Another band-aid but we're hemorraging on the right side - ask our qb's.
Bill Williamson
(2:21 PM)
Runyan was in Philly today. So, that may mean either him or the Chiefs moved on after Wednesday's try out.
Ryan (Denver)
I think a lot of analysist's have been down on the Broncos due to the up and down offseason, any chances of them proving critics wrong and having a good season?
Bill Williamson
(2:22 PM)
Sure, if the quatterback play and the defense plays much better than expected.
Phillip (Las Vegas)
What are the chances Brandstater get's a shot under center this season if things go sour for the Broncos?
Bill Williamson
(2:24 PM)
I think if the Broncos are way out of it at the end of the season, and if Brandstater makes progress in practice, we could see him. He could be the future.
Joseph (ca)
What's the effects of all this merriman drama going to have on the chargers?
Bill Williamson
(2:24 PM)
Right now, not much. Now, if this legal issue continues, the heat can be on.
Bill Williamson
(2:24 PM)
Right now, not much. Now, if this legal issue continues, the heat can be on.
Bryan (Boston)
Do you think Dwayne Bowe is better off with Cassel or Thigpen under center?
Bill Williamson
(2:25 PM)
I'd say Cassel because the offense best fits him so the plays are going to be smoother.
capy23 (florida)
i belive this is the 49er yr, i say forget crabtree.
Bill Williamson
(2:26 PM)
I took them to win the West, so I'm with you.
Nevin (Pleasanton)
Why did Garcia get cut?
Bill Williamson
(2:27 PM)
I think the Raiders realized he wasn't going to be happy as a backup and he could be a disctraction.
rob (south beach)
Super Bowl predictions?
Bill Williamson
(2:27 PM)
New Egland over Atlanta.
Vinnie (NYC)
Is this another Pro Bowl year for Philip Rivers?
Bill Williamson
(2:27 PM)
I think so ... This could be an MVP year for Rivers.
Season Ending Injury (NFL City)
What QB should I visit this year in week 1?
Bill Williamson
(2:28 PM)
Do everyone a favor and stay away.
Ryan (Denver)
Why didn't the Broncos try to pursue Brian Griese during the offseason?
Bill Williamson
(2:28 PM)
Really?
Nevin (Pleasanton)
True. Who is backing up J Russell then?
Bill Williamson
(2:29 PM)
Right now, Bruce Gradkowski and Cahrlie Frye.
Joseph (CA)
The Chargers are trying hard to start off well, but the schedule seems to start off with quite a few difficult opponents. How do you see them after 5 weeks?
Bill Williamson
(2:29 PM)
4-1 witha loss at Pittsburgh.
Bill Williamson
(2:31 PM)
Hey folks, great session ... Passing the baton along to Jeremy Green of Scouts Inc. Talk to you next week and enjoy Week 1.
Vinnie (NYC)
Hey Jeremy.... am I justified being nervous about the Giants passing game? Eli is not exactly an elite QB and he has 0 WR threats
Jeremy Green
(2:33 PM)
I too have concerns. Eli is legit but the targets are not. They need Nix to keep coming on because Hixon, Smith and Moss are to inconsistent.
Chris A. (Houston)
Jeremy, who are your ROY's?
Jeremy Green
(2:34 PM)
Offense is Sanchez because I think he plays a lot and puts up good enough numbers... defense is Curry... he will lead all rookies in tackles.
Justin R. (Paris TN)
JeremyAs an Indy fan should I be excited about Donald Brown?
Jeremy Green
(2:35 PM)
I think you should be... I know I am. Addai gets nicked and I like the way Brown punds it beween the tackles.
jeff jagodzinski (unemployed)
most overrated team?
Jeremy Green
(2:37 PM)
Dallas... Sorry big D but I have yet to see Whiten produce without T.o. on the field and I am not sure Roy E. can take enough pressure off him.
Dustin (Minneapolis)
How much does shaun Rogers mean to the browns?
Jeremy Green
(2:37 PM)
A lot... He is a run stuffer that protects their ILB's. He is a little lazy but not overrated when he wants to play.
Jose (El Centro, CA)
Great podcast
Jeremy Green
(2:37 PM)
thanks Jose.
Steve M (Washington,DC)
Jeremy, as a Jets fan who do you think I'll be watching carry the ball most for us this season?
Jeremy Green
(2:38 PM)
I think T.J... I think he carries the load and L. Washington is the 3rd down guy... If the D keeps them in games and I think it will with Rex Ryan then both should get plenty of touches.
Q (San Jose, CA)
How do you think MJD will fair this week against the Colts defense?
Jeremy Green
(2:39 PM)
Not great... he is not 100% and they are likely down early which means they have to go to the air.
Mark (KC)
I'll rephrase my question, is Fred Jackson worth holding on to once Lynch is off suspension?
Jeremy Green
(2:40 PM)
EASYYYYYY... No... Is any Bill worth keeping? This is not a good offensive football team
Scott (FL)
With Duckett gone, do you think Edge will be the new red zone back for the Seahawks?
Jeremy Green
(2:40 PM)
Hard to say... he is their 3rd down back I think but Red Zone? He is not the GL Back
Dave (Pittsburgh)
Hi Jeremy, I see Atlanta mentioned a lot as a Superbowl Contender. Is their Defense that good?
Jeremy Green
(2:41 PM)
I think Peria Jerry helps up the middle but I still have concerns at LB and in the back end.
rob (rhode island)
derrick burgess- Savior for NE at DE?
Jeremy Green
(2:42 PM)
Depends how much 4-3 they play and I know they want to play more of that. He is not a 3-4 guy but a guy that can get pressure off the edge in the 4-3. As a situational guy he can get pressure.
Josh (KC)
Jeremy, yo, is Kellen Winslow going to be a threat this year, or is he going to flake out, again?
Jeremy Green
(2:43 PM)
He is not a "flake" He can get open but can Leftwhich find him? He is a great target if they choose to use him.
Michael (georgia)
Do you think The Bucs will have the number one pick in next years draft?
Jeremy Green
(2:44 PM)
No.. Still too good on defense despite a struggling offense... I still think they are 1-0 after week 1.
Chris (WI)
who wins NFC North
Jeremy Green
(2:47 PM)
I think the Vikings will overcome bad coaching. On paper they are one of the best teams in the entire NFC. Favre is a great fit in the WC offense, they run the ball and they stop the run. THey are a great football team.
Scott (FL)
who comes in last in the AF West
Jeremy Green
(2:47 PM)
Oakland... come on...
Chris A. (Houston)
Is Dunta Robinson going to make an impact now that he is finally back on the field for the Texans?
Jeremy Green
(2:48 PM)
Might take a little bit... has to get back in playing shape, but he is a huge piece of that defense.
Phil S. (Paramus, NJ)
What do you think Percy Harvin's role(s) will be in the Viking offense? Can you give me a guess on touches per game?
Jeremy Green
(2:49 PM)
5-10... I think it depends on the game. If they are losing and in a lot of 3 WR sets he gets more touches... if they are up big early and trying to put a game away then he gets less touches.
Nick (NY)
How far do the Titans fall this year?
Jeremy Green
(2:49 PM)
All the way to 1st place in the AFC South.
MIKE (BETHESDA, MD)
Who are this years sleepers in the AFC/NFC?
Jeremy Green
(2:51 PM)
I don;t think there is one in the AFC. It will be Pitt, Balt, NE, Tenn, Indy and SD in not particular order... in the NFC I would look to NO and GB
KMAC (Boston)
Beanie Wells, 950 yards 7 tds a lot to ask?
Jeremy Green
(2:52 PM)
Not a lot to ask but it depends on the D which stinks after the terrible firing of Clancy Pendergast. This team might be playing from behind a lot and have to abandon the run.
goro30 (tampa fla)
do u think vince young should start this season?
Jeremy Green
(2:53 PM)
No... their best QB is getting the start.
Brad Childress (Minny)
Hey man what's with all the hate? Hasn't this franchise made lots of progress with me on board?
Jeremy Green
(2:54 PM)
I don't think so... You are better then Mike Tice.... congrats!
George (Houston)
What happens to Gary Kubiak if the Texans miss the playoffs this season?
Jeremy Green
(2:55 PM)
He is on the hot seat so he will be gone... 3 biggest coaches on the hot seat in the AFC are Jauron, Del Rio and Kubiak.
ccurtis3974 (Metamora MI)
personnally i think childress messed up his future in minny, look at mangini, he brought favre into ny and the very next offseason he was ousted
Jeremy Green
(2:56 PM)
I would not compare the 2 situations because Brett had to adjust to an offense he had never played in.
Marvin Lewis (Cincy)
Jeremy, you were correct to exclude me from the hot seat in the AFC. I have a terrible owner who thinks 8-8 is fabulous.
Jeremy Green
(2:57 PM)
he is a gimmie
Jack (WA)
Do you think Belichick is sending his coaching proteges across the nfl to ruin other franchises as a part of some elaborate evil scheme?
Jeremy Green
(2:59 PM)
No I just think they think they can emulate him and they just can't. Bill Walsh had the best coaching tree and none of them tried to BE HIM... they took what they got and became their own person... Belichick's tree is a bunch of wannabe knock-offs.
Riley (Somers Point,NJ)
Lets here it right now, the JG superbowl prediction
Paul Kuharsky
(3:01 PM)
Hi folks, Paul Kuharsky here.We ready to shift to AFC South?
Jeremy Green
(3:01 PM)
New Orleans- Pittsburgh and I think the Steelers at least today repeat... I think the Saints with Darren Sharper at Safety eliminate a lot of the mental errors that plague then and the offense will be one of the best in the NFL. I am on the Saints bandwagon and hey they will be 1-0 with Detroit coming to town!!
JT (The 'H')
Paul, thoughts/prediction/feelings on Jets @ Texans?
Jeremy Green
(3:01 PM)
Everyone enjoy the 1st weekend of games... I will now pass the torch to Paul Kuharsky!
Paul Kuharsky
(3:02 PM)
Will be a big disappointment if the Texans cannot win this game at home. But I think the Jets will make it tough. They can play some defense, and the Texans may not be equipped to make NY pay for relying on Sanchez.
Jason (Bmore)
How many terrible towels have you purchased thus far?
Paul Kuharsky
(3:02 PM)
So far none. But I am counting on street vendors on my way into Heinz Field.
Cody (NC)
Do you see the colts wining 12 games to continue thier streak?
Paul Kuharsky
(3:03 PM)
I see them in the 11-12 range. Could be close.
Mark (KC)
Would I be crazy to sit Chris Johnson vs Steelers, and start Fred Jackson vs Pats - this week only?
Paul Kuharsky
(3:04 PM)
Here is my thinking, and I am bad at fantasy: Did you draft Chris Johnson to sit him?The guys you draft high, don't overthink matchups. Lock them in.
Kevin (Louisiana)
The Titans looked to have blitzed more this preseason than in the past... do you think that is a mirage or will Cecil have to blitz more to create pressure..
Paul Kuharsky
(3:05 PM)
I think they will blitz if they cannot get pressure with their front four. I think tonight, and oftentimes, they will get pressure with their front four.
Brian (Louisville)
Any word on Nate Washington playing tonight?
Paul Kuharsky
(3:05 PM)
Stay tuned, we'll watch him warm up and share what we see. They don't know until then.
Jason (Bmore)
The drafting of Donald Brown seemed to have galvanized Addai, with his recent preseason showing. Do you believe that Addai will still get the majority of the reps, or was Brown drafted to do different things or to create a 50/50 split?
Paul Kuharsky
(3:06 PM)
I expect Addai to get more while healthy, maybe 65 percent.
Q (San Jose, CA)
How do you think Peyton Manning will do this year, compared to last season?
Paul Kuharsky
(3:07 PM)
I expect better overall as he will start better. But one injury to Wayne or another lineman or Clark and they're all in trouble.
Drew (H-Town)
Will D. Robinsons/B. Cushings return help Houstons D out at all, or will it be soft as all get out?
Paul Kuharsky
(3:07 PM)
They will certainly help. How much is the question.
Razel (Texas)
Paul, I heard that you picked the steelers over the TITANS!! Love your blog long time fan read it every day btw!
Paul Kuharsky
(3:08 PM)
Wonder where you heard that, as I've not picked it and won't. I think it will be tough for the Titans to win, but it's certainly possible.
Vince Young (On a smelly bus)
Why aren't I starting, I had a great pre-season and I'm the franchise QB, will I even play this year??
Paul Kuharsky
(3:08 PM)
Nope. Not if Collins is healthy. I wouldn't call your preseason great, either.
Jeff (Washington, DC)
Hey Paul, who's going to be returning punts and kickoffs for the Titans this year, with the early and sudden exit of Chris Davis and after cutting Mark Jones? Enter Javon Ringer?
Paul Kuharsky
(3:09 PM)
Ringer on kicks.Mouton on punts, but not tonight. Finnegan maybe tonight.
Tom (IN)
I was very surprised that the Colts cut Giordano, Howard, and T.Taylor; although Taylor must be really bad if he didn't even make their practice squad.
Paul Kuharsky
(3:09 PM)
Applause for them admitting Taylor wasn't good if he wasn't good.
Jason (Bmore)
Just Gage seems like he certainly has the talent and is a good fit for the Titans, but never seems to stay healthy. Is this the year he finally makes it happen, or was the signing of Washington pretty much an indication that they never expect him to be healthy?
Paul Kuharsky
(3:10 PM)
They didn't sign Washington to play instead of Gage, they signed him to play with Gage.
Landon (Houston)
Paul do you see Owen Daniels and Andre Johnson both returning to the pro bowl this year?
Paul Kuharsky
(3:10 PM)
AJ for sure. Daniels needs to score some TDs, I think.
Peter (Quahog, RI)
What's your take on Fili Moala? How much does he figure in to the Colts DT rotation this year?
Paul Kuharsky
(3:11 PM)
I've got a post coming on him this afternoon. Seems he's viewed as a developmental guy,. With Ed Johnson out this weekend, Caldwell did not mention Moala when asked about the DTs.
Brandon (Bellevue, WA)
Jacksonville was a trendy pick to go deap into the Playoffs before last season and then they have one off year (plus a lot of injuries) and NOBODY is thinking they can bounce back. I know they have a really tough division but some Jags lovin?
Paul Kuharsky
(3:13 PM)
The talent gap between the Jags and the other three teams in the division is, in my eyes, large.
Brodie (Davenport, IA)
Bob Sanders... healthy and breakin heads again this year?
Paul Kuharsky
(3:13 PM)
At some point this year, yes.
Brent (Titan fan in pa)
PK, any word on the injury list tonight? more curious is Washington will be playing
Paul Kuharsky
(3:14 PM)
They have to get him on the field and have a look and it's 3:17 on a day when the game starts at 8:30. We'll see him later and interpret what we see. But may not know for sure until 7:00.
Jason (Bmore)
MJD has deemed himself healthy, but one has to think there will some lingering effects. Is Rashard Jennings finally healthy enough to step in, or will Greg Jones get most of these carries?
Paul Kuharsky
(3:15 PM)
I think Greg Jones gets the carries no matter what the status of Jennings is.
Peter (Quahog, RI)
The Colts def will be top 10 in both points and yards this year. True or False?
Paul Kuharsky
(3:16 PM)
Possible, considering they were seventh and 11th last year.
Jeff (Washington, DC)
Let's talk about Matt Jones...has there been anymore talk about signing him since his visit in Nashville last week?
Paul Kuharsky
(3:17 PM)
Could happen Friday. Sign a guy after Week 1, his contract isn't guaranteed.
Zach (Muncie, IN)
Do you see Mike Sims-Walker making an impact and becoming a premier receiver in this league?
Paul Kuharsky
(3:17 PM)
If he can stay healthy. But his time has to start running out if he keeps getting dinged.
Kevin (Pittsburgh)
I know he's only 5'7 but the way people talk about MJD its like he is constantly injured when he has never missed a game due to injury.
Paul Kuharsky
(3:18 PM)
He's also never been the feature back with no big-time guy to share the load. And he's been banged up.
Jason (Bmore)
Anthony Gonzalez was hailed as the perfect fit to the Indy O, but wasn't this in conjunction with Marvin staying and being productive? All things considered, what's his upside, 80 950 6?
Paul Kuharsky
(3:18 PM)
I think those are possible numbers. He could get 1,000.
Jake (Avon)
Paul, has there been any movement on the Marvin Harrison front?
Paul Kuharsky
(3:19 PM)
None that I've heard about. And he's not a possibility in the AFC South.
Jake (Avon)
Paul, what is a tougher division AFC South or NFC East? Why?
Paul Kuharsky
(3:20 PM)
NFC East because it's worst team (Skins) is better than AFC South's worst team (Jags).
Peter (Quahog, RI)
How likely is it that three teams from the AFC South make the playoffs?
Paul Kuharsky
(3:20 PM)
I see a 18 percent chance.
Scott (Indy)
Was Marcus Howard cut because he is too similar to Freeney and Mathis, or did he just not develop?
Paul Kuharsky
(3:21 PM)
They starting to go bigger, and with Keyunta Dawison and Raheem Brock in addition to Freeney and Mathis, they're in pretty good shape there.
Paul Kuharsky
(3:22 PM)
Double posted questions = automatically ignored.
Tim Graham (on a high horse)
are you concerned/angry that ESPN made you Tim Graham's opening act?
Paul Kuharsky
(3:23 PM)
This is my usual time. He's sweeping up for me.
Ben (NASHVILLE, TN)
First i know that you are bad at fantasy, but so am i so I will ask you. Should I play Big Ben, Jason Campbell vs the Giants, or Sanchez vs the Texans. I am going to go with who you say because I cant make a decision.
Paul Kuharsky
(3:23 PM)
You play Ben, every week except the bye week.
JR (Jax)
Does Painter stay on the roster all year or do the Colts make a roster move to get more depth on the OL or DL?
Paul Kuharsky
(3:24 PM)
Well their first wiggle room comes with Shane Andrus, you would hope. Painter is a luxury, though, when you start to deal with injuries.
Jason (Bmore)
Please make sure you try a primanti's sandwich in Pitt if you have not already.
Paul Kuharsky
(3:24 PM)
Already done my friend. Always. At PNC Wednesday.
Peter (Quahog, RI)
What happened to Phillip Wheeler? Word was the Colts loved him and couldn't wait to give him playing time... all of a sudden Tyjuan Hagler is starting at SLB?
Paul Kuharsky
(3:25 PM)
Yeah, they don't really share that such a change is coming, so it seems surprising to us. Sure it's been in the works for them for a while.
Gary (Houston)
I haven't seen anything from Antonio Smith to convince me he's the answer opposite Mario Williams. Do you think Connor Baldwin will have more of an impact than Smith will when it comes to getting to the QB?
Paul Kuharsky
(3:26 PM)
He could. Smith wasn't rated as much of a rusher in the eyes of many, but a solid player. Expect him inside in clear cut rush downs with Barwin at end.
Gene Smith (Jacksonville)
Mr. Kuharsky I think you are severely underestimating Jacksonville's talent level. When the Jags dont finish last in the AFC South this year will you write an article on how you were wrong?
Paul Kuharsky
(3:27 PM)
Sure. But I also consistently say that predicting the NFL is impossible which is why we love it.You're starting four rookies. Titans none. Colts maybe one, because of an injury.
Brodie (Davenport, IA)
He's your Kenny Banya
Paul Kuharsky
(3:27 PM)
He loves his Round-tine.
Mort (Chicago)
Do you see Rex Grossman getting the role of Starting QB in his time with the Texans?
Paul Kuharsky
(3:27 PM)
No. Only if Schaub is out hurt.
Brandon (Columbus)
What kind of year do you think Garrard will have?
Paul Kuharsky
(3:28 PM)
Not great.
Alex (Evansville, IN)
Paul true or false, Donald Brown will become the colts featured back by the end of the season.
Paul Kuharsky
(3:29 PM)
I think they are both going to be "featured" and will become the sort of two-back deal you see on a lot of teams. But Addai will have the lead if he's healthy and productive.
Peter (Quahog, RI)
True or False? No receiver playing for Tennesse or Jacksonville would make the team for Indy or Houston.
Paul Kuharsky
(3:30 PM)
False.
Paul Kuharsky
(3:31 PM)
How times flies.Now ladies and gentlemen, I am pleased to introduce for your chatting pleasure, Wizard Timothy Graham.(Hold applause to the end.)Enjoy. And read AFC South during and after the game!
Joseph (Ft Worth)
Welcome Timmy. What game are you at this weekend or are you at home? What game this weekend are you most looking forward to in the humble AFC East
Tim Graham
(3:33 PM)
Because the other AFC East teams are on the road, I will attend the Monday night game only this weekend. For Week 2 I get the doubleheader: Patriots-Jets on Sunday and the Colts-Dolphins on Monday night.
Jay (the Great State)
Tim, thoughts/prediction/feelings on Jets @ Texans?
Tim Graham
(3:34 PM)
I'm looking forward to that game. Two of my favorite players in the league to watch -- Darrelle Revis and Andre Johnson -- will be going toe to toe all afternoon. I think it's going to be a fun game, and we'll learn a lot about both teams.
Kalvis (Latvia)
With Cassel gone, what happens to the Pats season if Brady goes down?
Tim Graham
(3:35 PM)
The season goes with him.
Josh (Vermont)
Does New England have a legitimante shot of going undefeated like two years ago or are too many pieces gone for that to happen again?
Tim Graham
(3:35 PM)
Not a chance. The Patriots will lose a handful of games this year, even if Brady stays healthy. Too many great teams on the schedule.
Zak (Buffalo)
What's Miami's best chance to stop Turner and Norwood Sunday?
Tim Graham
(3:36 PM)
The Dolphins have a pretty tough front seven. Look out for second-year DE Kendall Langford. I think he'll have a breakout season.
BigC (small town in indiana )
who u think is goin to win the AFC south?
Tim Graham
(3:37 PM)
I went with Indy in my preseason predictions, but it's not out of the realm of possibility that three AFC South teams go to the playoffs.
George (Brooklyn)
Tim - Does David Clowney go from pre-season wonder to a solid deep threat guy this year, or are the Jets still in need of a top flight receiver?
Tim Graham
(3:38 PM)
David Clowney has the Jets' best speed at receiver. If he doesn't do it, nobody will. They need him to play well in the regular season. Can he do it? I think so.
Ed Hochuli (Chat Ref)
Tim, I know you have a big mess to follow up, but let's have a good chat anyway. I don't want to crack some skulls.
Andy (Rochester)
Tim...I've a Bills fan through and through and can't believe Bill Simmons thinks they will be the worst team in the AFC going 2-14. I know the Bills aren't going to the Playoffs but do you think they are THAT bad?!
Tim Graham
(3:40 PM)
No, I don't see them being that bad. I do think they'll finish fourth in the AFC East. But they'll win six or seven games.
Cody (Mesa, AZ)
What do you think of Ted Ginn Jr?
Tim Graham
(3:41 PM)
He's a fine No. 2 receiver, but he's not true No. 1 material. He's the best receiver the Dolphins have, but that alone doesn't make him No. 1-caliber.
Jacob (DC)
The Bills O-Line has a total of Fifty-six starts between the starting five which is the fewest on an O-line since the 2002 New York Giants opened the season with 54, according to the Elias Sports Bureau. It should be pointed out, though, the Giants gave up only 24 sacks that year. Only four teams allowed fewer. Any chance the bills o-line could gel that quickly
Tim Graham
(3:41 PM)
Hey, Jacob. That's very interesting information. Especially since I wrote that passes you just cut and pasted.
Tim Graham
(3:42 PM)
I don't see them giving up anywhere in the neighborhood of 24 sacks. They gave up 38 last year and aren't as good.
Claude (NY)
Do the dolphins have a shot to repeat as afc east champions
Tim Graham
(3:43 PM)
Absolutely. If they get a couple breaks, they can do it again. They're good enough to beat any team in the league any given week.
Peter (Quahog, RI)
Thoughts on Chad Henne? Will he start at some point this season?
Tim Graham
(3:45 PM)
Not unless a) Pennington gets hurt, or b) the season gets out of hand the Dolphins lose hope of the playoffs. Pennington is that team's leader. If they put him on the sidelines, it would send an unsettling message to the rest of the team.
Stephen (San Diego)
How much time do you think Shonn Greene gets this year? Productive enough to take over for Thomas Jones?
Tim Graham
(3:46 PM)
It's possible, but I doubt it. Jones is at that age where he'll start to slow down, but he's a warrior. He just led the AFC in rushing and won't give up his role easily.
scott (FL)
WHY IS IT THE TITANS DONT ALLOW THEIR BROADCASTS ON SIRIUS AND OTHER MEDIA OUTLETS. A\S A TITANS FAN I WANNA HEAR MIKE KEITH AND TN. BROADCASTERS!!!!!!!
Tim Graham
(3:47 PM)
Lighten up, Francis. I'm the AFC East guy.
Scotty (Oceanside)
Sean Smith Def Rookie of the year?
Tim Graham
(3:47 PM)
I went with B.J. Raji in my preseason predictions. Brian Orakpo's out there, too. But Smith could make some noise. In fact, he already is.
Cahill (NYC)
Tim,What is the basis for giving the Bills a record of 6-10, 7-9? I would argue that the team is improved from last year, despite the O-Line having a giant red flag. The concerns come from the total inexperience of the line, but it is arguably more talented than last year. Would it be reasonable to assume that most of the negativity towards the Bills is coming out of the preseason struggles and the recent turmoil with the coaching staff? Some experts had the Bills as a possible surprise team heading into the preseason. Essentially, is there anything you can give us Bills fans so that we step back from the cliff?
Tim Graham
(3:49 PM)
I had them marked down for 7-9 a month ago. Improved, but 7-9 because of the schedule and the strength of the division. I didn't buy into the T.O. or no-huddle hype because the offensive line was such a mess.
Jake (Denver)
Everyone talks about the aging Pats D, but haven't they got younger at most every position? Gone are Harrison, Seymour (maybe), Bruschi and Vrabel. If their old men are guys like Adalius Thomas, don't they have to be fairly content?
Tim Graham
(3:50 PM)
They will field the youngest starting D on opening day since the Pete Carroll era, but they're still one of the oldest teams in the NFL.
Justin (Norfolk, VA (the armpit of the U.S))
Tim - Will Will Sanchez have a more productive year than Farve did last year?
Tim Graham
(3:51 PM)
Depends on how you measure it. I can almost guarantee he'll have fewer interceptions than Favre did.
Carl (florida): [via mobile]
I'm not complaining at all. All these questions are great. But I've asked 6 different questions on here today and they are all appropriate and none are posted? How are the questions selected by the web ppl or experts? thx
Tim Graham
(3:53 PM)
It's a shame, then, that this was the submission I noticed. We've had over 3,100 questions so far. We don't see them all.
David (West Palm Beach)
Patriots are way too over-rated heading into this year. Tom Brady this, Tom Brady that. I get it, he is good quarterback with great recievers. But so is Drew Brees. After losing 6 veterans on D, whether it be from reitirement or trading. Am I wrong for thinking they will not be what they were two years ago?
Tim Graham
(3:54 PM)
Drew Brees has a long way to go to match Tom Brady. Brady's a first-ballot Hall of Famer. Brees needs to accomplish a lot more to get a sniff at Canton.
Lou (Boston)
What was the bigger heist - Moss for a 4th rounder or Seymour, in the last year of his contract, for a number 1, most likely in the top 7?
Tim Graham
(3:55 PM)
the biggest heist I would say is the Seymour trade. You have to remember that at the time they traded for Moss, nobody wanted the guy. All somebody had to do was offer a third-rounder. The Patriots really worked over the Raiders on Seymour.
Monroe Roberts (Houston)
Jets lose in Houston?
Tim Graham
(3:56 PM)
Probably. The Texans are very good. The Jets will be short-handed on defense with the two suspensions, and it will take some time for everything to come together.
char (hoboken)
tim - just heard a blurb the bills are flying in jon runyan...does this makes us think butler isnt gettin it done? do u think we can sign him?
Tim Graham
(3:57 PM)
It will be interesting to see how this pans out. Runyan could be brought in for depth, but the guy has started 192 straight games.
Joey The Pat's Fan (Kansas city)
who's your pick to win it all this year
Tim Graham
(3:57 PM)
Steelers.
Cynthia (Taunton, MA)
Can TO get behind Springs or is Buffalo looking to get blown out on Monday night football?
Tim Graham
(3:57 PM)
I don't see that as a one or the other question. The answer can be yes to both.
T.O (Buffalo)
Have you seen my show?
Tim Graham
(3:58 PM)
I did. It was awful in general, but pretty interesting in spots. Congratulations on getting it renewed.
Justin P (Fort Worth)
Boy you guys are posting some worthless, mindless questions... There are red hot rumors out there that Belichek wants Tim Tebow badly and will select him in the 1st round in the spring. Have you heard anything about this? What do you think about Tebow in New England?
Tim Graham
(3:59 PM)
And we just posted another one.
Tim Graham
(4:00 PM)
Thanks for your time. He's one of my favoritest analyst in the whole world, KC Joyner.
KC Joyner
(4:03 PM)
Hey there, sorry I'm a couple of minutes late, my computer just was not cooperating. Let's talk some football!
ahhhh (cpu)
Who do you have in the superbowl
KC Joyner
(4:04 PM)
I'll take Pittsburgh and Philly, although I reserve the right to change my mind on Philly if their injury woes continue.
Brandon (Columbus)
KC, who's a better start this weekend: Roethlisberger or Garrard?
KC Joyner
(4:04 PM)
Tough call there. I'd go Ben if only because I have a gut feel that Holmes could score a TD to show that his Super Bowl performance wasn't a fluke.
Anthony (Philly)
Sanchez... Offensive Rookie of the Year? I'm pegging him at 20 TDs, 11 INTs and 3,350 yards. He's Pennginton
KC Joyner
(4:06 PM)
I've got Beanie Wells as my Offensive ROY. As far as Sanchez goes, I can't quite see 20 TDs. If memory serves me right, Flacco or Ryan didn't hit that mark last year and Sanchez's receivers aren't as good as theirs (or at least as good as Ryan's were last year).
Andy (Rochester)
KC, drop Chicago Defense for Seahawks?
KC Joyner
(4:07 PM)
No, no and no. Jim Mora's D did horrible against the vertical pass last year and that was an issue he had in Atlanta as well.
Jason (Mississsippi)
KC, give the Dolphins some love, the rest of the media want. We will win the AFC EAST AGAIN this year
KC Joyner
(4:08 PM)
If the Fins rookie CBs and new safeties hold up, an AFC East title defense is possible. If they struggle, an 8-8 record is possible.
Jon (Phoeniz, AZ)
How well can Felix Jones do in week 1 vs Tampa?
KC Joyner
(4:09 PM)
Felix gained over 10 yards per attempt when he was given good blocking last year. Even at 10-15 touches per game, he's a candidate for 100 yards from scrimmage.
Justin P (Fort Worth)
There are red hot rumors out there that Belichek wants Tim Tebow badly and will select him in the 1st round in the spring. Have you heard anything about this? What do you think about Tebow in New England?
KC Joyner
(4:11 PM)
I think Brady plays another 3-5 years, so getting Tebow would be a future QB at best. I can't see BB making this move, or at least not in the first round.
Kevin (Florida)
Do you think Juaquin Inglesias will step into the Eddie Royal roll in Chicago with Cutler at the helm.
KC Joyner
(4:12 PM)
I've got Earl Bennett rolling into that role. Cutler plays favorites and Bennett will certainly be one of those.
Chris (VA)
Rodgers or Cutler?
KC Joyner
(4:13 PM)
Rodgers. Cutler has to face two really strong CBs and Tillman may not play for Chicago.
Phil S. (Paramus, NJ)
Who should I start at Flex in week 1 - Felix Jones or Fred Jackson? I'm leaning Jackson, but you can sell me on Felix...
KC Joyner
(4:14 PM)
I'd go Jackson based on volume of touches. He'll be the workhorse whereas Felix will be a change of pace back.
Geoff (Springfield)
KC, will Chris Johnson and Lendale White be as effective of a 1-2 punch as last year, or will one or the other take the job?
KC Joyner
(4:15 PM)
I'm of the mindset CJ will take that job more to himself this year. He led the league in YPA on runs with good blocking. He also wasn't quite acclimated to condition himself for a 16-game season last year and that won't be the case this year.
Jake (VA Beach)
Does your prediction of a Holmes TD mean you would take him over Evans this week? I was going to ask you to break the tie with a metrics analysis of Tenn vs NE pass D
KC Joyner
(4:16 PM)
Lee Evans is the top WR on my board this week, so I would not start Holmes over him. His matchup is that favorable.
Rick (Springtown)
K.C- why is everyone so down on the Raiders. They won 5 games last year and I know there have been some questionable things happen this off season, they're not a better team then last year? Russell played good down the stretch, they have some young players who should be a year better and there isnt a Kiffin vs. Al fued going on. Everyone has them winning less games this year then last.Why cant they win 8 games??
KC Joyner
(4:17 PM)
I'm with you on one level but their preseason performance and the off-field issues have me worried that this team will be more of the same this year - a lot of physically talented players who don't play up to their talent level.
Craig G. (Fairfield, California)
Hey KC, best start for QB this weekend: Flacco, Big Ben or Hasselbeck?
KC Joyner
(4:17 PM)
Tough call. I'd go Flacco but it's not by much.
Shane P (Sebewaing)
How much does Orton coming to Denver help Tony Scheffler's value as a FF TE?
KC Joyner
(4:18 PM)
Maybe not as much as it could if the Broncos played in an offense that features the TE. McDaniels wants his TEs to block so Scheffler might not see as much flex WR work as he would have under Shanahan.
birdo (miami)
I want to drop mendenhall so bad, I've seen nothing out of him...i can pick up shonn greene, james davis, hixon of the gmen, or even dustin keller, i got zach miller as my starter, what do you think?
KC Joyner
(4:19 PM)
I'd go Davis unless you are really stocked at RB. Then I'd go Keller.
Sage Rosenfels (MN)
How do you think the old man fairs this season..... Man I should have stayed in Houston Schaub is already hurt..... I could have started the whole season......eerrrrrrrrrrrr
KC Joyner
(4:20 PM)
Hey, he made the right call in going to a place where he would have started had it not been for Favre.
Kevin (Florida)
this is retarted my question is up their but you skiped over it your not a sports scientist your garbage do you even know who Jaquin Inglesias is
KC Joyner
(4:21 PM)
Yes I do know who he is and I don't think he will get much play in that offense.
Adam (NYC)
Stones or Beatles?
KC Joyner
(4:22 PM)
Beatles all the way. Stones rule but The Fab Four are the Bach/Beethoven of our generation.
Corey (D.C.)
Help! Chris Johnson vs the Steelers tonight or Ray Rice vs Kansas City?
KC Joyner
(4:22 PM)
Johnson all the way. I like Rice a lot but you didn't draft Johnson near the top of the draft to sit him. He's one of those guys you have to play every week.
darren mcfadden (oak)
am i closer to reggie bush or LT?
KC Joyner
(4:23 PM)
LT. You did just fine on runs last year when you didn't have to cut back. Now that your toes are healthy, you will be able to cut back much better and will show yourself to be one of the top backs in the league.
Jason (Baltimore)
Will Greg Olsen be used like a wr as much as they claim?
KC Joyner
(4:24 PM)
I hesitate to take a Chicago question again with the way today's chat has been going, but I'll brave the weather and do so. Given the state of the Bears WRs, Olsen will get used a lot in the flex role.
Frank (Boston)
How do you figure Brady is so much better than Brees? If last year proved anything its that Brady is a good player in a special, great offense. Cassel's success last year and debacle that will be this year will show that out. Almost any QB you put in the Pats offense is going to look good. Brady is perhaps the most overrated player of all time. That team and offense and scheme are special ... not Brady.
KC Joyner
(4:26 PM)
Frank, the Pats had to work around Cassel's weaknesses last year. He was one of the worst vertical passers in the NFL. That was a testament to Belichick's gameplanning more than anything. When Brady is in there, Belichick goes deep because he knows Brady can do that. It isn't a matter of the offense but rather the playcaller. And Sean Payton is a tremendous playcaller, so it's not like Brees is suffering in that department.
Shane P (Sebewaing)
Is the quarterback situation that bad in Cleveland that Mangini can't declare a starter, or is he just trying to be coy?
KC Joyner
(4:27 PM)
Coy. The skinny around the campfire has been that Quinn was going to be the starter and any change there would be a big surprise.
Darren Sproles (San Deigo)
Was Reggie Bush suppose to be like me?
KC Joyner
(4:29 PM)
Sort of, but Bush is more of the Charley Taylor type. Taylor was moved from RB to WR back in the day and it led to a place in the Hall of Fame. Bush has that kind of talent but he insists on trying to be a RB. Sproles is more of the change of pace darter who wouldn't be a downfield receiving threat the way Bush is.
KC Joyner
(4:29 PM)
Or rather could be.
David (Minneapolis)
Do you see the Stafford/Megatron duo teaming up for big numbers this year, or is the kid still just a kid?
KC Joyner
(4:30 PM)
I have complete faith in Megatron no matter who is throwing him the ball. He's performed well in every metric I can measure WRs by.
Shane (Los Angeles, CA)
KCJ: Expound on your LT statement please. I saw in your metrics LT was near the bottom of the league last year WITH good blocking. I have to sit one of 3 (LT, Bush, Wells) so curious what your take is on LT for this week.
KC Joyner
(4:31 PM)
Play him. LT did poorly with good blocking but SD had the best POA blocking metrics of any team last year. LT will get the ball a lot and if his issue last year was purely health related (and not just age catching up to him), he'll have a good day and a good year.
Tony Sparano (Miami)
Everyone knows that Ted Ginn Jr is my best option @ WR, but he still isn't a true WR1. Which one of my young guys steps up big this year? Greg? Davone? Brian? Patrick?
KC Joyner
(4:32 PM)
I beg to differ on Ginn. He had an 8.8 YPA last year. That is very close to an elite level and a slight improvement gets him to a #1 spot.
jamie (richmond)
responding to frank in boston - how is the most overrated player in history worth 5 extra wins (16-0 to 11-5), and 10 more ppg (36 in 2007 to 27 in 2008). give me a break.
KC Joyner
(4:32 PM)
Finally, someone in the crowd comes to my defense!
Shane (Los Angeles, CA)
From a Cards' fan: Wow, calling Brady the most overrated player of all time is up there with calling the President a liar during a Senate speech (ok, not nearly as bad, but it's still blasephemy!)
KC Joyner
(4:33 PM)
More concurrence on Brady.
Lane (Kukuihaele, HI)
Aloha KC. Who has the better year in Miami? Bess or Ginn?
KC Joyner
(4:35 PM)
Aloha Lane! Great to have you back in the chat room. They do different things, so it's hard to do an apples to apples comparison. I just spoke of Ginn's impressive YPA totals. Bess' most impressive number is his success rate on short passes, which was in the mid-upper 70s last year. He's a dominant possession receiver and can run the whole tree. Ginn will put up a higher YPA but Bess will put up a higher catch rate.
Reggie Bush (NO)
Do people realize I led the league in all-purpose yards AND touchdowns before I got injured last season? Is it just me, or is the Saints offense one of the top 3 most explosive in the league in part due to my arrival? Do people stick their fingers in their ears and just start screaming when they hear the facts about me?
KC Joyner
(4:37 PM)
It's not that Bush is a bad back, far from it. I even wrote in Scientific Football 2009 that he was much better on power runs than might be generally thought. It's just that he is a better flex RB than he is a standard RB.
Eric (IA)
From someone who grew up a Phins and Dan Marino fan -- not acknowledging Brady as the best ever is like those idiots who continued to insist the world is flat.
KC Joyner
(4:38 PM)
It's not even the Brady not being the best ever that troubles me. It's the idea that he is a good but not great QB. No system can take a good QB and make his as dominant as Brady has been. No playcaller is that good.
Dustin (La Palma,CA)
Frank Gore or Steve Slaton this year?
KC Joyner
(4:39 PM)
Slaton. He fared very well on runs with good blocking (top 10 I believe) and he did that despite having midseason conditioning issues. He won't have those this year so I like his upside a lot.
BSB (Philly)
Welcome back Lane. Does the Walter injury for Houston make them really easy to defend now?
KC Joyner
(4:40 PM)
They have other options who aren't quite as good as Walter but can still hold up in the short term. Andre Davis' history says he can do that quite well. Plus, this week whoever is opposite Andre Johnson has Lito Sheppard and that is a favorable matchup every week.
Lou (Boston)
Psst, Frank, the Pats won the Super Bowl in '01 with no receivers and Antoine Smith the lead back. Stay in school Frank.
KC Joyner
(4:41 PM)
Some backing from Boston!
Zach Thomas (Miami?)
What's next for me?
KC Joyner
(4:41 PM)
A prime spot in the Dolphins Ring of Honor and in five years being considered for the Pro Football Hall of Fame.
Deep (Ithaca, NY)
What do you think Rashard Mendenhall's impact is going to be this year for the steelers?
KC Joyner
(4:42 PM)
He'll do a great job of keeping the bench warm for Willie Parker. I get the sense Mendenhall doesn't like life in the NFL.
Paul (your old foe) (Denver)
Who would you start? - Hasselbeck or Schaub (pending health of course).
KC Joyner
(4:43 PM)
Schaub. Andre Johnson makes all of the difference.
Dustin ( Minneapolis)
McFadden or Marshall as my flex?
KC Joyner
(4:44 PM)
DMC. I don't trust Marshall at all right now.
NODNARB (NEW ORLEANS)
I BELIEVE THAT THE SAINTS HAVE THE BEST OFFENSE AND A POSSIBLY GREAT DEFENSE, WHAT DO YOU THINK ARE THE MAIN FACTORS OF WINNING A SUPER BOWL FOR NEW ORLEANS?
KC Joyner
(4:46 PM)
If their secondary stays healthy. They have what is potentially one of the best sets of CBs in the NFL. They go four deep on the CB set of the roster better than any team in the league. As long as that continues, they should be able to win shootouts and vie for a playoff berth.
RODNEYO (FRESNO)
Do you think I mad a good move starting my Steeler D against Tennesse tonight? I just didn't feel The Titans where going to do anything tonight.
KC Joyner
(4:47 PM)
The Steeler D is elite and you always play your elite players. You made a good move.
Ryan (Napa, CA)
Who ends up with the best stats out of the 3 backs in Baltimore?
KC Joyner
(4:47 PM)
Rice. McClain does a good job of getting yards when there isn't good blocking but he can't hit home runs when he gets good blocking. Rice can do both.
Jason (Baltimore)
Just curious. What does your statement about Mendenhall really mean? He had one year and got hurt.
KC Joyner
(4:48 PM)
It's just a sense my scouting eye got. It didn't just look like he was hurt - it looked like he didn't want to be anywhere near the field. Some players just don't acclimate to life in the NFL well and he looks like one of them.
Brian (Philly)
LEE EVANS!!! Did you just say Lee Evans is your top WR this week? Is there another Lee Evans on Ariz or NO that I don't know about?
KC Joyner
(4:50 PM)
You know, every year I get grief for saying good things about Lee Evans. The guys in Buffalo look like they finally realized he's the best player they have and are now putting in an offense to showcase his skills instead of dinking and dunking all of the time. If he can't break out with this sea change, I'll be shocked.
SprungOnSports (Long Island)
How can KC, Buffalo and Tampa win this week after changing offensive coordinators so close to the start of the season?
KC Joyner
(4:52 PM)
If the offensive systems for those teams had changed, it would be a concern, but it hasn't so they should be fine. Just think of it this way - how many times during a season have we seen a head coach take over playcalling? That is what happened here but because it happened in the preseason, it turned into a firing instead of a demotion.
Jay (Eagles Stadium, Philapelphia)
Is Willie Parker really going to carry the bulk of the load for the season, or more importantly, at least for tonight?
KC Joyner
(4:53 PM)
It's been reported that Parker is now going to get the goal line carries, so I'm on his bandwagon until he gets banged up.
Dave (Dallas)
Do you think the young offensive line will inhibit Trent Edwards ability to get the ball to Lee Evans?
KC Joyner
(4:54 PM)
Yes and no. From a fantasy perspective, all it will take is Evans catching one long pass. From an on-field perspective, he might not see it as often.
Stephen (San Diego)
You stated San Diego had the best POA blocking metrics last year - how is that determined? Their OL didn't always look very productive last year.
KC Joyner
(4:55 PM)
The entire process is too long to explain in this format but the nutshell of it is that linemen are credited with POA wins and losses depending on how they block at the point of attack. SD's linemen had a higher win rate than any other team.
Mike (Atlanta)
Were Sam Baker's metrics as good as his more highly touted fellow rookie OTs Long and Clady?
KC Joyner
(4:56 PM)
They were until he got hurt. I have him as a potential Pro Bowl candidate if he plays as well as he did last year for an entire season.
D Hyland (Normal IL)
I fell like I lost my best friend with the news of Petty going to the enemy Ford. I have been a loyal Dodge fan all my life ( I am 59) I like Petty but now all we have left is Pneske cars. I do understand the business of it all but I still hate it.
KC Joyner
(4:57 PM)
Not sure this belongs in an NFL chat, but the I feel I have to post something this impassioned.
Eric (Olean)
I have heard that Barber and Jones will both be featured in the backfield this year in Dallas. Do you think there is a better combo of running backs in the NFL? Tashard choice is a good back for a 3rd stringer
KC Joyner
(4:59 PM)
They all posted good metrics when receiving good blocking, so I'm with you on that no other team probably has a three deep RB crew as good as Dallas.
Xander (Philly)
Should I spend the weekend on FF or time with the family?
KC Joyner
(5:01 PM)
There are 365 days in a year. The NFL in on the air maybe 60-70 of those tops and there are only 17 regular season Sundays. Get your family time in around the NFL, or better yet, get your family into football so you can combine both! Well, I've got hit the road, as my eldest son has football practice in just a bit. One quick note - you can follow my work on Twitter at kcjoynertfs. Hope to see you all next week!