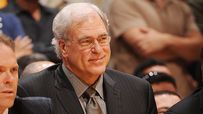 Jackson is just one of six coaches with over 1,000 wins.
Welcome to SportsNation! On Tuesday, we'll be celebrating this week's launch of ESPNLosAngeles.com with style befitting the City of Angels when Los Angeles Lakers head coach Phil Jackson stops by to chat.
Jackson, one of the most successful coaches in NBA history, joins the chat just hours before his Lakers tip off Tuesday night against Oklahoma City. He won his 10th league title last season, breaking his tie with Red Auerbach for the most ever by a coach. Entering Tuesday's game, he has 1,063 wins, placing him fifth all-time. Jackson has also won over 70 percent of the games he's coached, the highest percentage in NBA history.
Jackson began his NBA coaching career in 1989 when he took control of the Chicago Bulls. He led the Michael Jordan-led team to two separate three-peats in an eight-year span. He left the Bulls following the 1997-98 season and joined the Lakers for the 1999-2000 season. He did not coach the Lakers in 2004-05, but returned to the team for '05-'06 and has been in L.A. ever since.
Send your questions now and join Jackson Tuesday as soon as the Lakers' shoot around finishes between noon-12:30 p.m. PT!
More ESPNLosAngeles.com: Index | Previous chats | SportsNation
Buzzmaster
(2:56 PM)
Lakers' coach Phil Jackson will be by just as soon as his team is finished with its shootaround. We're hoping between 12-12:30 p.m. PT/3-3:30 p.m. ET!
Buzzmaster
(3:19 PM)
Coach is here!
Paul Lin (Irvine,CA)
Describe the impact of Ron Artest on the team? Are you impressed by his defense? Many thought he would be a distraction to the team.
Phil Jackson
(3:20 PM)
I think the record's kind of indicative of the difference he makes on this team. We think Ron's defense is good enough that he doesn't need help. We leave him alone on defense to play his own man. He's done a great job.
Umar (Pasadena)
Hey coach, you have been known to pass out a lot of books. What is your favorite book that most people wouldn't expect?
Phil Jackson
(3:21 PM)
Owen Meaney. It's been a book that I've passed out a few times. It's about a height-challenged student at a private school.
Stephen C. Ramirez (Davenport,Ia)
What Does Coach Phil Jackson Want For Christmas Besides Beating Cleveland?
Phil Jackson
(3:22 PM)
Linen handkerchiefs.
Edwin (Los Angeles, Ca)
hey phil.i know that pau just signed a lengthy extension and that kobe is going to be the next to follow with an extension.any ideas on how long you will be coaching for the lakers?
Phil Jackson
(3:23 PM)
That hasn't been determined yet. We haven't discussed that. we're just going to let the season play out and go with what happens, happens.
Jason (L.A)
Do you think Andrew Bynum has the skill to be the best center in the league someday?
Phil Jackson
(3:24 PM)
He could be one of the top scoring centers in the league. I think Andrew has that possibility. The area that he's working on are rebounding and defense. But scoring wise, he's really developed into a great scoring center.
Donald (Fort Smith AR)
Coach, Where did you originaly hear or come up with the Triangle offence?
Phil Jackson
(3:25 PM)
When I was in college, my coach Bill Fitch, pretty famous NBA coach, won a championship with the Celtics, used that offense. It was prevalent. Tex Winter was coaching at Kansas State at the time and influenced a lot of coaches in the Midwest. When I came into the pros, I wasn't familiar with the name, but when I got to the pros, Bill Bradley pointed out that Tex Winter was coaching Houston and that they would probably run the Triangle. I knew about it 40 years ago, but didn't know the intricacies of it until I went to Chicago as an assistant coach and Tex was there.
John Gonzalez (Huntington Park)
Whats it like working with the 2 greatest players in NBA history(Michael and Kobe)
Phil Jackson
(3:27 PM)
I don't think you can discount that Scottie Pippen is one of the top 50 players in the history of the NBA. So is Shaq O'Neal. To have those players to partner with is remarkable, for any great player to have a player with equal attention, dominance and abilities. I've been a very fortunate coach.
Brad (Gadsden,Alabama)
Phil, What is your favorite Christmas movie?
Phil Jackson
(3:27 PM)
I like Holiday Inn for the music. And I like the Christmas Story for the plot and the humor.
Donald (Fort Smith AR)
Hey Coach, huge fan, Do you ever find yourself being supprised or impressed with something one of your players does on the court? You have been coaching for a while and had so much seccess over the years.
Phil Jackson
(3:28 PM)
Yeah, I'm still enthusiasitc about special plays that happen over the course of the game, remarkable things that ball players are capable of doing. It could just be catching a ball, a wry ball or too hard of a pass. A lot of times it's defensive recoveries or reactions that make me impressed.
Donald (Fort Smith AR)
After all these years coaching at such a high level what are some factors that keep you motivated to continue to pushing foward?
Phil Jackson
(3:30 PM)
Watching players come together from training camp through whatever playoff level we're able to get to that really makes this an interesting game. It's a tremendous unification of mind and body of players' abilities. At times you see players that can overcome adversity or an opponent may be too overwhelming. But all of those things are of interest and keep you motivated.
John Smith (NJ)
What do you think to yourself when people say the only reason your a good coach is because you had MJ and now you have Kobe?
Phil Jackson
(3:30 PM)
I think they're right.
Michael (Chicago,IL)
Hi Phil, Do think Kobe has the change to be in the conversation along with Michael Jordan as the greatest player to ever play the game?
Phil Jackson
(3:30 PM)
He does. He has to win a few more championships and he's going to be in that conversation.
Paul (San Diego CA)
Being around the league for as long as you have, how would you characterize what the league(NBA) has evolved into currently from where it was when you first entered as a rookie player? In the aspect of coaches, players and refs?
Phil Jackson
(3:33 PM)
When I first came in the league, we didn't have a telephone directory for the NBA. There were just a few numbers to call 12 teams. You get them if you called up the yellow pages in the town you were at. Then we had a telephone directory and it was 6 pages long. Recently, they sent went out and it was 100-something pages. That tells you that worldwide there are so many numbers to call and the NBA teams themselves. When I first came into the league, there was a coach, a scout and a trainer. Now there are 6-10 scouts, 4 coaches along with GMs and assistant GMs. It's the pyramid theory of success. It's grown into an extremely big business. Due to the recession, the NBA is cutting back and we have to cut back some of those areas, just because of the way things are.
Jay Kharatian (Los Angeles)
Do you think the current Lakers team is better than your 1995-96 Chicago Bulls team?
Phil Jackson
(3:35 PM)
Very good teams, obviously. Very pleased with the capabilities of both of those teams. The Chicago team had a lot of speed, but not a lot of size. Great rebounding in Dennis Rodman and really tall, angular wings in Jordan and Harper. There's a different makeup of teams, even though they run the same offenses. It would be a real interesting game to see those two teams, as different as they are but still run the same offense.
joe (La)
What are some things that the Lakers improve on as the season progresses.
Phil Jackson
(3:36 PM)
We have to improve defensively almost every week, every month, until you reach a peak in playoff time. Our rebounding has to become better. We always start as a slow 3-point shooting team, but that gets better. I'm always harping on offensive rebounding. Many of the teams I've coached have been in the top 3-4 offensive rebouding, but this team hasn't done a good job even with the size that we have.
Phil Jackson
(3:36 PM)
Thanks. I'm glad we were able to do this webchat. Hopefully we can do it again.