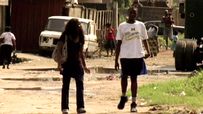 Akiode helps empower girls in Nigeria.
Welcome to SportsNation! On Friday, we will celebrate the work of Mobi Akiode, a Nigerian-American woman who works to empower girls back in Nigeria. The "Her Story" special airs Sunday at 2:30 p.m. ET on ESPN and is narrated by ABC's Robin Roberts. You can also read about her story here.
Back in September, Akiode quit her accounting job at ESPN and returned to Nigeria to set up a basketball camp to help young girls in the country. A former basketball player at Fordham and a member of the 2004 Nigerian Olympic basketball team, Akiode dedicates herself to empowering girls in Africa, lifting them out of poverty through sports. The girls in her camps travel from all over the country to learn not only basketball skills, but life skills.
Send your questions now and join Akiode Friday at noon ET!
More Special Guests: OTL Index | Previous chats | SportsNation
Mobi Akiode
(12:07 PM)
Thanks for joining me in my chat today. I hope to gain support in changing the lives of women in Nigeria.
Ian (Bronx, NY)
What do you want people to take away from your story?
Mobi Akiode
(12:10 PM)
I think a lot of people want to do good in this life and want to help. I want people to know that you don't have to be in a certain situation to help people. Anyone can make a difference. Every little bit counts. I was just an average 27 year old when I started my journey.
Lucy (Atlanta, GA)
What would you like to come from your efforts in helping these young women in your home counry of Nigeria?
Mobi Akiode
(12:12 PM)
I want to see more girls pursuing an education. I want girls to believe in themselves. I want them to inspire to be great. To use the platform of sports to help themselves to find their way out of their situations and grow be inspiring women. That's our goal for not only the girls of Nigeria but girls all over.
Rebecca (Miami, FL)
How did this idea to go to Nigeria and start basketball camps for young girls come about?
Mobi Akiode
(12:16 PM)
I used to play for Nigeria's International team and while traveling, I didn't see the camps that we have in the U.S. like AAU and Nike Camps. Those type of camps give kids exposure and give them a chance to take the sport of basketball and turn it into and education. An education on the court as well as off. I've always wanted to something to help out, it was just a matter of timing. I not only travel within Nigeria but throughout Africa. I started here in Nigeria but it won't be my last stop. I plan to continue my journey into other countries.
Frank (Coram, NY)
What you are doing is so great! If you had to narrow down one need for the Nigerian people what would it be?
Mobi Akiode
(12:17 PM)
Better roads, schools, water etc. All the things that fall under infrastructure.
Michael (Stamford, CT)
Is there a way for us to help out your cause?
Mobi Akiode
(12:18 PM)
You can always go on my website www.hope4girlsafrica.org. We can always use monetary donations, balls and things be can use at camps, coaches, volunteers and things of that nature.
Matt (Detroit, MI)
How much of a struggle has it been to get people to change their mind set about females playing sports?
Mobi Akiode
(12:21 PM)
It's a lot tougher than I thought it would be. There is a lot of traditional role thinking going on. People still think that sports are supported to be for boys. There hasn't been a Title IX movement here and there aren't really any female athletes for these young girls to look up to. It's very difficult to change the minds of people here but I do what I can.
Jenifer (CT)
What's the response been like among the young women in Nigeria?
Mobi Akiode
(12:23 PM)
It's been life changing. I feed of their energy. I couldn't have done what I did in quitting my job and moving over here if the response wasn't as great as what it is. I have girls emailing me from other countries asking me how they can bring Hope4Girls to their country.
Larry (New Orleans, LA)
Are some of your girls good enough to come to the US and play?
Mobi Akiode
(12:26 PM)
Yes but unfortunately they don't get exposure they need. Nigeria has a population over 150 million and half are women. Right now we have a 6'5 12 year old that needs to be playing everyday but can only practice once a week. The biggest problem is that they don't get the exposure they need and that's what we are trying to change. There is a lot of talent not only in Nigeria but all over Africa.
Chris Fiegler (Latham,NY)
Who do you think will be the 2009-2010 NCAA Men's & Women's Basketball National Champions?
Mobi Akiode
(12:27 PM)
Everyone sees UConn winning it but I like Stanford. I think they have a good chance at upsetting UConn. I also see Baylor as a tough matchup so anything can happen. I just hope to see an upset.
Mobi Akiode
(12:28 PM)
I like West Virgina on the men's side. I got a chance to see them play and they are really good. Michigan State has an injured Kalin Lucas and I think that will hurt them. I really don't see Duke getting it done and West Virginia will take it all.
Mobi Akiode
(12:36 PM)
I would like to thank the coaches and all the people who volunteer their time fer this cause. It only takes a small group of people to make a huge change. The girls that we are helping are so grateful for all that we do. Using sports as a platform for change is an amazing thing. Be sure to tune in for "Her Story" airing Sunday at 2:30 p.m. ET on ESPN. For more information visit www.hope4girlsafrica.org.