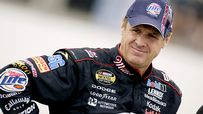 Rusty Wallace's race team runs cars in the Nationwide Series.
Welcome to SportsNation! On Friday, one of NASCAR's greatest drivers Rusty Wallace stops by to chat about the NASCAR season.
Wallace will be at the Daytona International Speedway to help honor NASCAR Day by hosting students from local Daytona schools to participate in the interactive session "Bank of America STEM 500" that shows students how math can be applied to a race team.
Wallace's driving career spanned 25 years, retiring in 2005 and joining ESPN's racing coverage team. He ran in over 700 Cup races in his career, winning 55, including six in his championship season of 1989. He was named one of NASCAR's 50 Greatest Drivers in 1998.
Send your questions now and join Wallace Friday at 1 p.m. ET!
More Special Guests: Previous chats | SportsNation
Buzzmaster
(12:49 PM)
Rusty Wallace will be here at the top of the hour to take your questions!
Buzzmaster
(1:01 PM)
We've got Rusty!
Ronnie (Alabama)
Rusty, what do you think of the inaugural nascar hall of fame class?
Rusty Wallace
(1:03 PM)
I think that the class is a great class. They're all worthy, no doubt about that. I'm happy for all of those guys that got inducted. They are all worthy candidates.
greg (nyc)
How much fun are you having today with the kids at the Bank of America STEM 500?
Rusty Wallace
(1:04 PM)
I'm having a lot of fun. It just concluded. We had 100 kids come out and compete. We had 20 groups of 5 and we gave them questions that were all math related. Those that answered first, moved ahead of everyone. We had a board shaped like Daytona where their team's moved.
Jeremy (NC)
Rusty do you feel about RWR's move to the new Nationwide COT?
Rusty Wallace
(1:05 PM)
We have to embrace the new car. We got to test with the new car and it ran well. We have a few things to work on. But the drivers were doggone happy with the car, but they'll have to work on the setups. This car will require a new set up.
terrylee vaughn (ware shoals,sc)
hey rusty whos ya top 5 for saturday nights all star race. start with winner
Rusty Wallace
(1:05 PM)
That's a hard question to answer. I think this particular style of race suits aggressive drivers. Tony Stewart, Hamlin. Those are two names I can give you.
Chad (Idaho)
Rusty, first of all it's an honor to be able to ask a question... From the age of seven (im now 21) I have liked Jeff Gordon. Recently I've noticed that he is getting quality finishes, but cannot get the win, what could be going wrong with the 24 team?
Rusty Wallace
(1:06 PM)
I don't think there's much going wrong. With those finishes he's had, he can win himself a championship. He'll get the wins, he's running too well not to. He's very consistent right now and that's what championship is based on.
Andy (MD)
How do you feel about Brad K taking the #2 car next season, that car you drove?
Rusty Wallace
(1:07 PM)
I've been real impressed with what he said about driving the car next year. The first guy he called was me and said that he was honored to drive it. It's a great car. He's excited to drive that car. He's got a lot of step in him. He's prideful to be a Miller Lite driver. I like that.
Cody (ND)
Who would you say your son Steven's racing style is most like?
Rusty Wallace
(1:08 PM)
Steven is a real aggressive driver. He's learning pretty quickly. I would say his driving style is more Earnhardt. I was more of a calculating driver.
Andrew (PA)
Any chance of Matt Kenseth gets a little more consistant and makes a run for the cup this year
Rusty Wallace
(1:09 PM)
Yeah, I do think that he can get some consistency going. They've got that car running better than it has in a long time. I think with the focus they've put into that team that they could lay out some wins soon.
Ron (MD)
Hello Rusty. Really wish you were still racing! Why is everyone writing off Tony Stewart already? He is less than 40 points out of the chase is usually best starting in the summer months. The media talk about a slump compared to last year but last year was not your typical Smoke kind of year....this year is!
Rusty Wallace
(1:10 PM)
I guess I would say that I don't know who "everybody" is. I haven't written him off and I'm not hearing that.
PH (Tampa)
It seems the rift between JJ and Gordon has knocked JJ back to earth, and JR seems to have never fit in with that team. Do you forsee any major shake ups at Hendrick in the future?
Rusty Wallace
(1:10 PM)
No, I don't see any more issues at all. They told everyone how they feel. They're competitive. It might flare up occasionally. I think it's resolved now.
Rusty Wallace
(1:11 PM)
Thanks to all the fans for asking the great questions. I've been here in Daytona for the Bank of America 500 to talk to the students about how important science and math is in our industry.