Chat with Devon Alexander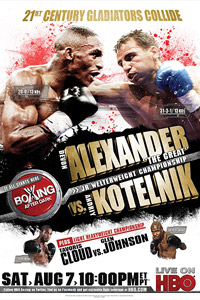 Welcome to SportsNation! On Wednesday, we're going inside the boxing ring when Devon Alexander stops by to chat about his WBC and IBF junior welterweight title defense this weekend.
Alexander (20-0, 13 KO) takes on Andriy Kotelnik (31-3, 13 KO) in a 12-round bout in his second title defense since winning the belts last year. The fight will be live from the Scottrade Center in St. Louis Saturday at 10 p.m. ET on HBO's Boxing After Dark.
Alexander, 23, has won his last five fights via knockout. He won his junior welterweight title in August 2009 with a TKO of Junior Witter. This past March, he successfully defended his belt with an eighth-round TKO of Juan Urango.
Send your questions now and join Alexander Wednesday at 4 p.m. ET!
More Special Guests: Previous chats | SportsNation
Devon Alexander
(3:56 PM)
I'm ready to rock and roll!
Jonathan (Atlanta)
Who is your favorite boxer still competing?
Devon Alexander
(3:57 PM)
I have to go with Mayweather because he's the "Cash Cow". Plus when he gets in the ring he's entertaining.
Tyler (Wichita KS)
With Ricky Hatton's career in limbo right now, would you be willing to go to England and face him at 140 since he was the last king at that division?
Devon Alexander
(3:59 PM)
Defiantly. He's a well known name. Great champions would go anywhere to fight the best of the best so I would definitely go over there to fight him.
Will D (Cumberland, RI)
Devon, how many cans of spinach do you eat a day to get the bicep to peak like that?! Thing looks like Popeyes!
Devon Alexander
(4:00 PM)
(Laughing) Mu muscle comes from working out ever since I was seven. I've done a lot of push-ups over the years so it's just natural.
Justin (St. Louis)
Devon, how does it feel headlining in your home town on HBO exposure? Keep up the hard work and the titles in the LOU!!!!
Devon Alexander
(4:01 PM)
It feels good, it feels good. There is a lot of love here. When I landed there were a lot of people at the airport awaiting my arrival. I know when I walk in the ring; there will be a lot of cheering and not a lot of boos.
Justin (St. Louis)
How do you see yourself against the likes of pound for pound fighters such as Pac-Man or Mayweather?
Devon Alexander
(4:03 PM)
I see myself winning because I'm 23 years old and I'm still learning. These fighters are one their way out and their reflexes aren't what they used to be. Mayweather got caught by Mosley in his last fight and Pac Man was stunned a bit my Clottey. I think I would fair well against those two.
James (Lexington)
Champ!! I'll be at the fight this weekend! What are you doing to prepare for Kotelnik's defense and get the KO victory in front of your hometown?
Devon Alexander
(4:04 PM)
I have to patient with his type of fighting. He wants to block all day. I have a lot of plans for him that night.
Dougie (Miami, FL)
If u clean out the division and have nothing left to prove at 140, would u move up and fight Floyd or Manny, or even Andre Berto....?
Devon Alexander
(4:05 PM)
Defiantly. Like I said earlier, I'm young and still growing. If I keep training I'm only going to get bigger and stronger so I defiantly see myself moving up in the future.
Will D (Cumberland, RI)
Devon, you ever think about joining Twitter? Great place to interact with you fans!
Devon Alexander
(4:06 PM)
I thought about it but I haven't made up my mind yet. After this fight, I may become a twitter chatter.
ryan (stevens point, wisconsin)
i am kind of new to this whole boxing thing, do you ever get a weird feeling when you pound some guy in the face?
Devon Alexander
(4:07 PM)
(Laughing) At first you do but once you've been doing it for a long time you kind of get numb to it.
Justin (St. Louis)
Devin, thanks for bringing much needed boxing spirit in the Lou again, we need you to keep winning and keep fighting for our city!
Devon Alexander
(4:08 PM)
Thank you, I appreciate your support. I will defiantly continue to train hard so that I can bring more and more big fights back to St. Louis.
T (albuquerque, nm)
Do you feel like if you win this fight that you will be able to get a unification fight with Tim Bradley?
Devon Alexander
(4:09 PM)
We've been going back and fourth with Bradley for a while and after this fight I down to fight him next but it's not up to me. He wants to fight Pac Man.
Josh K (Los Angeles)
Is it an increase in punching power or better techinque that has led to your current KO streak? Are you doing anything new in the gym?
Devon Alexander
(4:10 PM)
When I started professional at 17, I have more speed than power. Now at 23, my power is coming out more.
Roberto (Charlotte)
Other than you, who would you say is the best 140 pounder?
Devon Alexander
(4:11 PM)
Other than me, I would have to say Andriy Kotelnik is the best.
Rob (Halifax, Canada)
Any hints on what to expect from the ring entrance?
Devon Alexander
(4:11 PM)
(Laughing) No, you just have to tune it. It's a surprise.
Devon Alexander
(4:13 PM)
I want to thank all my fans for supporting me. Make sure you tune in on August 7, it will be a good one.