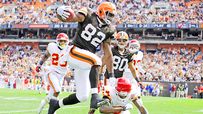 Watson first played collegiately at Duke before transferring to Georgia.
Welcome to SportsNation! On Wednesday, Cleveland Browns tight end Ben Watson stops by to chat about Super Bowl XLV. As an AFC North division member, Watson and the Browns played the Pittsburgh Steelers twice this season.
Watson, a long time New England Patriot, finished his first season with the Browns in 2010, leading the team in both catches (68), receiving yards (763) and receiving TDs (3).
A first round draft pick out of Georgia in the 2004 draft, Watson spent the first six seasons of his NFL career with the Patriots, winning the Super Bowl in his rookie year.
Send your questions now and join Watson Wednesday at 1 p.m. ET!
More Special Guests: Previous chats | SportsNation
Buzzmaster
(1:01 PM)
Ben'll be here soon, everyone!
Ben Watson
(1:06 PM)
Hey everybody, thanks for tuning in!
Adam R (Albany)
Mr. Watson, The play you are perhaps best remembered for was chasing down Champ Bailey in the 2006 AFC Divisional Playoff Game. What was going through your mind as that play unfolded?
Ben Watson
(1:07 PM)
Just making a play for the team. We were down, it was a critical point for the game. I was taught that you never give up on the play. I just wish they had gotten the call right.
Tim (Detroit)
What is it going to take for your Browns to become a legitimate contender than can compete with and possibly take down the steelers?
Ben Watson
(1:08 PM)
Number one, we need to keep a coach for more than two years. We need to have some stability. We didn't score enough offensively to beat people -- our defense didn't allow more than 30 points in a game until the end of the season. We've improved, but we have to improve enough to win close games.
Ryan (Cleveland)
Ben, have you met Coach Shurmur, and if so, what is your impression?
Ben Watson
(1:09 PM)
I have not met Coach Shurmur yet. I've spoken with players who've played under him and they have good things to say about him. I'm looking forward to meeting him.
Don (Magnolia, TN)
What do you think of the proposed 18 game schedule?
Ben Watson
(1:10 PM)
The players are willing to play 18 games, but we're not willing to play 18 games with a reduction in pay. I also think 18 games is a lot, considering the new research that's out about concussions and post-career health.
Kevin (Cleveland, OH)
What is the Brown's biggest need in the draft?
Ben Watson
(1:11 PM)
As an offensive guy, we need a big-time playmaker. We need someone who can help us score points, but we can't solve all our problems through the draft. We have some good players in place right now, but the more weapons, the better. Our defense played well -- Joe Haden and T.J. Ward played very well.
Zach (Cleveland)
Being a Bulldog, what's your take on A.J. Green? How do you think he would look with the Browns?
Ben Watson
(1:12 PM)
All Bulldogs would look good with the Browns! A.J. is a dynamic player and I'd welcome him on the team. You never know how it's gonna go.
Michael Heinbach (Missoula, Montana)
Ben, congratulations on a fine season. Having played previously in a highly-successful offense with Tom Brady the Patriots, how confident are you that Colt McCoy can become an upper-level quarterback in the NFL. Thanks for your time.
Ben Watson
(1:14 PM)
Thank you, first of all. I'm very confident in Colt's abilities. He showed a lot of promise and leadership. Leadership is the No. 1 quality that a QB needs to have. There is a big difference between him and Tom in experience, but hopefully he can progress in the next few years.
george boyle (chicago)
Do you think the west coast offense will be a good fit for you?
Ben Watson
(1:15 PM)
I'm not sure! I never really played in a West Coast offense. Every coach has their spin on whatever offense we play, but hopefully I'll continue to make plays for the team in our new offense.
WTE (New Hampshire)
You're rooting for Green Bay, right Ben?
Ben Watson
(1:17 PM)
I'm not rooting for anybody -- I do think that Green Bay will win. Their offense is playing really great right now. Pittsburgh knows how to win and they have a top-flight defense, but Green Bay is playing better right now. Plus my dad predicted that Green Bay would win, and he's usually never wrong.
JP (Cleveland)
What is your favorite thing to do in the off season?
Ben Watson
(1:18 PM)
I like to travel. We have family in Louisiana, Virginia, South Carolina, and Georgia, and we have to make the family round to see the kids and grandparents. We usually take one vacation for ourselves, and by that time, it's March, and time to get ready again.
Ben Watson
(1:19 PM)
Thanks for your questions and comments and support. Looking forward to making next season successful!