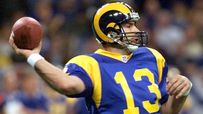 Warner has the second-best completion percentage of all-time at 65.5%.
Welcome to SportsNation! On Monday, Super Bowl-winning quarterback Kurt Warner stops by as we prepare for Sunday's Super Bowl XLV.
After going undrafted out of college and playing his way in the Arena League, Warner finally earned a starting NFL job in 1999 at 28. He helped the St. Louis Rams to a Super Bowl win in his first season, while winning the first his his two MVPs. He finished his career with over 32,000 passing yards, sitting at 28th all-time.
Warner has always been philanthropic throughout his career and he has continued his charity since retiring from the NFL. He currently is working with Duracell in the "Power Those Who Protect Us Program," a battery donation program to support the more than 23,000 volunteer fire departments in the U.S.
Send your questions now and join Warner Monday at 11:15 a.m. ET!
More Special Guests: Previous chats | SportsNation
Buzzmaster
(11:13 AM)
We've got Kurt!
Jason (Long Island, NY)
Huge honor Kurt to ask you a question! Who were some of the QB's you looked up to growing up?
Kurt Warner
(11:13 AM)
I was a Cowboys fan growing up. First, I would say Roger Staubach. He was a great guy off and on the field. Danny White. Joe Montana was a guy I enjoyed watching. My brother was a Chargers fan, so we watched Dan Fouts a lot growing up.
Caleb (Los Angeles)
Kurt, my fellow Iowan, what do you think Jay Cutler needs to work on this offseason to really thrive under Mike Martz's tutelage? He made strides down the stretch but there is a lot of room for improvement.
Kurt Warner
(11:15 AM)
I think the biggest thing for Jay is that it's a system built around timing. I don't think that something that he's had to work on. He's a guy that likes to see someone get open and throw it with his phsyical skills. Trusting the players around you and letting the ball go before the guys get in position, that's when the system is so good. I don't know how you learn that or teach that. But to make that system explosive, you need to have timing and trust the guys around you.
Nick (Buffalo)
Does Ben Rothlisberger's past super bowl experiences give him the advantage? Did yours help you any?
Kurt Warner
(11:16 AM)
I think it can help in the preparattion, leading up to the game and some of the craziness around the Super Bowl, but I don't think it can give you any advantage in the game. I think Aaron's old enough, mature enough. I think he'll play really well. I don't think so much at game time, but it can make the week easier having been there and knowing what the expectations are. That's where Ben has an advantage over Aaron.
Nick (MN)
Kurt, are you thinking of pulling a Brett Favre and coming back for another season?
Kurt Warner
(11:16 AM)
No. Nope. All done.
Bill (Toronto)
How does a coaching staff keep a team loose for 2 weeks while still maintaining focus on the game?
Kurt Warner
(11:18 AM)
That's a good question. For me, the only way that you can really stay loose is to find opportunities to get away from football. It's easy to get down to Super Bowl city and have it be football 24/7. It's all anyone talks about. For me, when people say to try and make it as much like a normal week as possible, but during a normal week, you have your friends and family around. So, get away from football, go out to eat with your family, try and do some of the same things you would do at home. Go check out a movie. But it's hard to do that in Super Bowl city.
BJ (Indiana)
When you get into the Hall of Fame (and you'd better) do you want to go in as a Ram or a Cardinal?
Kurt Warner
(11:19 AM)
Ironically, in the NFL, you do not have to choose a team. It's not like MLB where you have a hat on your bust. In the NFL, you just have a bust of your face. If I get in, I wouldn't have to choose and wouldn't want to choose.
Tim (GA)
Kurt, with your knowledge of the NFL as a business; what do you think about the potential for a "lockout" next year?
Kurt Warner
(11:21 AM)
I never think lockouts are good for anything. Where the NFL is right now, the best sport from a spectator standpoint, I don't think anyone wants a lockout. I don't think anyone is thinking we'll be fine with a lockout. I'm like everyone else, we want to make this the best for everyone. But as a former player, there are some issues there that are important and for this generation of players to take care of for the next generation. The guys that made things possible for us, they didn't have things that we did. So we need to protect the players of the future. Some people just see the dollar signs, but when it comes to health care and other things, they become big issues. That has to be hashed out before the players will sign their part of the agreement.
J.B. (PA)
Which was tougher: Dancing away from an NFL defense or dancing for real on 'DWTS?'
Kurt Warner
(11:22 AM)
I'm definitely going to say dancing with the stars. Any time you're comfortable or familiar with something, it's easier than something you're not familiar with. It was nervewracking dancing in front of millions of people. I made a lot more mistakes than I did in football.
Steve (Chicago)
What's this newe charity venture?
Kurt Warner
(11:24 AM)
We are working on bringing attention and awareness to volunteer firefighters in this country. We have a lot of volunteer firefighters in this country and they have to give a lot of their monies to their department. One of the areas that they have a need is for batteries. If you buy a package of Duracell batteries, Duracell makes a donation to the volunteer fire departments. If you go to their Facebook page or website, you can put in your zip code and make sure that your donation stays in your community.
Kurt Warner
(11:25 AM)
Thanks for chatting!