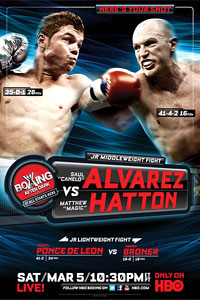 Welcome to SportsNation! On Wednesday, we're going inside the boxing ring when Matthew Hatton stops by to chat about his WBC light middleweight title fight this weekend.
Hatton (41-4-2, 16 KO) takes on Saul Alvarez (35-0-1, 26 KO) for the vacant WBC belt. The fight will be live from the Honda Center in Anaheim, Calif. on Saturday at 10:30 p.m. ET on HBO's Boxing After Dark.
Hatton has won his last eight decisions, while also earning a draw and with three of the wins coming via KO. As the younger brother of former world champion boxer Ricky Hatton, Matthew has earned the nickname "Magic." He enters Saturday as the current European boxing champion.
Send your questions now and join Hatton Wednesday at 2:30 p.m. ET!
More Special Guests: Alvarez chat, Thu., 1 ET | Previous chats
Matthew Hatton
(2:34 PM)
The fight in only a few days away and I'm really looking forward to it. Let's get started!
Zac Howard (St Louis)
Whats your biggest concern on fighting alvarez?
Matthew Hatton
(2:35 PM)
I don't really have any major concerns. I have a lot of respect for him, he's great fighter. I have 100% faith that I will come out on top in this fight. There's no doubt about it.
mowy mo (slough)
hi, im just starting to do boxing. Can you tell me one thing I should always remember while in the ring?
Matthew Hatton
(2:36 PM)
I think concentration is the key. You have to be focused and can't let outside factors get to you. Concentration is a big key in being a successful boxer.
Oakley A. (Largo,FL)
How did you get the nickname "Magic"?
Matthew Hatton
(2:37 PM)
It's just something that I've always been called from the armature days. No massive meaning behind it, it's just a childhood nickname really.
Adriel (Estrada)
What would you say seperates you from your brother?
Matthew Hatton
(2:38 PM)
I think we are quite different style wise. I can box and fight from both feet. I think we are really different.
Chris (Runcir, England)
If you beat Alvarez how would you feel about facing Miguel Cotto ?
Matthew Hatton
(2:39 PM)
This is a big fight with Alvarez, a lot of publicity and it's for the WBC belt. If I win this fight it would put me in the mix to get even more high profile fights. Maybe even one against Miguel Cotto.
Michael (Shepards Bush)
We all know there is only one Ricky Hatton, but is there only one Matthew Hatton?
Matthew Hatton
(2:41 PM)
Yes, of course. Everyone is different and everyone has their own style. So yes, there is only ONE Matthew Hatton.
@boxingasylum (twitter)
You're typically an 147 fighter. How does the extra weight feel?
Matthew Hatton
(2:42 PM)
The extra pounds aren't much for me, I'm a big welterweight anyways. We prepared for this fight with the extra weight and so I'm ready to fight at this heavier weight.
JL (Delano CA)
Who do you think is a better fighter chavez jr or alvarez
Matthew Hatton
(2:43 PM)
I've seen a lot of Alvarez fights on tape and I haven't seen Chavez Jr. fight in a while. From what I've seen recently, Alvarez is the better fighter.
Boxingtitan (NYC)
Will you campaign @147 or 154 after Saturday fight
Matthew Hatton
(2:44 PM)
That's a good question. We have to see how Saturday goes and how I feel afterwards, we'll go from there.
victor (north jersey)
what will be your strategy Saturday?
Matthew Hatton
(2:46 PM)
I think this will be a good exciting fight. We are both physically strong fighters and I'm going out there to fight my fight. Fight the way my camp has prepared me to fight.
Marcus (Los Angeles)
Have you noticed Alvarez's technique when he is against the ropes? Not since Sugar Ray have I seen a fighter so comfortable in a corner. Is this strategy?
Matthew Hatton
(2:47 PM)
Like I said before, he's a very good all-around fighter. That is a strength of his, fighting off the ropes. If he invites me to the ropes, I'm going in. He's a great fighter on the ropes and in the middle of the ring.
Jordy Boy (Twinkytown)
Good luck this weekend Matthew. Huge fan from London!
Jordy Boy (Twinkytown)
Huge fan Matthew. Good luck this weekend!
Matthew Hatton
(2:49 PM)
Thanks for the guestions. Tune in Saturday as I take on Saul Alvarez Saturday night for the vacant WBC belt.