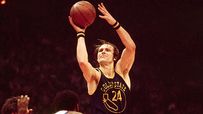 Barry is a member of the NBA's 50 Anniversary Team and is a Naismith Hall of Famer.
Welcome to SportsNation! On Wednesday, former NBA forward Rick Barry stops by to chat NBA playoffs.
Barry, considered by many veteran fans to be one of the greatest small forwards of all-time, played 14 seasons in the NBA winning a championship with the Golden State Warriors in 1975. Barry was named Finals MVP after averaging 35 points per game.
Barry's 25,279 total career points (ABA and NBA combined) is tied with Reggie Miller for 17th on the all-time scoring list. Three of his sons; Jon, Brent and Drew all played in the NBA. With Brent winning NBA Championship with the Spurs in 2005 and 2007, they became only the second father-son duo to win championships as players.
Send your questions now and join Barry Wednesday at 2 p.m. ET!
More Special Guests: NBA playoffs | Previous chats | SportsNation
Drew (Wichita)
How different (generally speaking) is the offensive philosophy/strategy of NBA teams today versus 40 years ago?
Rick Barry
(2:02 PM)
It's quite a bit different. There is a tremendous amount of one on one stuff going on right now. It's not that enjoyable for me to watch, even though what the players do is amazing. I like for plays to run and make the defense to make decisions. There is no decisions being made with all of the one on one.
Tony (Chicago)
Hey Rick bulls fan here was it the 5 days off a main reason why we came out like that and finished like that cause i don t see Joe Johnson going off like that again and the hawks shooting like that again
Rick Barry
(2:03 PM)
There is no way that you can duplicate game type of situations, even if you're scrimmage one another. You hope that you can get your act together quick enough. The Bulls got off to a bad start, got back in it but never took control of the game. It really hurt them. They were not anywhere near as sharp.
Tyler (Atlanta)
Rick Do you think the Hawks have heated up at the right time?
Rick Barry
(2:04 PM)
Yeah, that's one of the things you always look at - how is a team playing at the end of the season. In this case, the Hawks are starting to play better basketball. There could have been an element of complacency in the Bulls. They didn't just beat Atlanta, they thumped Atlanta in the regular season. You probably have the coach telling them that this is the playoffs and the team will be different, but the players were probably thinking that it would be the same and they weren't ready mentally.
Sterling (Detroit)
What are the chances the Heat Celtics series goes down like the Celtics Knicks?
Rick Barry
(2:05 PM)
I think the Celtics are in trouble. They were in trouble against the Knicks. The Knicks gave them two games. Miami has been playing well. They did what they had to do in winning at home. I expect the Celtics to win in Boston, but I don't expect them to beat the Heat.
Damon (Santa Cruz, CA)
Rick, just how dominant was Wilt? Could he have beaten Shaq in their primes?
Rick Barry
(2:07 PM)
I don't know about beating up on Shaq, he's a big guy. Wilt was a dominant force. He had to play against some other big centers. Shaq didn't play against a lot of great people, and that's not to take anything away from those players or what he did. They were both dominant players.
Kyle B (CT)
so have the owners and players basically givin' up and are just gonna have a lockout next season?
Rick Barry
(2:08 PM)
I've always been perplexed as to why negotiations always come down to the 11th hour. Why do you want to mess with something that's a good deal for everybody? Why do you want to have a chance with it messing up the season? It's in no one's best interests. To me, it's stupid.
David (Laredo tx)
What do you think is the major downfall for the Boston Celtics this series?
Rick Barry
(2:09 PM)
These guys are getting a little older. You start to lose it a little bit. You're not quite as sharp as you were. The trade with Perkins hurt them a little. If he's healthy last year, they might have won the title. Rondo is not playing up to his potential. He needs to be more of a factor.
Stuart (Brooklyn, NY)
Hi Rick. Thanks for the memories. When did you start shooting free throws underhanded and why did you do it? Did George Johnson learn it from you? Thanks.
Rick Barry
(2:11 PM)
I don't remember if it was before my junior or senior year in high school. I did it because my dad was relentless in getting me to try, because he played semi-pro ball. I did it to get him off my back. I found it worked pretty good. I did it and shot over 80%. I wish I was smart enough to make the change when I was younger in my career, especially when I wasn't shooting them as much. In my last 6 years, I shot over 92%. I think if I had done it earlier in my career, I could have shot higher than that.
Rick Barry
(2:12 PM)
Anybody's going to talk about something that's not done very much. My youngest son tried it in high school this year and he shot 78%. I expect him to be in the 80s next year. I remember a fans reaction, saying, what was that? It was funny to see the reaction. But nobody made fun of him.
Drew (Wichita)
Mr. Barry, how do you view the quality of officiating in the league today compared to when you were a player? Thank you
Rick Barry
(2:14 PM)
It was much more physical when I played. They don't let as much go on today. These guys are too big and strong to let it get out of hand and to start throw punches. So they let them play, until the playoffs come, which is a pet peeve of mine. They seem to let it get more physical. That gives the advantage to the less skilled player. It doesn't take talent to be a physical player. They let things go today that I am appalled with. There are so many moving screens going on, right in front of the officials. There is so much traveling. I will chart it one of these days and I bet it will be astonishing.
Lane (Arkansas)
Who is your favorite to win the title this year?
Rick Barry
(2:15 PM)
I don't really have a favorite. I just want to watch good basketball. I like to see how players respond to the enormity of the situation. A lot of guys perform well in the regular season, but not always in the playoffs. I am a fan of good basketball. Sometimes you see it, sometimes you don't. Without my boys on any of the teams, I don't have a favorite.
nba fan [via mobile]
hey rick, what do you think about the lakers playing with dalla, will kobe and the team able to stop them
Rick Barry
(2:16 PM)
The Lakers got a little complacent. They stopped playing the basketball that they needed. You have a lead, you have to pound it inside, not jack up all of the outside shots. Sometimes teams need a wake up call. We'll see how they respond.
Rick Barry
(2:17 PM)
Hang in there. Say your prayers that calmer heads prevail as far as the negotiations. Enjoy the game. I'm grateful that so many people love the game of basketball at the NBA level.