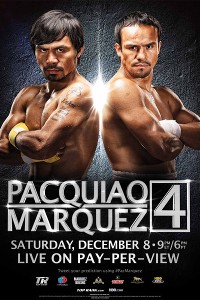 Welcome to SportsNation! On Wednesday, we're going inside the boxing ring when Manny Pacquiao stops by to chat about the his fourth fight with Juan Manuel Marquez, scheduled for Saturday.
Pacquiao (54-4-2, 38 KO) takes on Marquez (54-6-1, 39 KO) for the second time in 13 months, with Pacquiao winning the last fight via close decision. MGM Grand Garden Arena in Las Vegas will host the bout, which will air live on HBO PPV starting at 9 p.m. ET/6 p.m. PT.
Pacquiao, who hasn't fought since losing a 12-round decision to Timothy Bradley in June, owns a 2-0-1 record against Marquez in their previous three fights, spanning the last eight years. He is No. 4 on ESPN.com's Pound-for-Pound rankings. Marquez chats Wednesday at 1:30 p.m. ET.
Send your questions now and join Pacquiao Wednesday at 1 p.m. ET!
More Special Guests: Previous chats | SportsNation
Buzzmaster
(1:02 PM)
Keep sending in those question everybody, Manny will be here soon to take your questions!
Nick (corona) [via mobile]
What can you do to stop Marquez from counter punching you?
Manny Pacquiao
(1:08 PM)
We worked on things in training camp to be more aggressive and different strategies. Be more quick in and out so that he can not counter.
Joydeep (Philippines)
Do you miss fighting in Manila, Philippines? What do you think of the new MOA Arena?
Manny Pacquiao
(1:08 PM)
Yes, I love fighting there. I think the arena is nice. It's world class.
mike (Ny)
Big fan of yours, I am curious as to what you do on a day of a fight. What do you do during the day up unitl the fight?? Best of luck for the rest of your career
Manny Pacquiao
(1:09 PM)
I normally relax and sleep a lot. Mentally prepare for the fight. I take a little bit of a walk, but nothing too stressful.
DD (Boston)
Hi Manny, I love watching you fight. Just wanted to know if you plan on using your jab more consistently to set up the right hook? I feel its your best punch in terms of fighting Marquez. Thanks for everything!
Manny Pacquiao
(1:10 PM)
That's one of the things we've worked on for the fight so we can get the right hook in, but the left hand also.
Mac (carlisle, pa) [via mobile]
How do you view your legacy? I know the fans and every analyst has their own opinion, but what do you say?
Manny Pacquiao
(1:11 PM)
I would like to think that I would be remembered as an entertaining fighter, a great fighter. I continue to fight now so I can give fans fights that are exciting.
Rick (Walla Walla)
How has your mental preperation changed for this fight compared to last time you fought Marquez? Do you approach this fight differently?
Manny Pacquiao
(1:11 PM)
I am going to fight the same. No changes in my mental preparation. We prepared differently a little bit in the gym.
Erick (L.a.)
Please knock Marquez out
Manny Pacquiao
(1:12 PM)
If it's available, of course, we'll go for the early win. But I'm prepared to go 12 rounds. I'm ready. I expect it to go 12 rounds, because Marquez is a great fighter. The first fight, he got up three times, the second one he got up again. I expect him to get up.
Tim (Philly)
Will you go back to the volume puncher you once were? Why did you go away from throwing so many punches?
Manny Pacquiao
(1:13 PM)
I think I just need to throw lots of punches and be more aggressive, be more consistent in the way I approach it and continue it throughout the fight.
Joydeep (Philippines)
Has the terrible typhoon here in the Philippines affected you at all emotionally this fight week?
Manny Pacquiao
(1:14 PM)
I pay attention to it. I know it's happening. I can only pray for the people their families that are effected by the storm. When I get back, I'll do what I can in their efforts. But right now, the best thing I can do is give the people effected and the people there a good fight to uplift their spirits.
Geo (Oakland,ca)
I see Marquez looking real big I see him press the fight.whats your plans if he comes foward
Manny Pacquiao
(1:15 PM)
That would be great for me, because I like for opponents to come forward. That would be a very good thing for me.
Jon (New York)
Marquez has had a lot of success in controlling the distance between you during your previous 3 fights. When you come in he takes a step and counters. And if you back straight up, he follows you out with a combination. What have you worked on to neutralize that?
Manny Pacquiao
(1:16 PM)
Freddie Roach comes up with the gameplan, to see what the best moves are for when Marquez does something. I just listen to the strategy.
Tim (Philly)
Will a fight with Floyd ever happen? It's what your fans really care about.
Manny Pacquiao
(1:17 PM)
It's up to him. I have said it over and over in the past. I'm willing to give in to whatever he wants. 45-55, all of the testing he wants. If he wants to stay in my room, he can stay in my room. It's up to him. The ball is in his court. I'm just waiting.
Tommy (Detroit)
We always hear about a "plan A or plan B". Do you have more than one plan prepared for this fight?
Manny Pacquiao
(1:18 PM)
Yes. We have different strategies for the fight. We're excited. We've had a good training camp. We're ready for whatever he will give.
eddie pedraza (houston)
You mentioned to Freddie Roach you had to knock Marquez out. Has your training been any different going in with mentality of needing a knockout?
Manny Pacquiao
(1:19 PM)
I approach every fight the same. I'm ready for the 12 rounds. If the knockout is available, I'll take it. But I don't want to underestimate my opponent. If it's God's will for the KO, then yes. I always want to and need to prepare for the 12 round fight. You never know.
Terry (Madison il) [via mobile]
Are you going to knockout Marquez?? Also will you try to get a rematch against Bradley so that you can retain your belt.
Manny Pacquiao
(1:23 PM)
I prepared for the fight for 12 rounds. I don't like to think I will knock anybody out. I will take the KO if it's there, but I'm prepared for 12 rounds.
Rick (Walla Walla)
Do you hope to fight Mayweather next after a victory on Saturday against Marquez?
Manny Pacquiao
(1:24 PM)
I would like to fight anybody, I have never chosen my opponent. I am available to anybody. Whoever my promoter lines up, I'm ready for.
Buzzmaster
(1:27 PM)
Thanks for chatting Manny! Next up is Juan Manuel Marquez: http://espn.go.com/sportsnation/chat/_/id/46304/boxer-juan-manuel-marquez