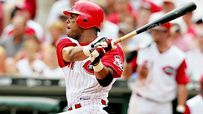 Larkin won a silver medal in the 1984 Olympics.
Welcome to SportsNation! On Friday, we'll have baseball hall of famer, and ESPN MLB analyst, Barry Larkin, stopping by to chat about the MLB season and College World Series.
Larkin, @BLarkin_ESPN, a 12-time all-star, won the 1995 NL MVP and was a member of the 1990 Cincinnati Reds team that won the World Series.
Larkin played collegiately at Michigan, where his No. 16 is retired and this spring is working with the Capital One Cup, an NCAA Division I athletics award that honors the top men's and women's college programs in the country. Teams compete to earn points based on the final standings and polls across 39 sports. The winners get the Capital One Cup trophy and $400,000 for student-athlete scholarships.
Send your questions now and join Larkin Friday at 3 p.m. ET!
More Special Guests: Previous chats | SportsNation
Buzzmaster
(3:01 PM)
Barry is here!
Tom (Boston)
Have you been keeping an eye on Michigan and how your old school is doing in the Capital One Cup standings?
Barry Larkin
(3:02 PM)
Yes..but now that they've fallen off and don't have a chance to win. About a couple of weeks ago, we dropped off. They're tied for fifth now, I think and they're not at the World Series and don't have a chance to advance. But yes, I was keeping tabs.
Paul (Chicago)
did you ever get a chance to play in the CWS?
Barry Larkin
(3:03 PM)
Yes I did. I played my freshman and sophomore year out here. The last time a Big Ten team was at the CWS was the '84 Wolverines and I was a part of that team.
Geoff (Miami)
who do you think is the darkhorse heading into the CWS this year?
Barry Larkin
(3:04 PM)
I'm going to say, NC State. Maybe Indiana. Indiana, I don't think has ever been to the CWS. The Big Ten teams haven't been represented well. So those are probably your two dark horses.
Timmy (Phoenix)
Do you ever find yourself missing being on a baseball team? What do you miss the most?
Barry Larkin
(3:05 PM)
I've been a part of a team ever since I retired. I went to work with the Nationals when I retired. I still do some stuff with the Reds. I still do some international instruction. When I get out there, I get the itch and I get out there and satisfy the itch, it reinforces that I did a good thing by retiring.
Will (LA)
What did you make of the LA-Arizona brawl the other night? Seems like they all took everything too far.
Barry Larkin
(3:06 PM)
Tempers flare. But any time you hit one of the best players in the game at that time, which Puig was, up around the head that's a serious problem. You take exception when it's thrown up by someone's head. Traveling at that velocity, there's a chance for someone to get hurt. Bean balls are a part of the game. You hate to see coaches get out there. You see Mark McGwire and Matt Williamson, two guys I care about, out there. There is a lot of passion in the game, so I understand these things flare up. It did go too far though.
Greg (DC)
How do you think your pro career was impacted by having played in college?
Barry Larkin
(3:08 PM)
Had I not gone to college, I don't think I would have had the same type of career. When I left high school, I was considered a better football player than baseball player. I wasn't prepared at all to go play baseball, not physically, mentally, psychologically. I didn't develop as a baseball player until college, just an athlete, a football player playing baseball. My collegiate experience was huge.
David (Seattle)
Which school is your pick to win the Capital One Cup?
Barry Larkin
(3:08 PM)
Hmmm....There are all kinds of scenarios that can happen. Texas A-M is in first right now, but they're not here at the CWS. I'm a Big Ten guy. I'd love to see Indiana, with their first time here, take it home.
Derrick (FL)
Based on your personal experience, how would you advise a baseball player who's trying to decide between going to college or going pro in baseball?
Barry Larkin
(3:11 PM)
That really depends on the psyche of the athlete. I know when I had to make that decision, education was really important to me. I knew I wanted to experience college and that atmosphere. I wasn't ready mentally to venture into college baseball. But programs like Capital One Cup give more credibility to college programs. One thing that I hear is if an athlete goes to college, he might go to a school that doesn't get seen much or might fall through the cracks. That might be true, but with programs like this and the College World Series, you do get seen. But I think it's an individual thing. You can't go to college as a formality. It's not easy. My advice would be true to what you feel. College life isn't for everyone. It is hard work, but it is a critical decision that will effect you the rest of your life.
Nick (USA)
What was your least favorite pitcher to bat off?
Barry Larkin
(3:11 PM)
I had a lot of least favorites....Probably the most intimidating was Nolan Ryan. Randy Johnson was no walk in the park.
Otto (CA)
Did Rose and Concepcion give you hell when you were a young ball player?
Barry Larkin
(3:13 PM)
Oh, I was the rookie that was dressing up in the Hooters outfits. I was the Dallas Cowboys cheerleader with the go-go boots that fit. I was the butler, the bellhop, the late night delivery guy. I had to get up on the bus to sing and entertain the troops. They definitely gave it to me. But they also gave me a lot of information. I sat there and didn't fight back. They do this because they care about you. I didn't particularly care for it when I went through it, but I appreciate it now. When I was a veteran player and saw the hotshot rookie, I could teach him that this is how it's done.
Ed (Queens Village)
What will the emotions be like on draft night waiting for your son Shane to be drafted?
Barry Larkin
(3:15 PM)
Exciting. It's going to be something I've never experienced. I just hope he's happy. Whatever the situation is, wherever he gets the opportunity. I know this is a lifelong dream of his to play in the NBA. Whenever that happens for him that will be a fantastic time. The greatest joy I get is watching him and my other kids go through the process. It's just another step. It's going to be exciting. I'll probably be more nervous than he. I don't know where we'll be, NYC or at home or in Miami. I don't know. He's been driving the ship since he entered the draft.
Barry Larkin
(3:15 PM)
Go to CapitalOneCup.com, cheer for your teams. This is the last venue. These are the last four teams left.