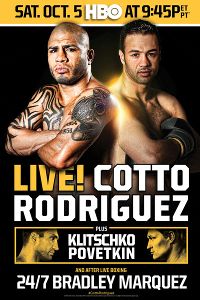 Welcome to SportsNation! On Monday, we're going inside the boxing ring when Miguel Cotto stops by to chat about his junior middleweight fight on Oct. 5.
Cotto (37-4, 30 KO) takes on Delvin Rodriguez (28-6-3, 16 KO) in a 12-round non-title fight. The Amway Center in Orlando, Fla. will host the fight at 9:45 p.m. ET/PT on Oct. 5 on HBO World Championship Boxing.
Cotto, @RealMiguelCotto, is a four-time world champion in three different weight classes. His first title came as a junior welterweight in 2004. He moved up to welterweight, before winning the belt in 2006, and eventually landed in the junior middleweight class in 2010.
Send your questions now and join Cotto Monday at noon ET!
More Special Guests: Previous chats | SportsNation
Buzzmaster
(12:02 PM)
Miguel should be here soon, everyone!
Buzzmaster
(12:03 PM)
We've got Miguel!
Buzzmaster
(12:05 PM)
One second, we're experiencing some technical difficulties.
Alex (Orlando)
Cotto I will be there Saturday to support you, has this been your best training camp?
Miguel Cotto
(12:06 PM)
We had a really good camp, and we feel in great shape for this fight. Every camp is different, and this one was a good one.
Edd (New York, NY)
If you had an opportunity to have a dream fight with a fighter from the past, who would it be and why.
Miguel Cotto
(12:08 PM)
Roberto Duran. I think that would be a great match. Our styles would work well together.
Ronnie (Columbus, Ohio)
Have traveled to 7 of your fights! Thanks for fighting like a real champion throughout your career! Do you plan on bringing back the power in left hook and body attack that was the best of this generation?
Miguel Cotto
(12:09 PM)
We'll try to be intense in this fight, maybe with that.
James (Portland ME)
What would you say was the best win in your career?
Miguel Cotto
(12:09 PM)
I enjoy my whole career, lose or win. I've just had a great career and I'm happy with all of it.
Sun Devil (Los Angeles)
Besides boxing, what sports do you follow?
Miguel Cotto
(12:10 PM)
Basketball, baseball, football, but boxing is the one love of my life.
Roberto (Wilmington DE)
Miguel, What do you feel is different with Freddie Roach as your trainer?
Miguel Cotto
(12:11 PM)
Freddit comes every day to bring his best and make me do my best work. I'm really happy with that and how everything has been run. We're going to show everyone the result of that on Saturday.
Jose (NYC)
Miguel- How many more fights do you see having and will the last one be in Puerto Rico?
Miguel Cotto
(12:12 PM)
I don't really know, but I don't have too much time left, and I don't think any of them can be in Puerto Rico.
Luis Guerrero (Southern California )
What will be differnt about this miguel cotto on October 5?
Miguel Cotto
(12:13 PM)
I'm just getting back to basics -- getting back to the beginning of my career.
armando (Elko, NV)
I know you're going to win. So my question is which round will you k.o. him?
Miguel Cotto
(12:13 PM)
I'm preparing myself for 12 rounds, being the smartest fighter in the ring. No matter what, I'm going to win.
Miguel Cotto
(12:14 PM)
Looking forward to all of you seeing the match! It should be a good one.