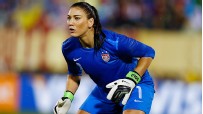 In college at Washington, Hope Solo was a four-time All-Pac-10 goalkeeper.
Welcome to SportsNation! On Monday, U.S. women's national team goalkeeper Hope Solo drops by to chat as the men's World Cup is less than two weeks away.
Solo earned a spot on the U.S. team starting in 2000 and became the starting keeper in 2005. During her time as the primary goalkeeper, Solo has helped Team USA to two Olympic gold medals (2008, 2012). The U.S finished as the runner-up in the 2011 World Cup, when Solo won the Golden Glove as the best goalie. In 18 Olympic and World Cup appearances, Solo has recorded eight shutouts and allowed just 19 goals.
As Solo trains for the 2015 Women's World Cup, she uses Hyperice in her recovery from workouts, as it provides both compression and ice simultaneously.
Send your questions now and join Solo Monday at 3:30 p.m. ET!
More Special Guests: Previous chats | SportsNation
Buzzmaster
(3:21 PM)
Hope will be here at 3:30 p.m. ET to take your questions!
Buzzmaster
(3:28 PM)
Hope is here!
Abbey Teliska [via mobile]
How do you keep your confidence high when you're having a bad game or practice?
Hope Solo
(3:30 PM)
For me, I watch video and then I go out and train my butt off. My training is what gives me my confidence.
Greg (VA)
Do you think finding new ways or things to improve your training, like working with hyperice, will help increase the longevity of your career?
Hope Solo
(3:30 PM)
Absolutely. I also believe that athletes of tomorrow will continue to break records because of new products like Hyperice.
Tammy (Cupertino)
How are you physically and mentally preparing for the Women's World Cup?
Hope Solo
(3:32 PM)
I keep my bubble really small. I turn off the social media. I really focus on the World Cup team, my teammates, the staff. I solely focus on our first game or our training. Everything is eat, sleep, breath soccer as I prepare myself.
Martin (Indiana) [via mobile]
Should Landon Donovan have made the World Cup roster?
Hope Solo
(3:32 PM)
I am absolutely heart broken that he did not make it. In my opinion, he is one of the top 23 players in our country.
Dennis (Buffalo ny) [via mobile]
What do you see as the biggest challenge that could prevent the US women from winning it all year?
Hope Solo
(3:34 PM)
Our biggest challenges are going to be the quality of our team defending. We are going to score goals, we just have to make sure that we prevent opponents from scoring.
Brenda Ramos (Cheney, WA)
What do you attribute to Seattle Reign FC success?
Hope Solo
(3:35 PM)
Even though we had a losing season last year, we in no way acted like a losing team in the locker room. I think that translated to our current season as well as our organization and ownership and our coach making the proper changes to making a well rounded team in all positions.
Cory (Winnipeg)
How do you think the USMNT will do in the group stage of the World Cup?
Hope Solo
(3:36 PM)
I am hoping they get that first win against Ghana. I think they can and will. However, I don't think they're going to beat Portugal or Germany, although I think it will be a great game, US v. Germany.
Jeff in Wichita, KS [via mobile]
What would it mean to you personally to win World Cup in 2015?
Hope Solo
(3:37 PM)
There are no words for it. I dreamed of not only playing in the World Cup, but also winning the Cup, since I could first write. I wrote a paper when I was 12 saying I wanted to win the Cup. It would be a culmination of my life's work.
Helen Haile (Texas) [via mobile]
What's you're favorite thing about playing with the Seattle Reign?
Hope Solo
(3:38 PM)
Being in Seattle! I am dedicated to growing soccer in the beautiful city that I love.
Stephanie Corvallis,OR [via mobile]
How do you keep focus/calm in a match, when it's not going your teams way?
Hope Solo
(3:38 PM)
Knowing that a goalkeeper can not win games, however a goalkeeper can save games.
Mansfield, MA [via mobile]
I'm a 14 year old girl trying out for a club team today and I've never played club before, I'm really nervous, any advice that would help me?
Hope Solo
(3:40 PM)
To fulfill your dreams, one has to stay focused even when the chips are down and people tell you you can't, even when there are distractions, the most important things are to stay focused on the goal in the end.
Zach Grady (Atlanta, GA) [via mobile]
Before a major tournament would you rather be playing games weekly or building chemistry with the national team?
Hope Solo
(3:40 PM)
Building chemistry with the national team.
Hope Solo
(3:41 PM)
I believe that our U.S. team plays the best soccer when we spend a good amount of time together for a tournament at the highest of levels. It's important to know your teammates inside and out, their tendencies on the field as well as build camaraderie.
Casey (New York) [via mobile]
What's your favorite save from your career?
Hope Solo
(3:42 PM)
From a goalkeeper's standpoint, one of the most technically saves I've made has not always been looked at the most impactful. It was a save against Japan in the 2012 Olympics, when I tipped the ball over the bar. However, I get the most recognition for my saves both in 2008 and 2011.
vick (philly)
Which part of the hyperice is more important for your recovery, the compression part or the icing?
Hope Solo
(3:43 PM)
The combined effects of both the ice and compression are equally important and they helped me get back from my shoulder injury.
Brad R. (California)
Which USWNT teammate plays the best pranks?
Hope Solo
(3:44 PM)
Heather Mitts, although she is retired.
San Diego, CA [via mobile]
What is your favorite post game meal?
Hope Solo
(3:44 PM)
Nothing in particular, however, I love to enjoy a nice dinner with my friends and family after a game.
Michelle (Tulsa Oklahoma)
What do you love the most about being goalie?
Hope Solo
(3:45 PM)
I love the pressure of being a goalkeeper. Pressure comes in big moments and big games. The worst part are games when we're not put under pressure in games, which is the majority of our games with the U.S. team since we are the No. 1 team in the world. I live for pressure.
Brenda Ramos (Cheney, WA)
What excites you about the current USWNT team?
Hope Solo
(3:46 PM)
Our potential to win the World Cup trophy next summer in Canada.
Hope Solo
(3:47 PM)
My fans are the best! They always have my back. Keep following our pursuit next summer in the World Cup.