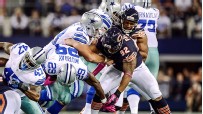 The Bears selected Paea in the second round, 53rd overall, of the 2011 NFL draft.
Welcome to SportsNation! On Tuesday, we'll have Chicago Bears' defensive tackle Stephen Paea stopping by to chat about the Bears' 34-18 win over the Cowboys on Monday night.
In his second year in the NFL, Paea, @paeabear92, has been a big addition to the Bears defensive line. In his NFL debut in Week 6 last season, Paea recorded a sack and a safety, making him the first player since 1970 to get a safety in his NFL debut.
This season, Paea is helping EA Sports' NCAA Football 13 debate college rivalries, including Oregon-Oregon State. Paea, a star at Oregon State, recorded 13 tackles, including 3.5 for loss, and forced two fumbles in his three Civil War games. See EA Sports' Facebook page for more rivalry talk. Ex-Oregon star Jonathan Stewart chats Tuesday at 3:30 ET.
Send your questions now and join Paea Tuesday at 3 p.m. ET!
More Special Guests: Previous chats | SportsNation
Buzzmaster
(3:00 PM)
Bears DT Stephen Paea will be here in a few minutes to take your questions!
Buzzmaster
(3:14 PM)
Hang on folks. We're waiting to hear from Stephen.
Stephen Paea
(3:41 PM)
Hey guys, sorry I'm late!
Brad (Gadsden,Alabama)
Stephen, Do you have any pre-game rituals?
Stephen Paea
(3:42 PM)
The day before the game I do routine exercises, I'm kind of superstitious that way. I feel if I do it the day before, it'll help me the day of the game.
Mike (Green Bay)
How hard is it to go on the road after a Monday night road game? Are you at all worried about not getting enough time to cover the game plan and study film?
Stephen Paea
(3:44 PM)
Not really because we only had a day of practice that week. I rather have a short week between games than a long week because I feel we recover faster during a shorter week.
Nathan (Missouri)
Who wins and by what score between Oregon-Oregon State this season?
Stephen Paea
(3:45 PM)
Of course I have to take Oregon State. I think this is the best team they've had in a decade. I can't remember the last time the Beavers started 3-0. If I had to put money on it, I'd take OSU!
Nick [via mobile]
Hey Stephen, how excited are you to be a part of this Bears defense? And have you learned a lot from the other veterans on the team?
Stephen Paea
(3:47 PM)
When you hear about the Bears defenses of the past you think about Dick Butkus, Mike Singletary and guys like that. Now we have Brian Urlacher and Julius Peppers. It's an honor to play for this storied franchise and with these guys that I'm able to learn from.
Chris (Denver)
how much video game playing do you do? Do you like seeing yourself on the games?
Stephen Paea
(3:48 PM)
I don't play Madden much, I only play it on its release date just to check it out. As a rookie, it's pretty cool to see yourself on that game though. Growing up you dream about being in that game. I'm more into FIFA and Call of Duty guy.
Nathan (Denver)
Did you expect your defense to be that dominant last night against Romo and their O?
Stephen Paea
(3:50 PM)
I mean, every week we watch film and make a plan that will best help us get a win. I think Romo made some bad decisions and it worked to our advantage. I give credit to our DBs, they played hard. We scored twice on defense and nabbed five interceptions. It all goes back to trusting one another.
Matthew (Roscoe Village )
Stephen - First off great game all around by the Bears!I saw in the warmups that some of the team was doing the "Haka". Can you just give a brief explication of what that is and how it gets you ready for the game?
Stephen Paea
(3:53 PM)
The Haka is like a war dance, a pregame ritual. Its what the Malian people did in New Zealand. I was the one who did it last night with my teammate Henry Melton. It was a great way to get pumped for the game.
Mike (Green Bay)
Were you as surprised as I was to see how fast Lance Briggs was on that interception?
Stephen Paea
(3:54 PM)
(Laughing) In practice he always gets interceptions. I am used to seeing him getting big hits, intercepting the ball and running with that speed so I wasn't too surprised.
Mark (Pasadena, CA)
It was great to see and hear all of the Bears fans in the crowd last night. What percentage of the crowd do you think was Bears fans? How much did that loud contingent of Bears fans fire up you and the team?
Stephen Paea
(3:55 PM)
I think there was at least 20-30 percent Bears fans in the stands. It even got to the point where Cowboys fans weren't cheering because they were losing and you were able to hear our fans a little more. It was almost like a home game out there.
Craig G. (Fairfield, CA)
Hey Stephen, I'm a HUGE Mike Riley supporter. What kind of influence has he been to you?
Stephen Paea
(3:57 PM)
He didn't only teach me football but he helped me off the field. He helped me be a better person and also showed be how to apply football to other parts of my life. Coach Riley is a great guy and it was an honor to play for him.
Rob (Chicago)
Where does the Bears defense stand with other NFL defenses
Stephen Paea
(3:59 PM)
I would say we are the No. 1 defense in the league. We have great team work and chemistry ...we're just a well-rounded defensive squad.
Stephen Paea
(4:01 PM)
Without the fans, we NFL players wouldn't be successful. I appreciate each and every one of you guys. It's you who cheer us on and keep us playing hard each Sunday. Go Bears and Beavers!!!