Chicago's Worst Moments of 2010
Created: December 28, 2010, 4:10 PM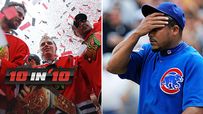 A meltdown at the Cell. A rout in the snow. The changing face of a Stanley Cup winner. There were plenty of low points in Chicago sports in 2010. Now it's your turn to rank your top 10.
Weigh each story's attributes and cast your vote now!
You must rank at least FIVE for your vote to count.
More: Vote on Best Moments