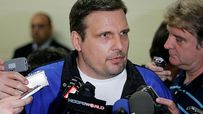 The Mavericks are off to a blazing start and Nelson is the man who put this team together, adding multiple key players in the offseason.
Welcome to SportsNation! On Wednesday, Dallas Mavericks General Manager and President of Basketball Operations Donnie Nelson stops by to chat about the season.
Nelson has been with the Mavericks since 1998 and was an assistant coach when Mark Cuban purchased the team in 2000.
The Mavericks added key players this offseason, including Drew Gooden and Rodrigue Beaubois. Both have paid dividends early on as the team is 10-3 and in first place in the Southwest Division.
Send your questions now and join Nelson Wednesday at 11 a.m. CT/noon ET!
More Special Guests: Previous chats | SportsNation
Buzzmaster
(12:02 PM)
Donnie will be here shortly, everyone!
Buzzmaster
(12:10 PM)
Hey everyone, we're still working on tracking down Donnie. Stay posted!
Donnie Nelson
(12:14 PM)
How's everybody doing? Happy day-before-Thanksgiving! Let's get started.
Mike S (CT)
Donnie, while the Warriors were shorthanded last night, how surprised were you to see only six guys play? Have you ever noticed the phenomenon of extremely short-handed NBA teams playing above their heads before, as it's one I see quite often on levels such as HS.
Donnie Nelson
(12:16 PM)
Generally speaking, when teams are shorthanded, there's a galvanizing effect. Everyone knows they've got to take their level up a few notches. It is rare to see six people in uniform. On paper, it looks like they don't have a chance, but generally speaking, they do overachieve.
Larry (ATL)
The Mavs seem to enjoy more success drafting international players than other teams, do you do anything different from other teams in terms of scouting internationally?
Donnie Nelson
(12:17 PM)
I don't think so. I think everyone at this stage of the game has got things at a pretty high global level. I think in the early days, there might have been some teams that didn't put quite the emphasis on the international market, but in this day and age, when you're looking around Europe, Africa, or Asia, pretty much everyone is represented on scouts' row.
Mike ((New Jersey))
Hey Donnie. We have your first round pick this year. So if it is not too much trouble, think about the suffering Nets fans when you give your team a pep talk. I know you are making the playoffs, but an 8th seed is fine, isn't it?
Donnie Nelson
(12:18 PM)
We're going to out best not to accommodate your wish, but that being said, Kiki obviously is a very close friend and former workmate. I wish the nets nothing but success just as long as it doesn't happen this Saturday. Hang in there; their first win is coming.
Ted (Frisco)
Since Josh Howard is having trouble bouncing back from injuries, will the Mavs try to trade him? If not, what is your plan as we get closer to the tading ddeadline?
Donnie Nelson
(12:20 PM)
I don't comment on trade speculation. Josh is an integral part of our team. We miss him dearly and can't wait for him to get back in a Maverick uniform. Three of our top players are out to injury, so we really don't know what we have. Injuries affect all teams, but to get Howard and Marion out there is what we had in mind when we built the squad this summer. We've got no plans to change things up at this point.
Walter (North Richland Hills)
In your experience, when do you see a team like Dallas gel? That is, display the chemistry needed to make a run? I know it is a tough question but do you have any expectations on when?
Donnie Nelson
(12:20 PM)
When we get healthy!
Ryan Cavazos (Ft Worth, Tx)
Donnie,Where do you think the Mavericks stack up against the elite teams in the West, the Lakers, Suns, Denver and when they get healthy the San Antonio Spurs?
Donnie Nelson
(12:21 PM)
We respect everybody, but we don't take a backseat to anybody.
Hayden (Logan, Utah)
What is the weirdest thing you have seen Cuban do?
Donnie Nelson
(12:22 PM)
Work behind the counter of a Dairy Queen.
Brad (Gadsden,Alabama)
Donnie, Who is your favorite college football team?
Donnie Nelson
(12:22 PM)
I've got about ten of them.
Freddy (Los Angeles)
How much has Jason Kidd already helped in the development of Rodrigue Beaubois?
Donnie Nelson
(12:24 PM)
Jason is a model mentor to both Roddy and JJ Barea. There's nothing he hasn't experienced in the world of basketball, and he is a shoo-in to the Hall of Fame. He goes out of his way to teach those young players the ropes. It's that kind of leadership that makes us glad to have him back in a Mavericks uniform and why we extended that offer to him this summer.
SteveFitz (Cicero, IL)
Donnie, how aggressive will the Mavs be in next years free agency frenzy? Idealy what would you like to add to improve the team?
Donnie Nelson
(12:25 PM)
We'll be very aggressive, and it really depends on how this year plays out.
John (Dallas)
What is the status of Nick Calathes? I know he is overseas this year, but do you see him making a contribution to the Mavs next year?
Donnie Nelson
(12:26 PM)
Yes we do. We feel that Nick was a first-round talent that slipped in the draft, and we're lucky to get him. We're really excited to see him join our summer league team next year and we think his future is very bright.
Amir (Pennsville)
Hows Damp feeling now?
Donnie Nelson
(12:26 PM)
He is gaining by the day, and we should have an update on his status very soon.
Donnie Nelson
(12:27 PM)
We really miss his inside presence as you can tell. Even a game like last night where there was a majority of smallball played, a physical inside presence like Dampier would have been very difficult to match up with. Not to mention when we lock horns with the top centers in the West.
Hayden (Logan, Utah)
the question on everyones mind: where do you see Lebron next year?
Donnie Nelson
(12:28 PM)
Wherever he wants to go...this is America!
Matt (St. Paul)
Do you have any insight on how your father is feeling with the current situation in Golden State? Do you guys talk often despite being on rival teams?
Donnie Nelson
(12:29 PM)
He's gaining as far as his illness is concerned. I had a chance to talk to him before the game, and obviously they'd like to be winning more games. They have an exciting young nucleus of players, and once they get healthy, they will be just fine.
Ben (New York)
We all know that Anthony Randolph has a world of talent as he proved at the end of last season and during summer league. So my question is why isn't he playing more?
Donnie Nelson
(12:32 PM)
Young players just take time, whether it's Anthony or Beaubois. Part of being a young player means you make mistakes that cost games. You just have to be patient with young players and hopefully not give up too many losses.
Jason (Dallas)
Have you been surprised by Kris Humphries this season? Most were under the impression he was merely a throw in for the big Marion deal but he has been very productive.
Donnie Nelson
(12:32 PM)
We've all been surprised by Kris. He's a terrific young player that wasn't given an opportunity by past games. Rick has given him a chance to get on the court and he's run with it. We're happy and blessed to have him as a Mav.
Freddy (Los Angeles)
What are your thoughts on the NBA's age limit, will it be changed by the next collective bargaining agreement?
Donnie Nelson
(12:33 PM)
That's a three-hour conversation with folks that are a lot smarter than I am.
John (Dallas)
How did it feel seeing the destruction of Reunion Arena? What is your best memory from that stadium? I was a baby in 1985 and saw my first ever Mavs game there.
Donnie Nelson
(12:35 PM)
It's hard for all of us. There are so many memories, you can't really count them. That being said, we've got one of the best arenas in the country with American Airlines Center, and we're happy to be here. Probably my best memory was in the war room when we acquired Steve Nash and Dirk Nowitzki in the same draft. They both went on to be MVPs.
Kyle (Ann Arbor)
Donnie--Best wishes for your father's health, first of all.What is your view of the quantitative analysis that ESPN's Hollinger and the Rockets have used in the recent past? How much of it goes on in the Maverick's front office, and do you see this catching on in the NBA as Sabermetrics caught on in MLB?
Donnie Nelson
(12:37 PM)
Thank you for the well-wishes. As far as quantitative analysis goes, our franchise is second-to-none in terms of utilizing such data. Mark has had a huge impact on our sport on the statistical front, and it remains one of the strengths of our organization.
Andy (Dallas)
With so many good players all over the world, how do you approach scouting? Do you throw a bunch of scouts out all over the world, or do you focus on fewer scouts that concentrate on higher prospects?
Donnie Nelson
(12:39 PM)
Every team does it differently. We have a domestic scouting base as well as a global one. We have a presence on every continent. I'm not sure how other teams do it, but if there's a 20-year-old 7-footer that can walk and chew gum in the middle of Madagascar, our guys will be able to hunt him down.
Shawn (La Habra)
Who's your favorite player to watch excluding Mavericks players?
Donnie Nelson
(12:41 PM)
That's a tough one right there. Where do I go with that one? My favorite player still to watch is Larry Bird on the old re-runs. I'm a basketball history buff, and I respect players that think the game as well as can play it.
Donnie Nelson
(12:42 PM)
Just a shout-out to Mavs Nation--we will be in Dave and Buster's in Fricso tonight to watch the Mavs do battle against the Houston Rockets. We will also be having our name launch for our D-League team. It'll be a ball. Hope you can join us.
THIS WEEK'S CHATS (All Times CT)