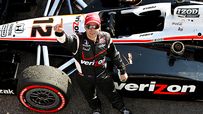 An Australian native, Power won the 2002 Australian Drivers' Championship.
Welcome to SportsNation! On Thursday, IndyCar driver Will Power stops by to chat about Saturday's Firestone Twin 275s at Texas Motor Speedway. This year's race features a new format, where instead of running one 550k race, there will be two full-field 275k races, with two winners being declared and half points awarded in both races.
Racing in the No. 12 Honda for Team Penske, Power has finished in the top-5 in all five races so far this season and leads the points standings. On May 1, he picked up his ninth win in his four seasons and 46 starts in IndyCar.
Send your questions now and join Power Thursday at 3:30 p.m. ET!
More Special Guests: Previous chats | SportsNation
Buzzmaster
(3:25 PM)
Will Power will be here in a few minutes to take your questions!
Buzzmaster
(3:34 PM)
We've got him!
Brad (Gadsden,Alabama)
Will, What do you like to do for fun other than racing?
Will Power
(3:35 PM)
I think when we're busy during the season, when I get back home, sometimes all I like to do is chill out, watch some TV, sit around, maybe swim in my pool. Not do much.
Michael Munro (Pleasant Hill, Ohio)
Will, Do you think you can get the pole here at Texas this weekend?
Will Power
(3:36 PM)
I really hope so. I was a little concerned with the lack of pace we had at Indy.
Dan (Chicago)
Will,Being in the points lead, how do you plan on maintaining it and how confident do you feel you will be able to stay on top now that we are approaching a few oval races in a row? Also, look forward to meeting you again in Milwaukee in a couple weeks!
Will Power
(3:36 PM)
Just consistency, doing the best job we can each week. Keeping it mistake free.
Blake (Dallas)
I'll be at the Texas race(s) this weekend and I'm really looking forward to it. Do you like the idea of 2 shorter races or would you prefer the traditional race format? And have you ever driven the 2 race format before?
Will Power
(3:37 PM)
I think it's going to be interesting. I think it's going to mix things up. With the old format, it was fun and you had time to get the car right, get your position in the race.
Michael Arnold (Kentucky)
After a bad race at Indy, how is Penske Racing rebounding from that?
Will Power
(3:37 PM)
We move on quite quickly and focus on the next race. So, we're not dwelling on our bad result. We're just focusing on what we've got ahead of us.
James (Rochester, NY)
What is your favorite race track on the schedule?
Will Power
(3:38 PM)
I actually enjoy the majority of the tracks we go to. Brazil this year, with how they resurfaced it, it was the most fun I've had in a long time on the circuit.
Hunter (Louisville,KY)
What is it like working for Roger Penske?
Will Power
(3:39 PM)
You're given the best equipment and environment to race in, but you're expected to perform.
Shelley G. (West Des Moines, Iowa)
Now that the series is heading to some short tracks like the Milwaukee Mile and the 7/8ths mile Iowa Speedway, how do you think the double wide restarts will be on the short tracks?
Will Power
(3:39 PM)
I think that will be interesting. That will be good at Iowa, because it's a two-lane track. I'm not too sure about Milwaukee though.
Cathy Dunn (Santa Monica, CA)
How did you do at the Boot Camp yesterday?
Will Power
(3:40 PM)
I didn't participate. I was there, but I didn't want an injury like JR did. It seemed like fun.
Bill (Indiana)
Hi Will, I'm a huge fan and best of luck in Texas. You won the last Champ Car race ever at Long Beach in 2008. Even though you won the race, the series was folding and you didn't have a ride for a long time. How did you cope with the uncertainty of your situation back then?
Will Power
(3:41 PM)
It was tough. I contemplated going back home to race there. But the timing was almost perfect when the Penske deal came up. The rest is what is history.
MikeyJ (NapTown)
Did you see JR sustain his ACL injury at boot camp? How do injuries effect you, as a driver?
Will Power
(3:42 PM)
I think an injury like his will definitely effect you on a road course, if you're left foot breaking. But on an oval, I don't think you have a problem.
MikeyJ (NapTown)
What are the benefits to you and Ryan living in NC so close to the Penske shop? Is there anything you guys gain from that, or maybe anything that Helio is unable to enjoy being down in FL?
Will Power
(3:42 PM)
I think it's important to be around the guys who work on your car and develop a relationship with them. I think that's a big benefit of living near the team.
Matt Bowman (Raleigh, NC)
What do you have to do to have better finishes on ovals?
Will Power
(3:43 PM)
I think experience plays into that. Just putting a whole race together. That's the key to having a win on the oval for me.
Daniel (Indy)
Who do you feel you will most likely compete against at the end for the championship? Any surprise drivers or teams?
Will Power
(3:44 PM)
I would say the closest competitors will probably be Dario, Scott Dixon and Ryan Briscoe.
MikeyJ (NapTown)
How has it been adjusting to married life this season?
Will Power
(3:44 PM)
In fact, I feel more relaxed than I did before I was married. Not much has changed. Enjoying life.
Bill (Indiana)
How hard was it to rebound and get back in the car after that horrible crash a couple of years ago with Nelson Philippe?
Will Power
(3:45 PM)
It wasn't very hard for me. The accident wasn't my fault. But as soon as I did the first lap back, I felt right at home.
Patricia Sayuri Fukui (São Paulo/Brazil)
Did you like to race here in SÃGBP;o Paulo? good luck. x
Will Power
(3:46 PM)
I loved it. It's definitely been my favorite race to day. The track preparation and resurfacing and so on.
Brandon (Limerick, PA)
What has been the coolest moment for you so far in your racing career?
Will Power
(3:46 PM)
I think my coolest moment might have been that Edmonton win in 2009 which somewhat helped me get a full time ride with Penske.
Will Power
(3:47 PM)
Thanks very much for following me. Keep watching. We've got some good racing and results coming up.
THIS WEEK'S CHATS (All Times CT)