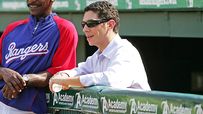 When hired in Oct. 2005, Daniels, at 28, was the youngest GM in MLB history.
Welcome to SportsNation! On Wednesday, Texas Rangers general manager Jon Daniels will chat with readers about the AL West-leading Rangers.
The defending American League champions are on the verge of their third straight winning season, tying a team record. They are also looking to make the playoffs two straight years for the first time since 1998-99.
Send your questions now and join Daniels on Wednesday at 2 p.m. CT/3 p.m. ET!
More Special Guests: Previous chats | SportsNation
Jon Daniels
(2:54 PM)
Hi everyone. Going to get started in just a few minutes. Thanks in advance for the questions...
Bill (Lubbock, tx)
It appears the last couple outing Colbys velo is down. Could he have some arm fatigue due to the innings he pitched last?
Jon Daniels
(3:01 PM)
I think we're just seeing the normal ups and downs of a season. Colby's been very good overall, especially since the All-Star break. I view last night as more of an aberration - it was a tight zone, especially at the bottom, and Detroit did a good job of not trying to do too much - they singled him to death.
Russell (Rockwall)
What do you think will be the key(s) to holding off the Angels and winning the West?
Jon Daniels
(3:03 PM)
We're more or less tied wth them right now, and we've got a lot of respect for the Angels organization. It should be a good race - we go back there twice and they're in here once more as well. With their top 3 starters, we've got to take advantage of the scoring opportunities we have, and we've got to take care of the ball when we're in the field.
Scott (Chicago )
First, congrats on the great trades. You've put the team in the position to win the division and go far in the playoffs.One worry: errors this year have gotten the Ranger's in trouble in the late innings. I know that the team has more range than most teams defensively and they've turned a league leading number of double plays, but the first rule is to avoid self-inflicted wounds. Do you attribute these errors more to chance or are there fundamental aspects of the Ranger's defensive game that need work? I mention this because defense is a focus of the coaching staff so it seems odd to have so many key errors and to rank at the bottom of the list.
Jon Daniels
(3:05 PM)
Agree with you, Scott. It's a talented and driven group of guys. Besides staying healthy, one of our keys is going to be minimizing the errors and not putting undue pressure on the pitching staff. We view it the same way you do - defensive focus is something Wash and the guys talk about all the time, but there have been too many lapses there. When we put it together, it's fun to watch. When we don't, it can appear sloppy at times.
John (Dallas)
JD - how's leonys?
Jon Daniels
(3:07 PM)
Leonys is doing fine. He's still adjusting to the game over here -- well, more the schedule, the grind, than the game itself. He's playing more than he did in Cuba, and certainly more than he did while waiting to be a free agent after he defected. He's learning how to manage his body through it, how to condition, stretch, eat, etc. He's going to be a good one in time.
Mike E (Austin)
With the acquisition of Mike Adams and Koji Uehara, will Neftali Feliz be a starter next year?
Jon Daniels
(3:09 PM)
Our focus is 100% on winning the division. That's why we made those two moves. Part of the attraction of both Mike and Koji's additions is that they'll be here next year (and possibly longer). We've said in the past that Neftali has the potential to excel in either role and still feel that way, but we'll address 2012 once 2011 is finished.
Mike (Dallas)
Why didn't we go get Adams and Bell together? Why just the one? I mean last year we went out and got Cliff Lee a big name.
Jon Daniels
(3:11 PM)
In some ways, we did. Adams and Uehara is the combination we elected to go with, and I'm confident we'll look back after the year and feel as good or better about them as we did at the deadline. We didn't trade for Cliff because of his name recognition - we thought he could help us win - the same reason we went after Mike and Koji.
Chris (Anson, TX)
No that you have traded Erlin and Weiland to the Padres can you name a couple of pitching prospects not name Perez or Scheppers you have excited about in the Rangers system? Thanks!!
Jon Daniels
(3:15 PM)
One of the reasons we could make that deal is that our scouts and development folks have done an outstanding job stockpiling talented players. As a group, they (our scouts/coaches) are the best in their field and the main reason we're successful. There are waves of guys coming. Some of the starters include Ramirez, Ross, Loux, Grimm, Mendez, Jackson, Buckel (leaving many out). Relievers include Miller, Hamburger, Tufts, Brigham, Yan, Ortiz, Rodebaugh, Bell, Kelly, etc.
Jayson (Arlington)
When do you expect Beltre to be back in the lineup?
Jon Daniels
(3:16 PM)
Adrian is eligible to come off the DL on the 7th (Sunday). He's determined to make that happen. Barring a setback, it's possible. I'd say sometime between the 7th and 15th to be safe.
Josh (Harker Heights, TX)
Do you think the Chris Davis trade is gonna turn out as bad as the Adrian Gonzalez trade? In my opinion Davis is going to be good for some years to come!
Jon Daniels
(3:19 PM)
Jeez, I hope not... I'm a Chris Davis fan. It was just unlikely he'd get a full-time shot here barring an injury, and we felt he needed to play regularly to lock in. Some guys simply need a change of scenery. He's talented, and it won't surprise us if he meets his potential - we're fully prepared for that, and in some ways rooting for it. He was out of options next spring, and we felt Koji's addition to the club at this time warranted that risk.
Jesse (Denton)
Will you marry me?
Jon Daniels
(3:20 PM)
Sorry, Denton's a bit of a commute.
Matt R. (Philadelphia )
So whats the chances of dallas going after maybe a Donte Witner at S (if still available) or Carlos Rogers at CB to solidify the secondary situation.
Jon Daniels
(3:21 PM)
Wrong chat. I'll forward this across the street.
Miles (Dallas)
Question, I was looking at the upcoming schedule and the Rangers have a Thursday night game in Anaheim starting at 9pm Texas time and then after the game they fly to Chicago for a game the following night? Who decides when to schedule games? Seems unfair the Rangers have to play a late game then fly out and play the next day.
Jon Daniels
(3:24 PM)
There are a dozen different rules and constituencies the schedule makers need to consider when putting it together. The CBA mandates a few regarding coast-to-coast travel, limitations on playing night games before off-days, and others. National TV programming is factored in as well. After that each team is looking to maximize revenues, and in most markets night games are bigger draws, especially mid-week. Travel is a factor every club has to deal with. They get in late at night, but we try to make everything else (first class airplanes, hotels, food, etc) as nice as possible to ease the wear and tear.
Blake (Ft Worth)
Any chance the Rangers look to build either a new stadium or put a room over the Ballpark in Arlington? In this heat I bet a lot of people stay home that would come out to the park.
Jon Daniels
(3:27 PM)
I know we've looked at ways to retrofit the park, but at this point is doesn't look likely. Simply too complicated as the structure wasn't built with that in mind... Outside of the mid-summer heat, we love the place and feedback says our fans do too. Minnesota and the northeast get snow in April, we've got heat in August (and a couple other months).
txranger7 (Fort Worth)
Are the Rangers planning any ceremonies for Michael Young's 2000th hit?
Jon Daniels
(3:29 PM)
Yes, I know Chuck Morgan is on top of it. He's the Wizard and doesn't let many behind the curtain until it's time, so I don't have any details for you.
Taylor (Garland, TX)
What's the bet between you and Mike Adams on the Cowboys-Giants games this season? Hear you two didn't see eye to eye on that one subject.
Jon Daniels
(3:31 PM)
Nothing set in stone right now. Think we both want to see how the rest of free agency unfolds before we fully engage. It would be nice if the Eagles left a few players for the rest of us.
David (San Benito Tx)
As a GM do you ever feel under pressure by the fans or media in the DFW area to sign a certain player or make a certain move even if you know it may not be the right move for the team?
Jon Daniels
(3:33 PM)
A little bit, but not to the point we alter our plans. The media and fans often vote with their hearts, which is not a bad thing at all, but sometimes sentimentality can get in the way of making productive decisions. We factor everything in, including fan appeal, but would hate to miss out on a player that could help us win by instead getting a player who might be past the point he can really help us.
Thad Levine (Texas)
Sup, JD?
Jon Daniels
(3:34 PM)
Sup... Back to work.
Chris (Temple, TX)
Did you consider drafting Matt Purke in this year's draft after being unable to sign him previously (around the time the club was being sold)?
Jon Daniels
(3:36 PM)
Matt was on our board, ranked by our amateur scouting group in the order they felt appropriate. We would have considered him if our pick came around and he was the next name up there. No hard feeling whatsoever.
Zach (Augusta, Georgia)
How do you balance the desire to keep the key people in the front office in Texas, while at the same time allowing them to progress their careers?
Jon Daniels
(3:43 PM)
Great question. Our goal on that front is to provide a positive, challenging, winning work atmosphere, and to encourage people to continue to grow. That may mean grow in their current roles, growth by moving to other departments int he org, and/or getting opportunities with other franchises. We take pride when Clint Hurdle gets the Pittsburgh managing job, when Wayne Kirby joins the Baltimore ML staff, when Tory Hernandez moves up in Anaheim's front office, Billy Ryan in Arizona's, among others. At some point, if we continue to have success, I imagine we'll get calls on a number of our people - plenty are deserving. We've had guys leave in the past, and just as many bypass opportunities elsewhere because they wanted to stay in our environment.
Jon Daniels
(3:44 PM)
Couple more...
Wes (Dallas)
Do you tweet?
Jon Daniels
(3:45 PM)
I don't send any messages, no. I do follow a handful of people, mostly baseball writers and a handful of other assorted people. Use it more as a news source.
Chris (Dallas)
Do you speak any foreign languages, or do guys like Preller, Daly, and Boyd talk about you in Spanish and Japanese behind your back?
Jon Daniels
(3:45 PM)
Mostly the latter. I don't trust those guys.
Alex (Carrollton)
Why specifically did you pick Matthews with your first pick of the draft?
Jon Daniels
(3:48 PM)
First off, I didn't pick Matthews myself. We did it as an organization. Our scouting group, led by AJ Preller and Kip Fagg, made the call. They lined up the board according to how they felt the players ranked in terms of physical talent, makeup, aptitude, and other factors. Kevin was a guy who fit some of the things we look for - a competitive and athletic lefthanded pitcher with feel for the baseball.
Tommy (Austin, Texas)
Do you think Ron Washington is a good manager?
Jon Daniels
(3:51 PM)
Without question. One of the best, in my opinion. I've said this before, but I believe one of the most important attributes a manager has is his ability to consistently motivate a group of 25-plus men, everyday for 162 games (in 183 days, plus spring training and hopefully October). The team takes on his personality - the never-say-die mentality, the belief in themselves, the desire to outwork people. Everything else is important too - handling the bullpen, media voice for the organization, etc - but getting guys to play hard every single day is extremely difficult and in my opinion, ofte overlooked.
Jon Daniels
(3:52 PM)
OK, everyone. I've got to go. Thanks for the questions, your time, and your support of the club. See you this weekend for the Indians series - Ubaldo's AL debut... JD
THIS WEEK'S CHATS (All Times CT)