New York • Dallas • Chicago • Boston • L.A.
ESPN Dallas Hall of Fame
The five inductees to the 2011 ESPN Dallas Hall of Fame (with percent of votes):
1. Nolan Ryan (61.0)
2. Emmitt Smith (60.9)
3. Tom Landry (59.8)
4. Troy Aikman (47.6)
5. Roger Staubach (41.9)

---
The other nominees:
6. Lance Armstrong (33.2)
7. Michael Johnson (22.9)
8. Ben Hogan (21.1)
9. Tony Dorsett (18.7)
10. Byron Nelson (16.9)
11. Jerry Jones (14.5)
12. Doak Walker (12.0)
t-13. Bob Lilly (12.6)
t-13. Jimmy Johnson (12.6)
15. Ernie Banks (10.6)
16. Lamar Hunt (7.1)
17. Davey O'Brien (4.8)
18. Lee Trevino (4.6)
19. Joe Nieuwendyk (4.1)
20. Rolando Blackman (3.2)
---
You've been given the facts and the opinions of our panelists. And now, you have selected ESPN Dallas' inaugural Hall of Fame class. We took it upon ourselves to narrow the field to 20 deserving nominees. You have chosen five from the list of great ones, icons and legends.
Visit the discussion page to talk about who you think was snubbed and who the favorites are to join the Class of 2012.
Note: The panel considered only players and coaches who are retired or inactive. Other contributors with considerable service time were also eligible.
ON THE CLOCK
• Chuck Cooperstein defends his picks


• Richard Durrett defends his picks


• Tim MacMahon defends his picks


• Pat Summerall defends his picks


• Jean-Jacques Taylor defends his picks

MUST SEE
• Assessing the 20 DFW nominations


• Cowboys: Changing of the guard?


• Staubach or Aikman: Who's your QB?


• Star crossed: No room for every Cowboy


• Best on the links: Nelson or Hogan?


• Others who deserve consideration


• Did cloud of suspicion affect the ballot?


• Still going strong: Active figures on horizon


• All about diversity: Women who deserve nod


• Face of the class: Is there any doubt?

ON 103.3 FM
• Galloway & Company debate HoF candidates


• Coop and Nate weigh in on the Dallas Hall of Fame


• Ben and Skin iron out their HoF ballots


• Ben, Skin and Nate analyze HoF candidates


• Football Show challenges MacMahon's picks

STORIES
• Narrowing the field of candidates
• MacMahon: Cowboys deserve first-class treatment
• Taylor: Don't forget natives who thrived elsewhere
• Pat Summerall knows his HOF selections well
• Nolan Ryan poised to enter as a class favorite
• Watkins: 1st Dallas HOF class lacks perspective
• Hot Button: Nowitzki or Modano as active rep?
• MacMahon: Staubach or Aikman? Style matters
• Taylor: Landry must be kept top of mind »
DFW's greatest: First-class legends
ESPN Dallas gives you a voice in picking the area's top 5 figures for our Hall of Fame

By Richard Durrett
ESPNDallas.com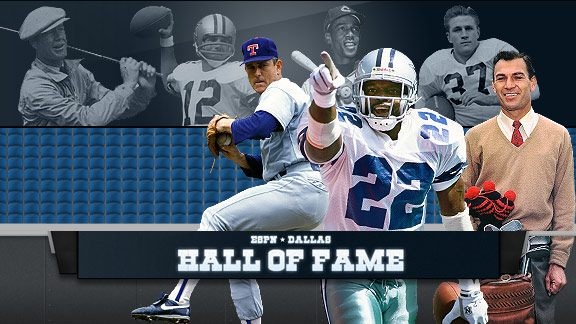 ESPN.com Illustration
Who's worthy? Who isn't? Richard Durrett moderates a series of debates:
Watch

What if you had the chance to build a monument to the greatest sports figures in the history of Dallas-Fort Worth? Think of it as a sports Mount Rushmore, situated near the Trinity River in Dallas or around the professional sports hub in Arlington or in the Stockyards in Fort Worth.
Who would be the first handful of folks you'd carve onto that rock?
ESPN Dallas, in conjunction with 103.3 FM ESPN, gives you a chance to figure that out. We have created our own Hall of Fame and you get to decide who makes the inaugural class. And rather than us choosing four names, we'll give you a chance to come up with the five individuals who made the biggest sports impact on the area. There will be many more inductees in the years to follow. But only the very best -- the elite -- are given the honor as the first members of any Hall of Fame.
Video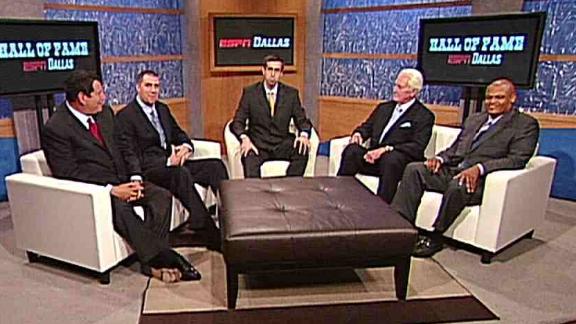 The ESPN Dallas Hall of Fame panel assesses the 20 nominations. Watch

Photo gallery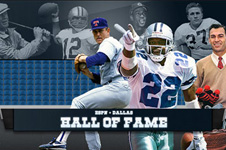 Check out the 20 candidates for the ESPN Dallas Hall of Fame: Gallery

ESPN Dallas and the rest of ESPN.com's city websites are conducting voting for their respective inaugural classes. Voting is open now. You've got one week to get your ballot in.
Warning: This won't be easy. After meetings, debates and arguments, we whittled the list to 20 candidates. The nominees had to be nationally known figures whose unique contributions have significantly elevated the sports image of Dallas-Fort Worth. Eligible figures could have been born here, or played a critical part of their career here. Or they may have impacted the area in a meaningful way by their extended presence here.
And one more thing: They have to be retired or inactive (if they are players or coaches). So while Dirk Nowitzki, Mike Modano, Michael Young and others are poised to get in, they don't qualify yet.
You will see deserving names left off this list. That's a tribute to the great sports figures that have raced through our area for more than a century. We've done the best we could to include athletes from a variety of different generations. Doak Walker and Davey O'Brien make the list, but Slingin' Sammy Baugh doesn't. Troy Aikman and Emmitt Smith are nominated, but the other member of The Triplets, Michael Irvin, is not.
The Cowboys, as you might expect, account for eight of the 20 nominees (40 percent). That includes its two most famous coaches -- Tom Landry and Jimmy Johnson -- along with owner and general manager Jerry Jones. Roger Staubach joins Aikman representing the Cowboys quarterbacks with Tony Dorsett and Smith in the backfield. TCU and Cowboys legend Bob Lilly also makes the grade.
This may be football country, but this area has produced some impressive golfers. Byron Nelson and Ben Hogan, who played each other from the time they were caddies, were nominated. So was Lee Trevino, a six-time major winner and a golf comedian.
Hall of Famer and club CEO Nolan Ryan made the list, the only Ranger to do so. There's a seven-time Tour de France champion, a Stanley Cup and Conn Smythe winner and an Olympic gold medalist in track too.
The question is how to pick just five from that impressive list. We've assembled a panel of experts to help you, though admittedly we were just as stumped at times as you will be while trying to fill out your ballot. Check out ESPNDallas.com over the next two weeks for videos featuring legendary broadcaster and former NFL player Pat Summerall, newest ESPNDallas.com columnist and longtime Cowboys beat writer Jean-Jacques Taylor, jack of all trades Tim MacMahon, the voice of the Mavericks and longtime Dallas broadcaster Chuck Cooperstein and me.
We'll see if we can help guide you through the process. We've also provided a photo gallery and a discussion forum so you can state your own case.
So get online and start filling out those ballots. It's time to pick the inaugural class of the ESPN Dallas Hall of Fame.
Coming Tuesday: Panelist Tim MacMahon defends his all-Cowboys top five.