New York • Dallas • Chicago • Boston • L.A.
ESPN Dallas Hall of Fame
The five inductees to the 2011 ESPN Dallas Hall of Fame (with percent of votes):
1. Nolan Ryan (61.0)
2. Emmitt Smith (60.9)
3. Tom Landry (59.8)
4. Troy Aikman (47.6)
5. Roger Staubach (41.9)

---
The other nominees:
6. Lance Armstrong (33.2)
7. Michael Johnson (22.9)
8. Ben Hogan (21.1)
9. Tony Dorsett (18.7)
10. Byron Nelson (16.9)
11. Jerry Jones (14.5)
12. Doak Walker (12.0)
t-13. Bob Lilly (12.6)
t-13. Jimmy Johnson (12.6)
15. Ernie Banks (10.6)
16. Lamar Hunt (7.1)
17. Davey O'Brien (4.8)
18. Lee Trevino (4.6)
19. Joe Nieuwendyk (4.1)
20. Rolando Blackman (3.2)
---
You've been given the facts and the opinions of our panelists. And now, you have selected ESPN Dallas' inaugural Hall of Fame class. We took it upon ourselves to narrow the field to 20 deserving nominees. You have chosen five from the list of great ones, icons and legends.
Visit the discussion page to talk about who you think was snubbed and who the favorites are to join the Class of 2012.
Note: The panel considered only players and coaches who are retired or inactive. Other contributors with considerable service time were also eligible.
ON THE CLOCK
• Chuck Cooperstein defends his picks


• Richard Durrett defends his picks


• Tim MacMahon defends his picks


• Pat Summerall defends his picks


• Jean-Jacques Taylor defends his picks

MUST SEE
• Assessing the 20 DFW nominations


• Cowboys: Changing of the guard?


• Staubach or Aikman: Who's your QB?


• Star crossed: No room for every Cowboy


• Best on the links: Nelson or Hogan?


• Others who deserve consideration


• Did cloud of suspicion affect the ballot?


• Still going strong: Active figures on horizon


• All about diversity: Women who deserve nod


• Face of the class: Is there any doubt?

ON 103.3 FM
• Galloway & Company debate HoF candidates


• Coop and Nate weigh in on the Dallas Hall of Fame


• Ben and Skin iron out their HoF ballots


• Ben, Skin and Nate analyze HoF candidates


• Football Show challenges MacMahon's picks

STORIES
• Narrowing the field of candidates
• MacMahon: Cowboys deserve first-class treatment
• Taylor: Don't forget natives who thrived elsewhere
• Pat Summerall knows his HOF selections well
• Nolan Ryan poised to enter as a class favorite
• Watkins: 1st Dallas HOF class lacks perspective
• Hot Button: Nowitzki or Modano as active rep?
• MacMahon: Staubach or Aikman? Style matters
• Taylor: Landry must be kept top of mind »
First class should be Boys' Club
Only debate for inaugural five should be which Cowboys won't make it into our Hall

By Tim MacMahon
ESPNDallas.com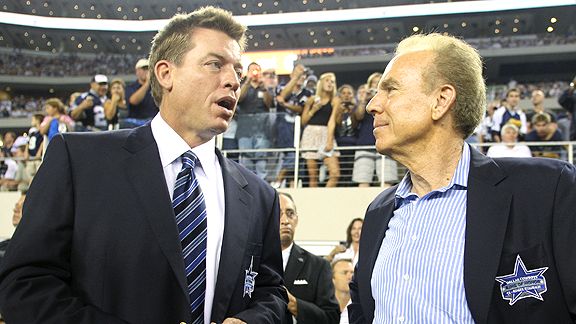 AP Photo/Sharon Ellman
Tim MacMahon defends his top five, comprised exclusively of Cowboys:  
Watch

The most important thing for a Hall of Fame is not to be inclusive or diverse. It is to honor the most deserving candidates.
That's why the inaugural ESPN Dallas Hall of Fame class should consist of nothing but Cowboys.
Paul K. Buck/AFP/Getty Images
The NFL may never see another workhorse running back like all-time rushing leader Emmitt Smith.
America's Team has dominated the Dallas-Fort Worth sports scene for five decades. Why wouldn't the Cowboys dominate an online shrine to the legends of the local sports landscape?
They've won five Super Bowls, giving the Cowboys more championships than the rest of the major sports franchises in the area combined. They've had 12 players who spent all or most of their career as Cowboys, one coach and one president/general manager inducted into the Pro Football Hall of Fame.
The issue isn't making this Hall of Fame's first class an all-Cowboys crew. It's figuring out which outstanding candidates from those Super Bowl teams shouldn't make the cut.
There are plenty of former Texas Rangers, Dallas Mavericks, Dallas Stars and homegrown stars who deserve serious consideration. There will be room for those folks in future classes.
The five most deserving candidates by far wore a star on their side of the helmet.
You want to make room for someone from another sport? OK, fine; figure out which Cowboys icon from my final five doesn't belong in the inaugural class.
Troy Aikman: He played in six Pro Bowls and won three Super Bowls, earning MVP honors in XXVII. He was the unquestioned leader of one of the greatest dynasties in NFL history. His individual statistics aren't overwhelming, but there's no doubting the legacy Aikman left in Dallas.
Tom Landry: He might be the most respected man to ever step foot in the Metroplex. Landry racked up 270 victories, 20 consecutive winning seasons, 16 campaigns with at least 10 wins, 14 division championships and two Super Bowl titles in Dallas with remarkable class and dignity. Even if his upstanding character isn't considered, it'd be absolutely foolish to leave the fellow in the fedora out of our first class.
Video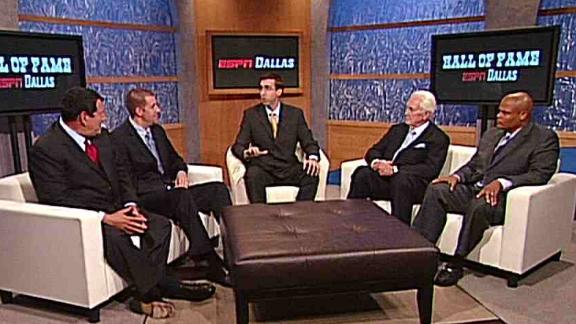 The ESPN Dallas panel discusses Cowboys who were left off. Watch

Photo gallery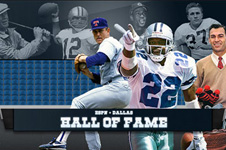 Check out the 20 candidates for the ESPN Dallas Hall of Fame: Gallery

Bob Lilly: Mr. Cowboy, as the Hall of Fame defensive tackle is known, was the franchise's first overall pick and never missed a game during his 14-season career. He played in 11 Pro Bowls and was a member of the NFL's 75th-anniversary team. He was the foundation for the Cowboys transitioning from an expansion laughingstock to one of the most recognizable sports franchises in the world. As a bonus, he was an All-American at TCU, making him a homegrown guy as well.
Emmitt Smith: His all-time rushing records -- 18,355 yards and 164 touchdowns -- will probably never be broken, considering that the workhorse running back is now an endangered species. No. 22 led the NFL in rushing four times and had 11 consecutive 1,000-yard seasons, all while wearing a Cowboys uniform. He won three Super Bowl titles, and if you want to question his contributions to those teams, go watch the film of the Cowboys' 0-2 start during his 1993 holdout. He ended that season with another rushing title and a Super Bowl MVP performance.
Roger Staubach: There's never been a more exciting athlete in the Metroplex than Captain Comeback. He had a flair for the dramatic, engineering 23 game-winning drives, highlighted by the original Hail Mary. The six-time Pro Bowler led the NFL in passing four times and won two Super Bowl titles. His most impressive statistic is his win-loss record as a starter: 85-29.
Who cares if our inaugural class is all Cowboys? There isn't anybody more deserving than these five men.
Coming Wednesday: Panelist Jean-Jacques Taylor reminds us of the contributions of DFW natives who plied their craft elsewhere.