New York • Dallas • Chicago • Boston • L.A.
ESPN Dallas Hall of Fame
The five inductees to the 2011 ESPN Dallas Hall of Fame (with percent of votes):
1. Nolan Ryan (61.0)
2. Emmitt Smith (60.9)
3. Tom Landry (59.8)
4. Troy Aikman (47.6)
5. Roger Staubach (41.9)

---
The other nominees:
6. Lance Armstrong (33.2)
7. Michael Johnson (22.9)
8. Ben Hogan (21.1)
9. Tony Dorsett (18.7)
10. Byron Nelson (16.9)
11. Jerry Jones (14.5)
12. Doak Walker (12.0)
t-13. Bob Lilly (12.6)
t-13. Jimmy Johnson (12.6)
15. Ernie Banks (10.6)
16. Lamar Hunt (7.1)
17. Davey O'Brien (4.8)
18. Lee Trevino (4.6)
19. Joe Nieuwendyk (4.1)
20. Rolando Blackman (3.2)
---
You've been given the facts and the opinions of our panelists. And now, you have selected ESPN Dallas' inaugural Hall of Fame class. We took it upon ourselves to narrow the field to 20 deserving nominees. You have chosen five from the list of great ones, icons and legends.
Visit the discussion page to talk about who you think was snubbed and who the favorites are to join the Class of 2012.
Note: The panel considered only players and coaches who are retired or inactive. Other contributors with considerable service time were also eligible.
ON THE CLOCK
• Chuck Cooperstein defends his picks


• Richard Durrett defends his picks


• Tim MacMahon defends his picks


• Pat Summerall defends his picks


• Jean-Jacques Taylor defends his picks

MUST SEE
• Assessing the 20 DFW nominations


• Cowboys: Changing of the guard?


• Staubach or Aikman: Who's your QB?


• Star crossed: No room for every Cowboy


• Best on the links: Nelson or Hogan?


• Others who deserve consideration


• Did cloud of suspicion affect the ballot?


• Still going strong: Active figures on horizon


• All about diversity: Women who deserve nod


• Face of the class: Is there any doubt?

ON 103.3 FM
• Galloway & Company debate HoF candidates


• Coop and Nate weigh in on the Dallas Hall of Fame


• Ben and Skin iron out their HoF ballots


• Ben, Skin and Nate analyze HoF candidates


• Football Show challenges MacMahon's picks

STORIES
• Narrowing the field of candidates
• MacMahon: Cowboys deserve first-class treatment
• Taylor: Don't forget natives who thrived elsewhere
• Pat Summerall knows his HOF selections well
• Nolan Ryan poised to enter as a class favorite
• Watkins: 1st Dallas HOF class lacks perspective
• Hot Button: Nowitzki or Modano as active rep?
• MacMahon: Staubach or Aikman? Style matters
• Taylor: Landry must be kept top of mind »
Three strikes: Voters whiffed on trio
Bob Lilly, Ben Hogan, Doak Walker too important to be overlooked for inaugural class

By Calvin Watkins
ESPNDallas.com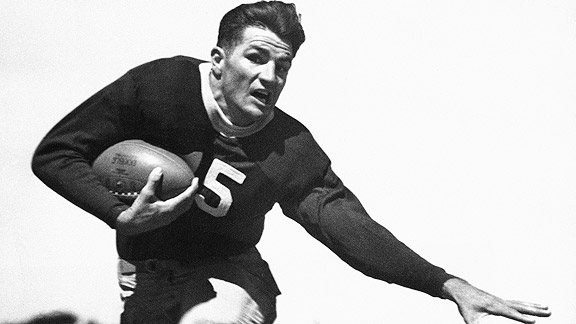 Matthew Emmons/US Presswire
The panel discusses individuals who were left off the ballot, including Sammy Baugh.
Watch

There is nothing wrong with having Nolan Ryan, Emmitt Smith, Tom Landry, Troy Aikman and Roger Staubach in any hall of fame.
But for ESPN Dallas' first Hall of Fame class, it's a flawed group.
The inaugural class should have gone deeper in honoring Dallas/Fort Worth's sports past. Sometimes you have to understand the past to accept the present.
Of all the nominees for the ESPN Dallas Hall of Fame, three names stick out as individuals who should be in.
It's a no-brainer.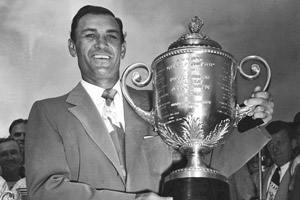 The Associated Press
Ben Hogan holds up his trophy from the 1948 PGA Championship, one of his nine major titles.
Bob Lilly was the first pick of the Dallas Cowboys and never missed a game. Never.
He was a seven-time All-Pro.
Did we say he never missed a game? An NFL game?
Out of 292 career PGA Tour events, Ben Hogan finished in the top three 47.6 percent of the time and finished in the top 10 241 times. He won nine majors and was the tour's leading money winner five times. And let's not forget to mention how he rebounded from a near-fatal crash in 1949.
We can also talk about the legend of Doak Walker, who has an award named after him presented to the best running back in college football. Even today, 22 years after his death, his family is honored at the Doak Walker Awards presented by SMU.
Those three were the biggest omissions, but they weren't the only ones.
We could go on for days about how great of a golfer and person Byron Nelson was. And what about the skills of Davey O'Brien, who, by the way, has an award named after him that is presented to the best college quarterback in the country.
When we have these polls about who was the best ever, or to select a first hall of fame class, we forget about the men or women who burst onto the scene when black-and-white photos were in vogue.
Look at some other inaugural hall of fame classes where the past is honored regardless of recently retired players or coaches.
Baseball's first class, set in 1939, had Ty Cobb, Walter Johnson, Christy Mathewson, Honus Wagner and Babe Ruth.
The last time Wagner played in a big league game was 1917. Mathewson last pitched in 1916. Think baseball honored its past?
Video
The panel discusses the credentials of women who deserved consideration. Watch

Photo gallery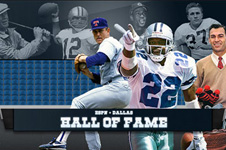 Check out the 20 candidates for the ESPN Dallas Hall of Fame: Gallery

The Pro Football Hall of Fame's inaugural class was presented in 1967. It's worth noting that Jim Thorpe, who was in that first class, last played in 1928.
Red Grange, another member of the '67 class, retired after the 1934 season.
You can even take this to boxing and its inaugural class, established in 1990.
These prizefighters were included and hadn't fought in years: Henry Armstrong, Carmen Basilio, Emile Griffith, Sugar Ray Robinson, Joe Louis, Billy Conn and Rocky Marciano.
Nothing wrong with having Muhammad Ali in this class too, but boxing got it right by honoring fighters who you only heard about on the radio or read about in newspapers.
If you had to include someone from the last 20 or so years in Dallas/Fort Worth's first class, Landry is the only name who gets a vote.
Talk to some of his former players, and they still revere him. It seems every Cowboys coach is trying to win a Super Bowl, and, of course, act with the same class as Landry.
You can talk about the Ring of Honor all you want, but only one Cowboy gets a statue. Tom Landry, and deservedly so.
But only Landry.
Ryan was a legendary pitcher but never won anything with the Rangers. Smith is the all-time rushing leader, but there are running backs considered better named Brown, Sayers and Payton.
Aikman was a great quarterback, but not as revered as Staubach.
And Staubach should be in the second class after Sammy Baugh gets in.
But that's another argument for another day.