New York • Dallas • Chicago • Boston • L.A.
ESPN Dallas Hall of Fame
The five inductees to the 2011 ESPN Dallas Hall of Fame (with percent of votes):
1. Nolan Ryan (61.0)
2. Emmitt Smith (60.9)
3. Tom Landry (59.8)
4. Troy Aikman (47.6)
5. Roger Staubach (41.9)

---
The other nominees:
6. Lance Armstrong (33.2)
7. Michael Johnson (22.9)
8. Ben Hogan (21.1)
9. Tony Dorsett (18.7)
10. Byron Nelson (16.9)
11. Jerry Jones (14.5)
12. Doak Walker (12.0)
t-13. Bob Lilly (12.6)
t-13. Jimmy Johnson (12.6)
15. Ernie Banks (10.6)
16. Lamar Hunt (7.1)
17. Davey O'Brien (4.8)
18. Lee Trevino (4.6)
19. Joe Nieuwendyk (4.1)
20. Rolando Blackman (3.2)
---
You've been given the facts and the opinions of our panelists. And now, you have selected ESPN Dallas' inaugural Hall of Fame class. We took it upon ourselves to narrow the field to 20 deserving nominees. You have chosen five from the list of great ones, icons and legends.
Visit the discussion page to talk about who you think was snubbed and who the favorites are to join the Class of 2012.
Note: The panel considered only players and coaches who are retired or inactive. Other contributors with considerable service time were also eligible.
ON THE CLOCK
• Chuck Cooperstein defends his picks


• Richard Durrett defends his picks


• Tim MacMahon defends his picks


• Pat Summerall defends his picks


• Jean-Jacques Taylor defends his picks

MUST SEE
• Assessing the 20 DFW nominations


• Cowboys: Changing of the guard?


• Staubach or Aikman: Who's your QB?


• Star crossed: No room for every Cowboy


• Best on the links: Nelson or Hogan?


• Others who deserve consideration


• Did cloud of suspicion affect the ballot?


• Still going strong: Active figures on horizon


• All about diversity: Women who deserve nod


• Face of the class: Is there any doubt?

ON 103.3 FM
• Galloway & Company debate HoF candidates


• Coop and Nate weigh in on the Dallas Hall of Fame


• Ben and Skin iron out their HoF ballots


• Ben, Skin and Nate analyze HoF candidates


• Football Show challenges MacMahon's picks

STORIES
• Narrowing the field of candidates
• MacMahon: Cowboys deserve first-class treatment
• Taylor: Don't forget natives who thrived elsewhere
• Pat Summerall knows his HOF selections well
• Nolan Ryan poised to enter as a class favorite
• Watkins: 1st Dallas HOF class lacks perspective
• Hot Button: Nowitzki or Modano as active rep?
• MacMahon: Staubach or Aikman? Style matters
• Taylor: Landry must be kept top of mind »
Tom Landry no longer top of mind
HOF vote means Cowboys need to keep coach's impact in forefront for new generation

By Jean-Jacques Taylor
ESPNDallas.com


AP Photo
The ESPN Dallas Hall of Fame panelists discuss Tom Landry's legacy:  
Watch

Tom Landry, the Man in the Funny Hat, won 270 games and two Super Bowls in 29 seasons as the Dallas Cowboys' head coach.
He's synonymous with Dallas.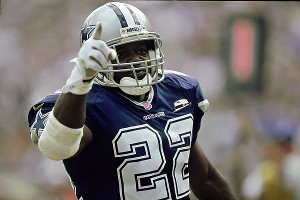 Craig Jones/Getty Images
Emmitt Smith, the most popular Cowboy in the ESPN Dallas HOF vote, wore a patch to honor Tom Landry in 2000. The team should consider bringing the patch back.
He's the man who helped create the image of America's Team that Tex Schramm marketed to the public.
Landry is one of five people who will be enshrined into the ESPN Dallas Hall of Fame's inaugural class.
He should've been the leading vote-getter. Easily.
But he wasn't.
That honor belonged to Nolan Ryan, who received 61 percent of the 41,439 votes. Landry wasn't even the leading vote-getter among the Cowboys. Emmitt Smith edged him out with 60.9 percent of the votes.
Landry received 59.8 percent of the votes.
As an athlete, Ryan threw seven no-hitters. When he pitched, you never knew if something magical was going to take place, but he spent only five seasons with the Texas Rangers.
Perhaps Ryan collected so many votes because he put together the ownership group that purchased the Rangers, who made their first World Series appearance last season.
Smith is one of the great running backs in NFL history with a record 18,355 yards. He did it for the franchise that Landry nurtured from infancy to greatness.
No way should he have more votes than Landry.
Video
Jean-Jacques Taylor defends his top-five picks. Watch

Photo gallery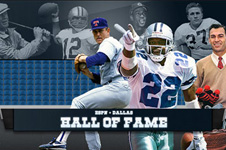 Check out the 20 candidates for the ESPN Dallas Hall of Fame: Gallery

Those vote totals mean we're more of a what-have-you-done-for-me-lately sports society than I imagined.
That's the only reasonable explanation for why Landry finished third in the voting. For some reason, the impact he made on the Cowboys and Dallas-Fort Worth seems lost on the laptop-and-iPod generation.
Perhaps it's the Cowboys' fault because they haven't been a dominant team since the early '90s. We're talking about a franchise that hasn't posted consecutive 10-win seasons since 1995 and 1996.
It's the responsibility of Jerry Jones and his family as keepers of the franchise to make sure Landry's memory never fades.
One of the reasons the Ring of Honor exists is to give the franchise's greatest players and contributors such as Landry and Schramm immortality. Jerry should take it one step further as it relates to Landry.
Jerry should bring back the fedora jersey patch.
The players wore the patch on their uniforms during the 2000 season to honor Landry, who had died earlier that year.
The patch will help keep Landry in the forefront of fans' minds, especially youngsters who have only heard stories about Landry's offensive and defensive innovations and his impact on the franchise.
It would also be a constant reminder to the players on this team about Landry's everlasting impact on the franchise and its history.