Rank 'Em: Greatest Cowboys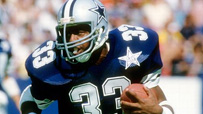 Where does Tony Dorsett rank on your list of all-time great Cowboys?
From Troy Aikman to Rayfield Wright, the Dallas Cowboys have had a plethora of great players wear the star.
You've seen our list, now show us yours.
Rank the players below and tell us who you feel are the greatest Cowboys players of all time.
Cast your vote now.


Greatest Cowboys

Cliff Harris

Cliff Harris
The hard-hitting safety appeared in five Super Bowls for the Cowboys. He was selected for six Pro Bowls and was first-team All-Pro three times. He retired at 31 after 10 seasons and was added to the Ring of Honor in 2004.

Drew Pearson

Drew Pearson
"The Original 88" will forever be remembered for being on the receiving end of Roger Staubach's "Hail Mary" pass in 1975. Pearson's career also includes three Pro Bowl and All-Pro selections and three Super Bowls. He joined the Ring of Honor in 2011.

DeMarcus Ware

DeMarcus Ware
Ware is the youngest member of this list. In his seven seasons, he has six Pro Bowl selections and is a three-time All-Pro. The outside linebacker has led the NFL twice in sacks and already has a franchise-record 99.5 for his career.

Lee Roy Jordan

Lee Roy Jordan
Jordan was the middle linebacker for Tom Landry's famed "Flex" defense during the Cowboys' rise to prominence. He was a five-time Pro Bowler and helped Dallas reach its first three Super Bowls. He totaled 32 interceptions in his 14-year career.

Bob Hayes

Bob Hayes
A former Olympic sprinter, "Bullet Bob" averaged 20 yards per reception over his career and led the league in TD catches twice. Hayes was a three-time Pro Bowler and two-time All-Pro pick. He entered the Pro Football Hall of Fame in 2009.
Rayfield Wright

Rayfield Wright
With Wright on the offensive line, the Cowboys went to five Super Bowls and won two. He was selected to six Pro Bowls and was a first-team All-Pro selection four times. He's in the Cowboys Ring of Honor and the Pro Football Hall of Fame.

Mel Renfro

Mel Renfro
Renfro was a Pro Bowl defensive back in each of his first 10 NFL seasons and was All-Pro five times. He intercepted 52 passes in his 14-year career, with a career-high 10 picks in 1969. He's in the Ring of Honor and Pro Football Hall of Fame.

Michael Irvin

Michael Irvin
"The Playmaker" went to five Pro Bowls, won three Super Bowls and is the Cowboys' career receiving leader. He entered the Ring of Honor along with fellow Triplets Emmitt Smith and Troy Aikman in 2005 and is a Pro Football Hall of Famer.

Larry Allen

Larry Allen
Known for his powerful blocking, the offensive lineman was picked for 10 Pro Bowls in his 12 seasons with the Cowboys and 11 overall. He's a six-time All-Pro, a Ring of Honor inductee and a member of the NFL's All-Decade teams for the 1990s and the 2000s.

Tony Dorsett

Tony Dorsett
Dorsett is the only NFL player with a 99-yard run from scrimmage. He rushed for more than 1,000 yards in eight of his 11 season in Dallas. The Hall of Famer and Ring of Honor member was named to four Pro Bowls and played in two Super Bowls.

Troy Aikman

Troy Aikman
Aikman was the team's first draft pick of the post-Tom Landry era and led the Cowboys' 1990s revival. He's the franchise's all-time passing leader and a three-time Super Bowl champion. He was among the NFL's top two in completion percentage five times.

Randy White

Randy White
The "Manster" missed just one game in his 14-year Cowboys career. White is the only defensive tackle to be named Super Bowl MVP. He played in three Super Bowls and was a nine-time Pro Bowler and nine-time All-Pro selection.

Bob Lilly

Bob Lilly
There's a reason Lilly, a defensive line anchor of the feared "Doomsday Defense," is known as "Mr. Cowboy." The 11-time Pro Bowler and seven-time All-Pro played in two Super Bowls, was the first draft pick in team history and first Ring of Honor inductee.

Emmitt Smith

Emmitt Smith
Smith holds the NFL career records for rushing yards, rushing TDs and 100-plus yard games. He's a four-time rushing champion and three-time Super Bowl champion and has an NFL MVP, a Super Bowl MVP and eight Pro Bowl selections to his credit.

Roger Staubach

Roger Staubach
You can add "Greatest Cowboy Ever" to Staubach's many nicknames. His long list of career highlights includes two Super Bowl wins, the Super Bowl VI MVP and six Pro Bowl selections. He's in the Cowboys Ring of Honor and Pro Football Hall of Fame.

Chuck Howley

Chuck Howley
The linebacker is best known as the only Super Bowl MVP from a losing team. He also played for a Super Bowl winner and was a six-time Pro Bowl pick and five-time All-Pro first-teamer. He was the fourth player inducted into the Cowboys Ring of Honor.

Don Meredith

Don Meredith
Considered the original Cowboy because he signed before the team even had a nickname, "Dandy Don" quarterbacked Dallas to its first postseason berth in 1966 and first playoff win the next year. He was selected to three Pro Bowls in his nine-year career.

Harvey Martin

Harvey Martin
The Dallas native was a fierce pass-rushing lineman for the famed "Doomsday Defense." Martin went to four Pro Bowls and was the co-MVP of the Cowboys' Super Bowl XII victory. He was named AP Defensive Player of the Year in 1977.

Charles Haley

Charles Haley
Haley was only a Cowboy for five seasons, but his impact was undeniable. He won three Super Bowl rings with Dallas, adding to the two he earned with the 49ers. The five-time Pro Bowler and two-time All-Pro was a member of last year's Ring of Honor class.

Jason Witten

Jason Witten
Witten's earned seven Pro Bowl selections and is still going strong, eclipsing 900 receiving yards each of the last five seasons. He's third in NFL history among tight ends in catches and second behind Michael Irvin on the Cowboys' career receptions list.
Your Rankings
1.

2.

3.

4.

5.

6.

7.

8.

9.

10.

11.

12.

13.

14.

15.

16.

17.

18.

19.

20.