Rank 'Em: DFW's Controversial Calls
Created: June 3, 2010, 12:07 PM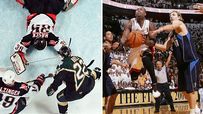 There's nothing like a good ole fashion controversy.
The sports world is buzzing about a blown call that cost Detroit Tigers pitching Armando Galarraga, a former Texas Rangers prospect, a perfect game.
The Dallas sports scene has seen plenty of controversial calls throughout the years -- some hurting the local teams, some helping them.
Let's see where you would rank 'em.
Tim MacMahon: Controversial? These still stir debate | Discuss | Forums