SportsNation Blog Archives

Oakland Raiders
JaMarcus Russell's comeback?
The Raiders had big hopes for JaMarcus Russell when they drafted him in 2007, but the troubled quarterback only managed two seasons in the league before washing out. Russell's attempt at a comeback has impressed several teams, however -- he's down to his combine playing weight and has been working out at the TEST Football Academy. Russell may have a reputation as a bust, but he's certainly making a legitimate attempt to live up to his potential.
Who here remembers the tuck rule? Patriots fans, sure. Raiders fans, definitely. Everyone else probably does as well, come to think of it. There was kind of a dust-up about it back in the day. Anyway, the NFL is considering getting rid of the rule, undoubtedly increasing the number of fumbles per year in the NFL. Has the tuck rule run its course?
mdm389: "How this hasn't been done already is beyond me. If the QB loses possession of the football, it should be a fumble regardless of what direction his arm is moving. If it's knocked out of his hand, it's a fumble. Simple."
USAgent86: "So they want to get rid of a rule no one even knew existed before 2002. Fine with me."
JBT1MIAMI: "what an incredibly great idea.... if someone fumbles, its a fumble... good look'n out guys!"
mmichaelsen: "I'm sure they put this on the table 10 years ago, but deemed it necessary to wait to make it appear as though it wasn't a reaction to the biggest joke of a call I've ever seen. Still the biggest travesty I've ever seen in sports."
pjart: "I'm in favor of getting rid of any rule that needs to be interpretted by the officials. If the quarterback fumbles the ball before he is down, and his arm isn't going forward, it's a fumble. Period."
Calvin9299: "Abandoning the tuck rule would be a change to NFL rules and policy fans would most welcome, unlike many of the onfield changes responsible for the current UNLEVELED playing field."
Join the conversation or respond by signing in or creating a profile and blogging.
Maybe Tim Brown is just a big Beastie Boys fan. Or maybe he's still stinging from the Raiders' loss to the Buccaneers in Super Bowl XXXVII. Either way, he's saying that game wasn't just a bad day for Oakland, it was "sabotage." Brown said Tuesday that then-Raiders coach Bill Callahan sabotaged the team by changing the game plan as a way to get back at the Raiders and help Jon Gruden. ESPN analyst Jerry Rice, who was also on that Raiders team, backed Brown up. So what do you think? Did Callahan intentionally blow the game plan, or was he just outcoached?
Zaqwert: "Never attribute to malice what can easily be explained with stupidity. I don't doubt Brown's account of what happen, but it wasn't Callahan throwing the game, it was him just being a terrible coach."
Poker Is Not A Sport: "One of the dumbest things I've ever heard from a player! You took the field knowing you "had no shot" because you were going to throw the ball a lot with league MVP at QB and the #1 passing game in the NFL? Okay."
emidiodan39: "Its hard to believe that the Raiders actually made it to the Superbowl."
tallsmile28: "The coach changed the gameplan 2 days before the game, but didn't change the verbiage when playing against the former coach. Either that's sabotage or really bad coaching. "
DudeAbides84: "Yeah, Callahan would rather "sabotage" the Raiders than become a Super Bowl winning coach...I think Tim's still a little bitter they got destroyed."
Join the conversation or respond by signing in or creating a profile and blogging.
Philip Rivers and the Chargers are still in the AFC West race after the quarterback's big night in a 38-14 win against the Jaguars on Monday, but they have a lot of ground to make up on the Broncos and Raiders. Does Rivers also have ground to make up in the race for top quarterback honors in the division? Rank 'Em: NFL Power Rankings
"What's the best finish you SD fans can honestly envision on these last four? How does the battered SD O-line get ready for Baltimore? Detroit? Can SD even make the finale in Oakland anything more than a spoiler game?" -- SN commenter MC3DPCS
"Tebow stinks. I mean, he's only won five in a row (first time since Elway played in Denver). The guy is a winner, period. I'm a Falcons fan and would take Tebow as our QB in a second. " -- SN commenter alyssafaithbaer
---
Which quarterback rules division?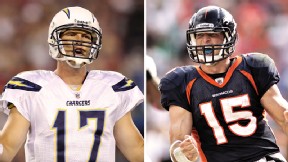 Rivers has the history but only an 84.9 QB rating this season. Tim Tebow's rating is only 87.9, but he has that 6-1 record as a starter.

---
Which road ahead is toughest?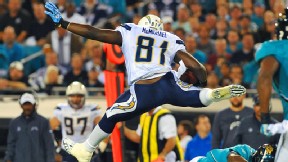 The Broncos and Raiders are 7-5, while the Chargers and Chiefs are 5-7. But does the schedule bode ill for one of the chasers?

Not everyone expected the Chargers to win the AFC West this season. No, it was a mere 81 percent of SportsNation voters who picked them to win the division, a consensus topped only by those picking the Packers in the NFC North. But while the Packers are doing just fine, the Chargers are tied with the Chiefs and Raiders after finding a new way to lose Monday's game against those Chiefs. Rank 'Em: Your NFL Power Rankings?
"Right now it looks like KC's division. You have SD with their turnovers, sloppy play and horrible O-Line. The only real thing going for us at this point is our defense. Oakland has a very talented team but are facing a crucial moment." -- SN commenter RavensSuperbowl44
"Rivers should team up with LeBron James and play baseball with the Texas Rangers, who have honed the fine art of choking." -- SN commenter GeoF1348
---
More about the win or the loss?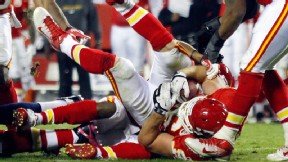 The Chiefs are in select company in NFL history in winning four in a row after an 0-3 start, but is Philip Rivers giving away a win for the slumping Chargers a bigger story?

---
Overrated or underperforming?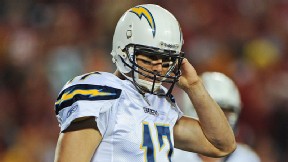 It's not much of a surprise to find Philip Rivers leading the NFL in a passing category, but it's a little surprising that it's interceptions. Is he being exposed?

---
How good are the Chiefs?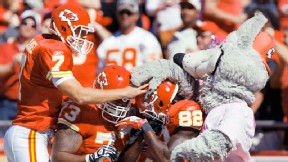 Most expected the Jets and Chargers to be playoff contenders this season, but they aren't alone at 4-3 in the AFC. Are the Chiefs the surprise with the most staying power?

---
Worse level of losing?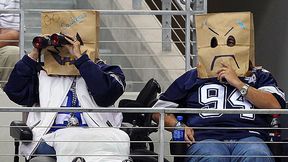 Week 8 offered a full array of painful losses, but is spending three hours watching your team get smacked around worse than watching Philip Rivers botch a snap to deny a win?