SportsNation Blog Archives

Utah Jazz
Sometimes you're the dog, and sometimes you're the hydrant. Or in the language of the NBA playoffs, sometimes you're Michael Jordan against anyone. And sometimes you're Charles Smith against the Bulls.
The postseason has arrived, and for the first time in his career, Kevin Durant gets a shot (or more likely, 20-plus shots per game) to forge his own primetime reputation on the big stage. You know it's the big stage because Phil Jackson is already taking subtle swipes at Durant and either getting in his head or poking the bear, depending on your perspective.
In all honesty, the No. 1 seed's first-round series is usually only slightly more interesting than Duke playing Arkansas-Pine Bluff in the first round of the NCAA tournament, but thanks to Durant's expected duel with Kobe Bryant, it appears all eyes this year will be on the Lakers and Thunder.
Not that every SportsNation blogger expects the series to be all that close.
"Okay, lets be realistic here. Everybody thank the Thunder for showing up, but Kobe will not allow the Lakers to get booted out of the first round. The only way Oklahoma City will sneak by and pull 1 game off is if Kevin Durant puts up 50. Even though the Lakers have been slumping as of late, they are a whole different beast when it comes to the playoffs." -- Read wwechamp69's full post.
Mikeyho (Taiwan)
Hey Chris. Just heard several analyst label the Cavs as "much better" than the Magic. This year's additions put them over the top. I feel like I'm watching last years comments. I'm not saying the Magic should even win. Just want to know if you think it'll be really competitive (around 50/50), or slightly competitve (Cavs's clear favorites)?
Chris Sheridan

Right now I would pick the Cavs in 7 in that series, but I would not label them heavy favorites. Both teams are so much different than they were a year ago (Jamison, Shaq, Vince, Barnes) that it makes comparisons between last year's series and this year's somewhat irrelevant. What's relevant is whether Shaq will be able to contain Dwight and whether the Magic will still find the individual matchup they can exploit. And Stan Van Gundy is good at that. Full transcript
It's just like the census, only this one is fun and doesn't come in the mail. And nobody from FOX News or MSNBC will yell at you about it. It's time for ESPN The Magazine's Ultimate Standings, in which SportsNation grades organizations on everything from ticket prices and stadium experience to the talent on the field, court or rink. Which team will end up on top this year? It depends on what you say.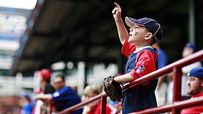 Take part in the 2010 MLB survey
2009 MLB Ultimate Standings
1. Los Angeles Angels (Overall: No. 1)
2. Milwaukee Brewers (Overall: No. 7)
3. Tampa Bay Rays (Overall: No. 16)
4. Minnesota Twins (Overall: No. 23)
5. Philadelphia Phillies (Overall: No. 24)
Take part in the 2010 NFL survey
2009 NFL Ultimate Standings
1. Pittsburgh Steelers (Overall: No. 3)
2. Green Bay Packers (Overall: No. 13)
3. Indianapolis Colts (Overall: No. 14)
4. Tennessee Titans (Overall: No. 15)
5. New England Patriots (Overall: No. 19)
Take part in the 2010 NBA survey
2009 NBA Ultimate Standings
1. Cleveland Cavaliers (Overall: No. 5)
2. San Antonio Spurs (Overall: No. 9)
3. New Orleans Hornets (Overall: No. 12)
4. Houston Rockets (Overall: No. 17)
5. Orlando Magic (Overall: No. 18)
Take part in the 2010 NHL survey
2009 NHL Ultimate Standings
1. Carolina Hurricanes (Overall: No. 2)
2. Detroit Red Wings (Overall: No. 4)
3. Washington Capitals (Overall: No. 6)
4. Pittsburgh Penguins (Overall: No. 8)
5. St. Louis Blues (Overall: No. 10)
The Eastern Conference will be at a disadvantage against the Western Conference in the All-Star Game as long as Allen Iverson and Kevin Garnett are starting and there aren't any DeLoreans involved. But did the East's best team just throw the West up for grabs?
Almost exactly a month ago, the talk was about the Lakers challenging Michael Jordan's Bulls record for most wins in a season. All right, actually we were talking about that; you were a little more realistic in saying the Lakers would win between 66-69 games. Then again, a month ago, Conan O'Brien still had a show. And after dropping a 93-87 decision against a Cavaliers team that didn't have Mo Williams, the Lakers would need to close 34-6 just to reach 66 wins.
So here we are. The Lakers still lead all challengers in the West by four games. But between Kobe's finger, Pau Gasol and Ron Artest's intermittent frailty and the sweep by the Cavaliers, are the Lakers vulnerable? Here's how SportsNation sized up their challengers.
mike (ca)
Loved you on the sports guys podcast, got to do it again, any moves by the lakers??
Chad Ford

I think there is one big move for the Lakers ... Bynum for Bosh. If they don't make that happen then I don't think they make a deal. Full transcript
Stephen (Glendora, CA)
what about the bosh for bynum (and others) trade - might not have any stock, but you guys think it would be worth doin for us in LA? Bosh can be pretty beastly.
ESPN Los Angeles' Andy Kamenetzky

Stephen,Were that deal was a true possibility (and I don't think it really is, for what that's worth), the Lakers would obviously have to consider it, because Bosh is too good a player not to. The key is how confident they are in Drew and Pau meshing. It's easy to forget the two haven't played together a lot because of injuries, and getting two seven-footers like that on the same page takes time. If they think it won't happen, you make the deal. If they think it will, you stand pat with what's still a frontcourt most teams would kill for. Full transcript
joe (toronto)
John...I keep hearing these Bosh for Bynum trade proposals, but wouldn't the Lakers want to make sure they can re-sign Bosh to a long term deal before giving up a promising young center?
John Hollinger

Yes, they would want to be sure, but I've heard that wouldn't be an impediment -- Bosh, like most players, would happily re-up with L.A. Full transcript
Lakers fans are understandably excited about the new season, and the defending champs are a popular choice to repeat among bloggers in the ESPN.com community.
"I've never been more excited for the opening of any season, any sport," blogs kurtnaphansen. "The combination of being on the heels of the Lakers winning the NBA championship, of all the trash talk from Cavs, Celtics, Magic, Spurs and even Blazers fans, and of a very new interesting development with the addition of Sheed to Boston, Shaq to Cleveland and Artest to LA."
Below are fan blogs and predictions about the season, which tipped off this week. Click through to respond. If you don't already have an ESPN profile, create one now and start blogging.
More fan blogs
Bulls preview
|
Cavaliers preview
|
Celtics-Cavaliers
|
Cuban best owner in sports
|
Eastern Conference predictions
|
Jordan among untouchables
|
Jordan memories
|
Letter to LeBron
|
Magic preview
|
NBA questions
|
No worries in Lakerland
|
Remember the Bulls?
|
Teams to watch
|
Traveling rule
|
Western Conference predictions
|
Wizards' issues
Fan pictures
What a difference a few months make. Carlos "I'm opting out of my contract no matter what" Boozer has decided not to opt out of his contract after all, and will remain in a Jazz uniform. Why? Perhaps the cool $12.7 million he'll collect had something to do with it. But we're convinced it's because SportsNation told him to do so.
Whatever the case, Boozer will remain in Salt Lake City with another recent opt-inner, Mehmet Okur. What does this mean for the Utah Jazz next season? It's time you vote below and tell us.
Fan groups: Utah Jazz fans | NBA Where amazing happens | NBA Fanz Only
Ranker: Which players are worth the big bucks in this year's class of free agents? »
"

This is great for the Jazz as they are now in complete control. If the Jazz want to trade, they can. This is MUCH better than those players walking and the Jazz being left with nothing. Now they have Korver, Miles, Boozer, AK, Millsap & you name it, the Jazz can trade it! And if no trades, great! The Jazz will finally get the chance to do what we thought they would last year until every starter got injured.

"

-- halfhoosierhein
"

The silver lining to this gray cloud of a recession we are in is watching greedy athletes have to 'settle' for less than their ego's are comfortable with.

"

-- fathale