SportsNation Blog Archives

Los Angeles Lakers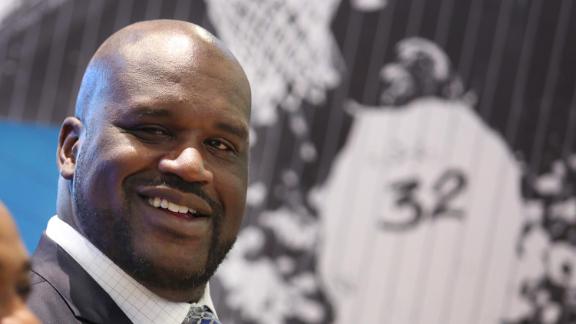 Poor Scottie Pippen. For one of the greatest players ever to dribble a basketball, the man takes a whole lot of flak. The culprit behind today's dose of disrespect? None other than The Big Aristotle.
On Sunday, Shaquille O'Neal took to Instagram to make a random (and bold) claim that the best players ever to don a Lakers uniform would embarrass a potent Bulls squad by 50 points:
The next day, the Bulls legend answered Shaq's taunt with a slight jab:
That's all it took to provoke the former Lakers big man to fire shots at Mr. Pippen (complete with some crafty Photoshop):
OH NO HE DIDN'T. Not a day goes by that the man isn't reminded he's not Michael Jordan. All courtesy of a classic Batman-and-Robin, Puffy-and-Mase analogy brought to social media by Shaquille O'Neal ... cold-blooded.
But don't cry for Pippen just yet. Right when it appeared it was over, Scottie fired back.
Scottie didn't stop there.
Two points for Pippen!
As anticipated, Shaq Daddy retaliated. Not once, not twice, but three times ... first with the unpleasant visual of what he dubbed Pippen's "sidekick edition" shoes:
Then he introduced the world to "Scottina Pippen":
The final dagger? This simulation of a Jordan-less Pippen (as a Trail Blazer) getting schooled on defense, because tape doesn't lie:
After that, it appeared Scottie Pippen had had enough as he flashed his bling, posting: "Game over, @shaq. All that's ever mattered to me is winning and we did plenty of that in Chicago..."
Not. So. Fast. Shaq was unimpressed with his foe's attempt to squash the beef, as he responded with this:
Two takeaways: 1. Don't get into social media warfare with Shaquille O'Neal, unless you want your head to be Photoshopped on an eclectic mix of images. 2. Shaq has way too much time on his hands.
In case you've been living under a rock that doesn't have Wi-Fi or a cell signal, the NBA Internet has spent Wednesday embroiled in an emoji fight.
It started when, after word spread of DeAndre Jordan possibly backing out of his agreed-upon deal with the Dallas Mavericks, Dallas' Chandler Parsons sent out a single-emoji tweet suggesting he was traveling to meet his would-be teammate. A torrent of emoji-based Los Angeles Clippers tweets followed, then the Internet got hold of it, and emojis started flying to all corners of the Web -- some players doing it correctly, others incorrectly, some teams nailing it, others missing the mark, Baron Davis posting a toilet, and much more.
Then, when it seemed like it all was over, Kobe Bryant chimed in to see what was happening:
Emoji battle?

— Kobe Bryant (@kobebryant) July 8, 2015
After an assist from ESPN's own Jemele Hill ...
All the kids are doing it, apparently RT @kobebryant: Emoji battle?

— Jemele Hill (@jemelehill) July 8, 2015
The Los Angeles Lakers star did his best to shut down the game:
Ah ok .. I see .. =<Æ<Æ<Æ<Æ<Æ==¤ #mambaout https://t.co/sdx5kpqWwY

— Kobe Bryant (@kobebryant) July 8, 2015
And thus, #mambaout was born.
LaMarcus Aldridge, sources told ESPN, was not impressed with the Los Angeles Lakers' free-agent pitch late Tuesday night.
Specifically, one source told ESPN's Chris Broussard, Aldridge thought the presentation was too off-court focused, with the basketball portion underwhelming. According to the Los Angeles Times, the negative feelings about the basketball side had to do with the Lakers' lack of focus on analytics (a subject ESPN.com's Baxter Holmes tackled in February).
Kobe Bryant? A team official told the Times that the trouble wasn't his fault at all. According to ESPN's report, Bryant told Aldridge their dynamic in Los Angeles would be similar to Bryant's and Pau Gasol's during their two championship runs.
Still, speculation lingers that Aldridge has crossed the Lakers off of his list. After the reports surfaced, Kobe tweeted this:
Social Media reporting shouldn't diminish the quality of content #justsayin pic.twitter.com/bpAcJGJW9r

— Kobe Bryant (@kobebryant) July 1, 2015
We can't say for sure who he was referring to. (We're also not sure why he got the crop wrong on that meme.)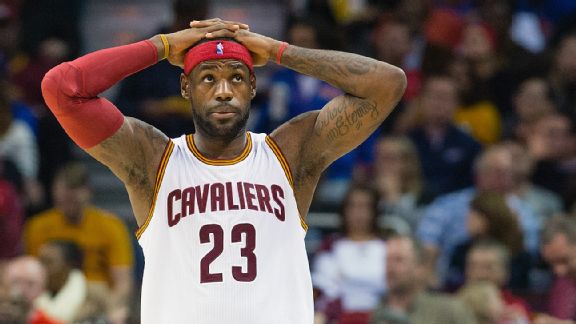 Jason Miller/Getty Images
LeBron James might have led the Miami Heat to two titles and a string of four straight NBA Finals appearances, but that doesn't mean the Sunshine State is entirely in the King's corner.
We asked two questions recently to SportsNation regarding LeBron, and while some states -- particularly the home of his Cleveland Cavaliers -- voted in his favor, Florida went the other direction on both (results as of 7:30 p.m. ET on Tuesday).
First, after Bill Russell beat out LeBron on a graphic as the "best player to wear No. 6" ...
SportsNation
Then, after Shaquille O'Neal said he would choose Kobe Bryant over LeBron in their primes ...
SportsNation
It must be said that the South Florida region accounts for less than one-third of the state's population, according to 2014 estimates. So a county-by-county breakdown might see LeBron carry Miami-Dade, Broward and Palm Beach but lose significantly elsewhere. Also, those are significantly small samples -- perhaps a few thousand more votes would change things.
Still, those are significant margins in both Russell's and Kobe's favor.
In other words: That's unseasonably cold, Florida.
What is Metta World Peace up to these days?
Done with his run in the NBA -- and subsequent stint as Key & Peele's main newsman -- the man formerly known as Ron Artest signed in March with Italian Serie A club Pallacanestro Cantu. The often-fiery 35-year-old even talked up his maturity.
"When you play angry you can't focus," he told the Associated Press. "I've got five more years to have a great time, so I will be playing with a lot of fire but not anger, just passion."
So much for that. In the decisive fifth game of their quarterfinal with Reyer Venezia Mestre, World Peace got involved in a skirmish (what a great series of seven words) and was booted in the fourth quarter with his team down eight. Here it is, from the Italian broadcast.
Espulso Metta!
Not only was Metta World Peace ejected, according to the play-by-play he was charged with five fouls in less than a minute (although not in a hack-a-DeAndre sense, as evidenced in the video).
Cantu went on to lose 88-73, while their opponents advanced to the semifinals. According to calcioweb.eu, World Peace will be suspended two games if he returns to Italy next season.
But not all was lost: The best item to emerge from this video was the fact that World Peace, as promised, wore a jersey that said "The Panda's Friend" on the back (even though he's still officially listed under World Peace).
Pallacanestro Cantu Basketball
Fiery, not fiery, mature or immature, The Panda's Friend will always be our friend.
H/T The Big Lead