SportsNation Blog Archives

Milwaukee Brewers
The Brewers are shopping Zack Greinke around the league, as a likely short-term rental for a competitor. Jayson Stark thinks the Angels, Rangers, Braves and White Sox have the best chance of getting him. What do you think?
gsa817: "If the Rangers really want him, they can get him. They have the best pieces. Doubt it will happen though. Greinke isn't exactly King Felix or Verlander, so Texas would be dumb to trade their future stars for him. He'll probably end up on the Angels."
dirkfanman81: "rangers please do not give up prospects for a half year rental. id rather tough it out then basically just throw out good young prospects for him."
zelts3: "Greinke would be fine in a big market....he's had so many articles and eyes on him lately and his last start vs the Phillies shows he can pitch well with that environment. Greinke is shut-down."
thesonicbrew: "As a Braves fan I keep thinking back to about 5 years ago when I read one of these rumor articles about Greinke to Atlanta for, a then up-and-coming Jeff Francouer.....and the Braves passed. Ah the irony."
Big-E28: "The Braves need to get Greinke now. We have the prospects that Milwaukee is looking for. They need a shortstop, then we'll give them Pastornicky. They need a good young arm, then we give them Delgado. Obviously the Braves are willing to trade Delgado as he was going to the Cubs, so what is the problem?"



Join the conversation or respond by signing in or creating a profile and blogging.
Ryan Braun has had his drug suspension overturned, but there will be no written decision in the case. Are you OK with this?
BraunFan1109: "Obviously, I'm a Brewers fan, and there should be a written explination. Broken chain of custody was Braun's argument, but it might not be why he won."
DaPhunksBack: "The fact that both sides are keeping their mouths shut doesn't sit well with me. Makes me think that something was really wrong with system and the MLB said hey we'll overturn this, but do us a favor and not make the whole process look like joke."
7bkohl: "Ryan Braun has denied the fact that he took steriods knowingly and unknowingly and has cooperated throughout the entire process."
BritInWI: "The only person hurt by this report not becoming public is Ryan Braun. How can it possibly get worse for him?"
David72218: "MLB needs to give an explanation to reassure the fans that there isn't anything fishy going on with players using performance enhancing substances. You can't just sweep this under the rug."
JRice3644: "doesnt need to be any written explanation. MLB breached the confidentiality of this case TWICE. the man was vindicated and exonerated. time to let it go and move on."



Join the conversation or respond by signing in or creating a profile and blogging.
Opening Day -- well, Opening Night, really, and we technically already had one of those in Japan, but who's counting? -- is finally here, as the Cardinals will take on the Marlins tonight in the first stateside regular-season MLB game. It's bound to be an exciting season with so many players having changed teams, but has the power structure been altered significantly?
Vote: Pick each division and pennant, and the winner of the World Series
Rank: Baseball's best teams? | Top players in the game?
---
World Series repeat?
The Cardinals prevailed over the Rangers in the 2011 World Series, but St. Louis lost its biggest gun this past offseason ...

---
Best player?
... which is a pretty big loss, considering he might be one of the best players of all time.

---
Odd one out?
The Red Sox missed the playoffs last season after an epic September collapse. Will they be on the outside looking in once again?

---
AL's best?
Prince Fielder and Albert Pujols were probably the two biggest additions to teams in the American League, meaning the balance of power could shift.

---
NL's best?
Likewise, the addition of Jose Reyes to the Marlins could give the team a huge upgrade -- offensively with new third baseman Hanley Ramirez, and defensively at shortstop.

---
A change of scenery?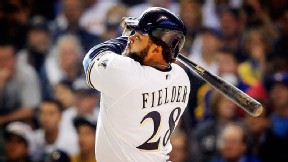 The latest rumors seem to indicate the Washington Nationals are the leaders in the clubhouse for Prince Fielder's services. Will playing in the nation's capital outweigh whatever the Chicago Cubs possibly offer?

---
Movin' on up?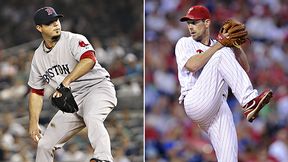 The rise of the Tampa Bay Rays has made an already talented AL East even more impressive. But would Prince Fielder's arrival in Washington, coupled with Jose Reyes in Miami, make for an equally dangerous division?

---
Bigger potential?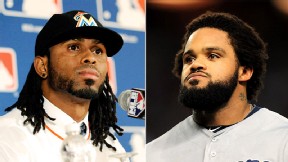 The Marlins have been active signing Jose Reyes, Heath Bell, Carlos Zambrano and Mark Buehrle, creating a buzz in Miami, but would the Nationals with Prince Fielder be a bigger postseason threat?

---
Diminishing returns?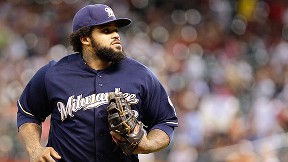 Prince Fielder's 275 pound frame may have some potential buyers worried about how he will hold up over the course of his contract, but the 27-year-old has only missed 13 games in his six full seasons in MLB and just one over the past three seasons.

---
Where will Fielder sign?
Prince Fielder's reign in Milwaukee will likely come to an end soon, as the free agent has been rumored to be meeting with the Nationals. Will 2012 find him hitting home runs in Washington?

---
Fielder's rank?
Fielder's hitting prowess is beyond question, but it's a pretty good era for first basemen. Is he really one of the best in baseball?

---
Fielder or Votto?
Teams looking for a first baseman of the future have two attractive options: sign Prince Fielder now, or wait two years and go after the Reds' Joey Votto. Who would you go for?