SportsNation Blog Archives

Detroit Red Wings
It's just like the census, only this one is fun and doesn't come in the mail. And nobody from FOX News or MSNBC will yell at you about it. It's time for ESPN The Magazine's Ultimate Standings, in which SportsNation grades organizations on everything from ticket prices and stadium experience to the talent on the field, court or rink. Which team will end up on top this year? It depends on what you say.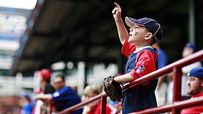 Take part in the 2010 MLB survey
2009 MLB Ultimate Standings
1. Los Angeles Angels (Overall: No. 1)
2. Milwaukee Brewers (Overall: No. 7)
3. Tampa Bay Rays (Overall: No. 16)
4. Minnesota Twins (Overall: No. 23)
5. Philadelphia Phillies (Overall: No. 24)
Take part in the 2010 NFL survey
2009 NFL Ultimate Standings
1. Pittsburgh Steelers (Overall: No. 3)
2. Green Bay Packers (Overall: No. 13)
3. Indianapolis Colts (Overall: No. 14)
4. Tennessee Titans (Overall: No. 15)
5. New England Patriots (Overall: No. 19)
Take part in the 2010 NBA survey
2009 NBA Ultimate Standings
1. Cleveland Cavaliers (Overall: No. 5)
2. San Antonio Spurs (Overall: No. 9)
3. New Orleans Hornets (Overall: No. 12)
4. Houston Rockets (Overall: No. 17)
5. Orlando Magic (Overall: No. 18)
Take part in the 2010 NHL survey
2009 NHL Ultimate Standings
1. Carolina Hurricanes (Overall: No. 2)
2. Detroit Red Wings (Overall: No. 4)
3. Washington Capitals (Overall: No. 6)
4. Pittsburgh Penguins (Overall: No. 8)
5. St. Louis Blues (Overall: No. 10)
We understand not every corner of SportsNation is paying close attention to hockey, but for those not versed in the world of frozen pucks, consider two scenarios from competing sports. First, imagine a football world where the Lions and Rams held down potential playoff spots at midseason. Second, imagine the NBA if the Nets and Timberwolves hit the All-Star break in the postseason mix.
Now imagine that 79 percent of voters said that wasn't the biggest playoff story.
Such is life in the NHL these days, where the Avalanche and Coyotes -- teams SportsNation ranked Nos. 28 and 30, respectively, when the season began -- would make the playoffs if they started today. And where the Red Wings would not.
Granted, the defending Western Conference champions have 50 games to make up two points in the standings, but could you really hold the playoffs without them?
Joseph (Bethesda)
What is your top 5 teams today?
Barry Melrose
Pittsburgh, San Jose, Chicago, New Jersey and Detroit. The Red Wings aren't in the playoffs right now, but they are a good team and can get things going pretty quick. Full transcript
matt (detroit)
Am i wrong not to be worried about the wings? Chances are they'll be healthy going into the playoffs. Yeah we are missing a lot of scoring (Hossa, hudler, samuelsson) from last year but we won the cup without hossa two years ago and have always found a way in the playoffs to find secondary scoring.
Pierre LeBrun
Spoke with Ken Holland [Nov. 28]. he just hopes they can hang in there around the bubble until all his injured guys come back in January/February and then they can make a run. Makes sense to me. Full transcript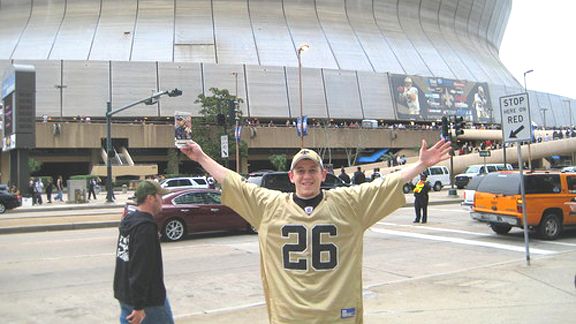 Saints fans like Lcsolja are in a mood so expansive after their Breesy start they could wrap their arms around the Superdome.
These are our favorite photos uploaded this week. If any of the images make you want to put on headgear and charge the field, click to view a larger picture and to comment. If you have a great picture or saw one you think the world should see, leave a brief description and a link in the Conversation section below.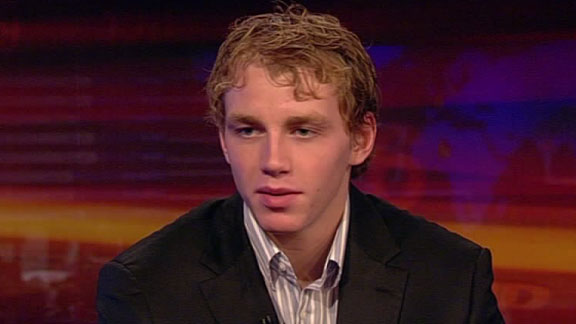 Believe it or not, the start of the NHL regular season is just about a week away. No, seriously, we're not kidding. We know the leaves haven't turned and summer doesn't actually end until today, but what the heck, it's been, what, at least three or four weeks since the Penguins won the Stanley Cup, right?
Then again, maybe that short offseason helps keep the NHL fresh in SportsNation's mind. A year ago, voters correctly predicted the Red Wings to win the Western Conference and made the Penguins their second choice, behind the Red Wings, to win it all.
Blackhawks star Patrick Kane and ESPN.com writer Scott Burnside stopped by chat Monday to help SportsNation get its ice legs before jetting off to Europe (Burnside to Stockholm for the Red Wings and Blues and Kane to Helsinki for the Blackhawks and Panthers).
Jason (Ellicott City, MD)
You are only rated an 86 in NHL. What is up with that?
Patrick Kane

I think an 86 is pretty good to be honest with you. I think the highest are Crosby and 94 and Ovechkin at 92. I thought I'd be better than Teows, but I am still on the cover. I got him by that. Full transcript
AJ (Champaign, Ill.)
How do the Blackhawks avoid a lull in their performance after they return from Finland?
Scott Burnside

AJ; Good question. The European experiment has been decidedly mixed in terms of how it affects teams. All four coaches who went last year got fired although the Pens did end up winning a Cup. I think the 'Hawks' youth and the nice steady hand of head coach Joel Quenneville will keep them from going off the rails when they get back from Finland. Full transcript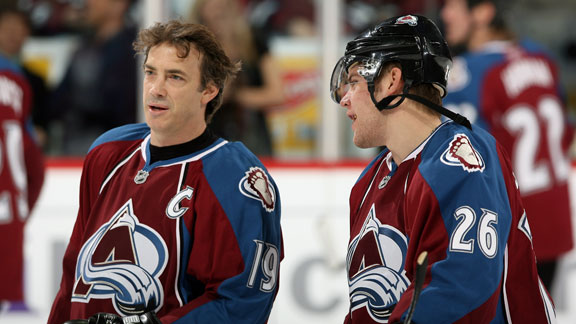 Apparently it's Canada Day, albeit a week late, in SportsNation today.
Joe Sakic was pretty much the prototypical hockey star during his two decades in the NHL, which is probably why news of his retirement is getting such little attention south of the hockey border. After all, when Chad Ochocinco talks tweeting or Manny Ramirez gets ejected, why bother with Sakic? Maybe if he waited a few months and started dropping hints about a comeback with the Minnesota Wild ...
Sakic might not have been as much the face of a franchise as Jaromir Jagr or Steve Yzerman during the same era, but as some of the comments below suggest, even Red Wings fans liked the guy. And that's not something you hear a lot of Duke fans saying about Tyler Hansbrough or Colts fans saying about Tom Brady.
"

One less wicked wrister in the NHL today. Hate the Avs, loved Joe Sakic. Thanks for the memories Joe. I will never forget a night against the Sharks when Joe had the puck in the corner, skated back and forth with the puck glued to his stick so quickly that he lost 3 defenders then fired a laser into the top far corner to score an eventual game winner. Absolutely ridiculous. Congrats Joe on a great career, 1st ballot HOF, number retired 1st game of next season if the Avs are smart.

"

-- DiabloLucky13
"

awww Joe!! Burnaby Joe, as we liked to call him here in his hometown..:) nothing but huge respect for the man as a player and as a person, pure class alll the way.. we even named a street after him years ago, lol. hope Denver does the same!

"

-- 1_canuckgrl
"

Joe Sakic was a great player, leader, and sportsman. My other favorite number 19. Sad to see him go, but glad that it's on his own terms. Next stop, HOF. Thanks letting us watch you play the game Joe!

"

-- YzerWingsFan19
"

As a Wings fan, I have a huge dislike for the Avs, but I could never bring myself to dislike Joe. Congrats on a great career and thanks for making the Wings/Avs rivalry so great.

"

-- squigs24