SportsNation Blog Archives

Arizona Diamondbacks
The Packers rolled to a Super Bowl championship last season and appear headed back for more this season. Wisconsin rocked Nebraska and Camp Randall Stadium last week to solidify the Badgers as title contenders. Are the Brewers next as Wisconsin takes over the world of sports? It will require a Game 5 win against the Diamondbacks.
"If the Crew lose this game it will be one of the biggest CHOKES ever! All that swagger. They are the better team by far and they can't be beat at home!" -- SN commenter packerbob74
"Kennedy doesn't have to lose the game for the Dbacks to lose. Gallardo's performance will have more impact on the game than Kennedy's. If the game is tied or within one run after six, the Brewers win." -- SN commenter maverick8948
---
Ian Kennedy or Yovani Gallardo?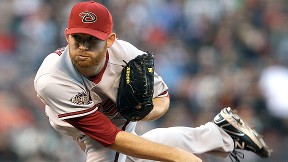 Kennedy went 21-4 in the regular season but allowed eight hits and four runs in Game 1, while Gallardo allowed just one earned run in eight innings in the opener.

---
Momentum or a familiar environment?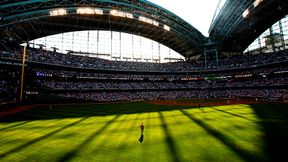 The Diamondbacks piled up two grand slams and an 18-7 advantage in runs to even the series, but is that more valuable than a season of success at Miller Park?

---
Root, root, root for the home team?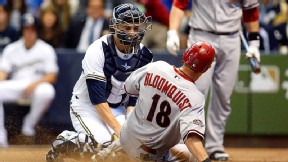 The Brewers were SN's favorite NL team when the playoffs commenced, but have the Diamondbacks won you over by rallying from a two-game hole?

---
How do you pick your poison?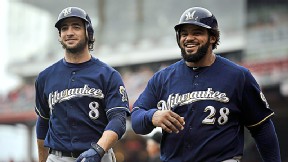 Ryan Braun and Prince Fielder have combined for seven RBIs and 23 total bases this series. With the game on the line, how do you deal with them?

---
ALDS: Tigers vs. Yankees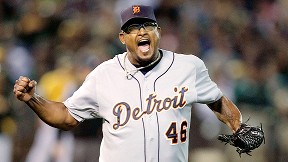 Jose Valverde was perfect in the regular season, but is he second-best in this series?
Vote: Five questions for Tigers vs. Yankees

---
ALDS: Rays vs. Rangers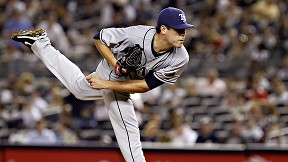 The Rays used one ace just to make it, but does starting rookie Matt Moore on the road make sense?
Vote: Five questions for Rays vs. Rangers

---
NLDS: Cardinals vs. Phillies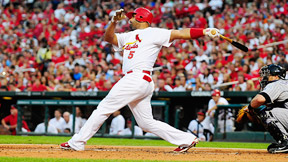 Albert Pujols' slow start turned into MVP-type numbers, but does pitching rule a short series?
Vote: Five questions for Cardinals vs. Phillies

---
NLDS: Diamondbacks vs. Brewers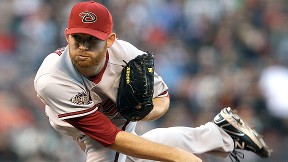 Ian Kennedy won 21 games for Arizona, but do the Brewers have the depth?
Vote: Five questions for Diamondbacks vs. Brewers

Fans in San Francisco watched meaningful baseball deep into October a year ago. Will the season be all but over by Labor Day this time around? The holiday weekend brings a three-game series between the Giants and Diamondbacks at AT&T Park, with the latter leading the NL West by six games over the defending champions.
"hoping the giants show up and sweep this weekend, I would love to see the Gaints, Cards and Braves put some pressure on the division leaders, or we are in for one boring Sept.." -- SN commenter Korzaggl
"They put the whole season on the pitching staff and Buster Posey. When the reigning ROY that hit fourth and led the Giants over the two-time NL champs in the playoffs went down, Sabean was exposed. But let's not pretend like Posey isn't one of the most valuable players in baseball." -- SN commenter SFeleven
---
What needs to happen?
The NL West has seen memorable comebacks, but even with three more games between these teams, is it sweep or bust for the Giants?

---
The collision that changed a season?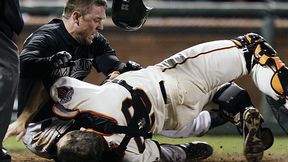 The Giants led the division on May 25, the same day Buster Posey found himself on the wrong end of a collision with Scott Cousins.

---
Architect of a dethroning?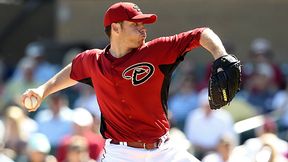 Diamondbacks ace Ian Kennedy faces Tim Lincecum on Saturday, but is Kennedy already his own team's MVP?

We can understand if you don't want to take the time to grade your tech-support help on the other end of the telephone, but when we're talking about the dollars and emotion you've invested in sports, we think it's worth the effort. It's time for ESPN The Magazine's Ultimate Standings, in which SportsNation grades organizations on everything from ticket prices and stadium experience to the talent on the field, court or rink. Which team will end up on top this year? It depends on what you say.
Take part in the 2011 MLB survey
2010 MLB Ultimate Standings
1. Los Angeles Angels (Overall: No. 3)
2. Tampa Bay Rays (Overall: No. 6)
3. Colorado Rockies (Overall: No. 13)
4. Minnesota Twins (Overall: No. 14)
5. Atlanta Braves (Overall: No. 15)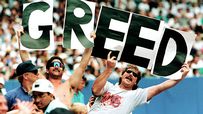 Take part in the 2011 NFL survey
2010 NFL Ultimate Standings
1. New Orleans Saints (Overall: No. 1)
2. Indianapolis Colts (Overall: No. 4)
3. Green Bay Packers (Overall: No. 9)
4. Arizona Cardinals (Overall: No. 19)
5. Baltimore Ravens (Overall: No. 20)
Take part in the 2011 NBA survey
2010 NBA Ultimate Standings
1. Orlando Magic (Overall: No. 2)
2. San Antonio Spurs (Overall: No. 7)
3. Cleveland Cavaliers (Overall: No. 10)
4. Dallas Mavericks (Overall: No. 24)
5. Oklahoma City Thunder (Overall: No. 25)
Take part in the 2011 NHL survey
2010 NHL Ultimate Standings
1. Pittsburgh Penguins (Overall: No. 5)
2. Detroit Red Wings (Overall: No. 8)
3. Washington Capitals (Overall: No. 11)
4. San Jose Sharks (Overall: No. 12)
5. Chicago Blackhawks (Overall: No. 16)
There may be plenty of shopping days left until Christmas (163 if you're counting), but time is running out for baseball teams hoping to find that special something for the pennant race. The end of the month brings the non-waiver trade deadline and the opportunity for general managers to make the kind of mark Phillies GM Ruben Amaro Jr. did last summer in trading for Cliff Lee -- or, you know, the kind of impression the Cubs made in trading Lou Brock for Ernie Broglio in 1964.
Perhaps hoping lightning strikes twice, the Rangers made a big splash by landing Lee before the All-Star break, while the Braves used the pause to trade for slugging shortstop Alex Gonzalez. But could a player like Prince Fielder or Roy Oswalt tilt the scales enough in favor of another team willing to make a move?
Kevin Larson (Oak Lawn)
What kind of players are available for Kenny Williams to grab before the trade deadline? What about Adam Dunn coming to Chicago?
ESPN Chicago's Bruce Levine

I have talked about Dunn for a month. the problem is his defense is poor and his baserunning is plodding. That's not exaclty Ozzie Ball type material. The part that Kenny Williams likes is the home run power from the left side. The Sox have lacked offensive balance all season long. When Quentin hits the team seems to score. Full transcript
Brandon (Springfield)
Should the Braves make a move for Corey Hart? Do you believe he is having a fluke season so far?
Rob Neyer
A little bit, maybe. But I think last season was the bigger fluke. Hart's a legitimate power hitter and could help a lot of clubs. Full transcript
J.B. (Dunmore, PA)
Can you see either Matt Kemp or Josh Willingham going to the Braves for the stretch run?
Jayson Stark
I don't. I keep hearing that the Nationals are telling teams interested in Willingham that they prefer to move Adam Dunn if they move either of them. And it's very unlikely Matt Kemp gets traded. If he does, he'll be very expensive. Also, the Braves can't add much payroll. Full transcript