SportsNation Blog Archives

Mississippi St. Bulldogs
Game 1: SportsNation's burning questions for Fresno State at No. 4 Boise State!


Ryan (Medford)
What 2 teams would you like to see in the National Championship?
Mel Kiper
I'd like to see Boise State, because I want to end this debate once and for all. They brought back 21 starters. They haven't lost in two years. They have a Heisman candidate at QB. They have good players on the defensive side. They won't be the same team next year. The only starter they lost was Kyle Wilson. I want to see this Boise State team, who beat TCU last year in a bowl game. I would like to settle this argument once and for all, against another undefeated team. Obviously, if Auburn and Oregon win out, they play for the title. If Auburn loses, the debate is does a one-loss SEC team trump an undefeated TCU or Boise State? The best matchup would be Boise State against Auburn or Boise State against Oregon. Full transcript
Game 2: SportsNation's burning questions for No. 8 Nebraska at No. 19 Texas A&M


Melissa (Nebraska)
Nebrask's offense seems so vanilla. Do you think Watson has something he's holding back or the offense is what it is? Bo wants the fans to cheer but there isn't much to cheer about except the defense.
Dave Ubben

A valid point about the crowd. Not much to cheer about: weak opponent, a coach they liked. I can't blame the Nebraska fans there. As for the offense, it knows it didn't need to hang a lot of points to win, and the Huskers didn't want to give opponents a chance to hit Taylor Martinez any more than necessary. A solid gameplan but not one that's going to give you a raucous crowd. Full transcript
Game 3: SportsNation's burning questions for No. 13 Arkansas at No. 21 Mississippi St.!


Jeff (Pine Bluff, Arkansas)
What's your Prediction on the Arkansas Mississippi State Game?
Chris Low
I think the Hogs will pull away in the second half. I just don't see Mississippi State being able to score enough points to win this game. Plus, Arkansas' defense is playing a lot better this season. Full transcript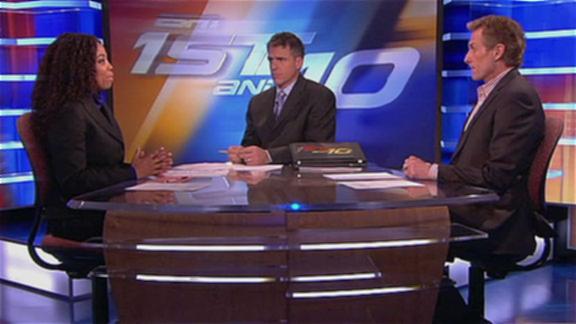 Game 1: SportsNation's burning questions for No. 1 Oregon at California


Jonathan (NYC)
Mel, what do you think of LaMichael James' NFL draft prospects if he were to decide to leave early this year? Is he a first-round talent in this year's draft? And If he were to come back to Oregon, what does he need to work on to improve his position?
Mel Kiper
He's a third-year sophomore. Second highest rated running back that is draft eligible behind Ingram. Great quickness and power for his size. His main thing right now is staying healthy so he can prove his durability. He has to show he can be more than a situational performer at the next level. He only has eight receptions this year out of the backfield, so that is something to watch. At the pro level he will need to be more of a factor in the passing game. He will also need to factor into the return game which he hasn't done in college. But he is a big-time talent. Full transcript
Game 2: SportsNation's burning questions for Georgia at No. 2 Auburn


Alex (Columbia, SC)
I saw that Auburn almost overtook Oregon in the BCS. Do you see them taking the Number 1 position back?
Brad Edwards
No, I don't. This was a result of TCU's big win jumping them over Oregon in several computers, thus causing the Ducks to weaken in the computer element. Oregon has a much stronger schedule than TCU the rest of the way and should regain that ground in the computers. The only way Oregon falls from No. 1 in the BCS is if it loses a lot of its first-place votes in the polls. Full transcript
Game 3: SportsNation's burning questions for No. 19 Mississippi State at No. 12 Alabama


Jamie (Provo, UT)
Do you believe Miss. State will beat Alabama this Saturday?
Ivan Maisel
Yes. I think this will be a real gut check for Alabama. The Tide isn't going to win the national championship. They're playing a team with a lot of emotion after the death of Nick Bell. Full transcript
Game 4: SportsNation's burning questions for No. 23 South Carolina at No. 22 Florida


Mike (Pageland, SC)
The Gamecocks travel to Gainesville this weekend to try and win their first SEC East title. How do you like their chances after the beat down from Arkansas last weekend?
Beano Cook
Number one, that game meant nothing. I agree that South Carolina should have played a little better. I am rooting for South Carolina and Steve Spurrier, but I think Florida will win. It would be ironic if Florida and Auburn met for the SEC title! Full transcript
This is one of the few moves we didn't hear rumored at some point during the conference realignment frenzy of the spring and early summer. But putting aside the brutal travel schedule, how would Boise State fare as a football-playing member of the SEC?
Why do we ask? Well, it's July and we're having a hard time getting worked up about the Tour de France. But also because you asked. Specifically, Aaron from Fort Benning, Ga. asked (sort of) when ESPN.com SEC blogger Chris Low stopped by to chat Monday.
Aaron (Ft. Benning, Ga)
If Boise State goes undefeated this year and plays in the NC Game, creates a bunch of noise by winning 2 games against BCS teams, Do they need to play an SEC team for the nation to agree with a title for Boise State, (if they won)?
SEC blogger Chris Low
My stance on Boise State hasn't changed. Chris Petersen has done a terrific job and proven that Boise State can stand toe-to-toe with just about anybody in the country in a one-game situation. But if Boise State were in the SEC, I think they would be an 8-4 or 9-3 type team most years. That doesn't diminish what they've accomplished, but is something to think about when we start throwing national championship scenarios out there. Full transcript
So what about it, SportsNation? In
another chat
, ESPN.com's Mark Schlabach joined many in ranking Boise State's opener against Virginia Tech as one of the games of the year. But what if instead of a few high-profile games early in the season against the likes of Virginia Tech and Oregon State, Boise State played at Alabama, Arkansas, LSU and Tennessee, as Ole Miss will in a 36-day stretch this fall? Could Kellen Moore and Boise State compete?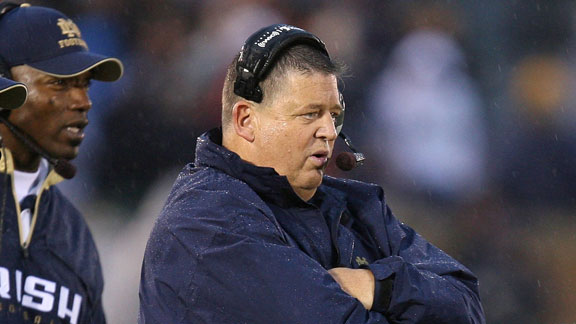 It won't be an easy weekend for BCS Cinderellas, even though they're all playing at home. Cincinnati faces No. 25 West Virginia, TCU gets the pressure of GameDay and No. 16 Utah, and Boise State deals with a surprising 7-3 Idaho (and a visiting AD who doesn't like to fly on planes with Broncos markings).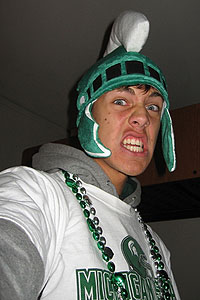 Michigan State fans like detroittim8 are still jumping up and down after their win over in-state rival Michigan last week.
Meanwhile, Florida State fans are hopping for another reason: lack of success.
"I have a ton of respect for Bobby Bowden," writes ryanvcu. "He is one of the greatest coaches ever. However I do feel at the end of the year he should hang it up."
The discussion, spurred in part by rumblings among the university's leadership, includes plenty of people who believe Bowden's legacy speaks for itself.
"The only expert qualified to comment the worthiness of Bobby Bowden's future as coach also has two names that begin with 'B', and the last time I checked he traded his hound's tooth hat for a halo," writes joe.t.elkins.
The Seminoles could quiet critics for at least a week with a win against Georgia Tech.
These are the best college football fan blogs of the week. Click through to comment, disagree and discuss your favorite teams.
Week 6 predictions: JFLASHUBY | TheVols2k7 | cardon032 | bballfever101 | Sportsguru6 | JoeRevs300 | Joey DS | gbirkem2 | dfpsports | TheSwingingFriar | nunyabiz81 | bballfever101
Rankings (with No. 1 team): ADEVARTS (Florida) | pnthrsfn1012 | canesinla (Florida) | fusebox2010 | C.UngureitJr (Alabama) | volsandtitansfans101 (Texas) | CheezusCrust (Iowa)

"

Jimmy Clausen has Heisman numbers so far, and he still has some winning to be done. He plays a pro-style offense.

"

-- I am Ron Burgandy

"

In the end LSU will not be able to keep up with the machine that is Florida. Tebow or no Tebow their running game isn't going anywhere and Brantley will make the throws necessary to win.

"

-- fusebox2010

"

This is the "The One Point Season" that needs to be the wake up call for this coaching staff. I am not optimistic but I hope Bob Stoops can acknowledge the situation and make the coaching style changes needed to fix this issue.

"

-- espnb12s

"

Wisconsin, Auburn: Great job going 5-0. You beat the teams you had to beat even though none of them were very good. The meat of the schedule is now upon you. Are you guys the prince or the ugly frog?

"

-- cardon032