SportsNation Blog Archives

West Virginia Mountaineers
Seth Doege and Texas Tech threw a big wrench into West Virginia's BCS plans with a convincing win over the No. 5 Mountaineers. While the Red Raiders' defense was harassing Heisman favorite Geno Smith, Doege was shredding the Mountaineers' defense. Was this the upset of the season? And what does this mean for Smith, who was unstoppable until Saturday? Vote below!
---
What's the story?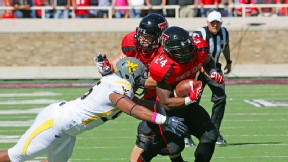 There was more to Texas Tech's 49-14 win over West Virginia than an unranked team handing No. 5 a humbling defeat.


---
Kryptonite discovered in Lubbock?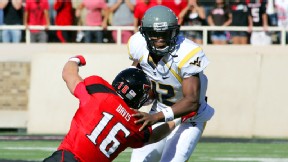 The Red Raiders' Seth Doege threw more touchdowns (6) than Geno Smith averaged yards per completion (5.4) as Texas Tech's defensive scheme stymied Smith and WVU.


September 29, 2012
Sep
29
In college football, style points matter and winning ugly can hurt your ranking more than losing despite playing well. Last week proved that to be true, when LSU slipped in the rankings from No. 2 to No. 3 after edging Auburn. Which Top 25 teams will find themselves disappointed as a result of Saturday's efforts?
---
More uggghhh than UGA?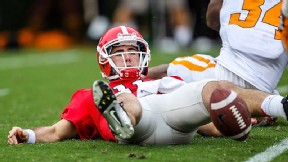 No. 5 Georgia held on to beat Tennessee despite coughing up a 17-point lead and yielding 44 points. Will the Vols' rally cost the Bulldogs?

---
Buckeyes rally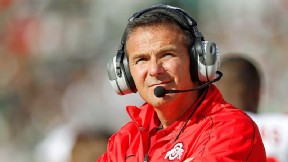 Urban Meyer could not have been pleased to see No. 14 Ohio State turn the ball over three times. But his defense held Michigan State's Le'Veon Bell to 45 yards and got the win.

---
The defense rests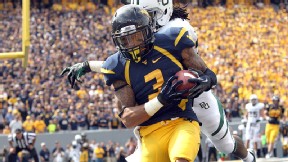 Stedman Bailey caught five of Geno Smith's eight TD passes as West Virginia scored 70 points. That's the good news. The bad news? Baylor scored 63 on the Mountaineers' defense.

---
Better late than never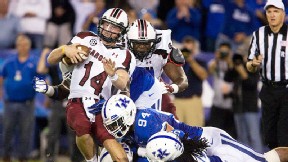 Connor Shaw helped No. 6 South Carolina score 31 unanswered points against Kentucky. But that was after spotting the Wildcats a 17-7 lead.

---
Will WVU be a new power?
This particular sign refers to South Florida, but for West Virginia, which finally received clearance to join the Big 12, it could easily be about TCU or, say, Texas.

---
Can the Big East survive?
The Big East isn't in bad shape, but it's never a good thing when you lose a major football and basketball program. Will it have to combine with another conference like the C-USA/MWC hybrid?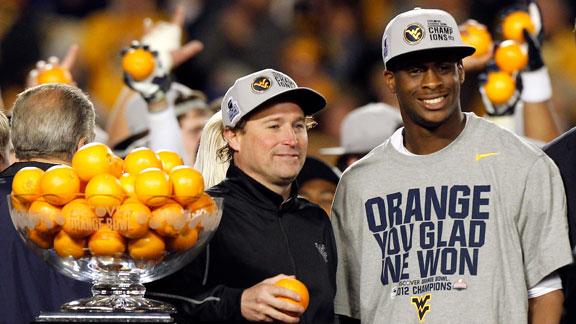 ---
A win for which conference?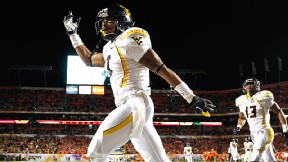 West Virginia thumped Clemson 70-33 in the Orange Bowl as the Big East's BCS representative, but it will soon head to the Big 12. "Soon" being a term debated by lawyers at the moment.

---
Which program is the real prize?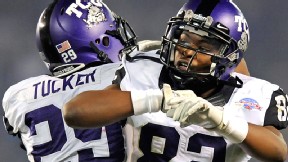 West Virginia wasn't the only future Big 12 member (with Big East ties) to win a bowl. TCU won the Poinsettia Bowl and finished 11-2 in its final Mountain West season.

---
Is West Virginia a football power?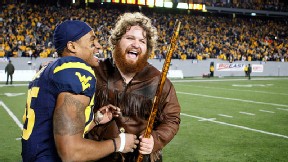 West Virginia is 70-20 since 2005 and nearly played for a national title one of those seasons. Throw in the glory days of Don Nehlen and Bobby Bowden's roots and what does it equal?

---
What about the team that gave up 70?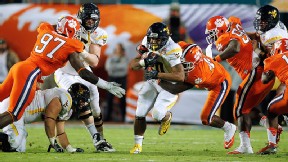 You know who loves Clemson right now? Washington, no longer on the hook for the sorriest defensive performance in a bowl this year.