SportsNation Blog Archives

West Virginia Mountaineers
---
Will WVU be a new power?
This particular sign refers to South Florida, but for West Virginia, which finally received clearance to join the Big 12, it could easily be about TCU or, say, Texas.

---
Can the Big East survive?
The Big East isn't in bad shape, but it's never a good thing when you lose a major football and basketball program. Will it have to combine with another conference like the C-USA/MWC hybrid?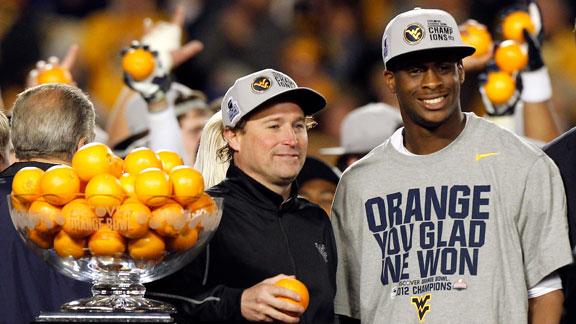 ---
A win for which conference?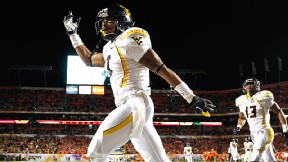 West Virginia thumped Clemson 70-33 in the Orange Bowl as the Big East's BCS representative, but it will soon head to the Big 12. "Soon" being a term debated by lawyers at the moment.

---
Which program is the real prize?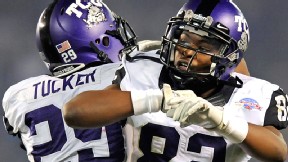 West Virginia wasn't the only future Big 12 member (with Big East ties) to win a bowl. TCU won the Poinsettia Bowl and finished 11-2 in its final Mountain West season.

---
Is West Virginia a football power?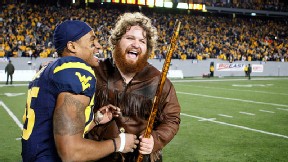 West Virginia is 70-20 since 2005 and nearly played for a national title one of those seasons. Throw in the glory days of Don Nehlen and Bobby Bowden's roots and what does it equal?

---
What about the team that gave up 70?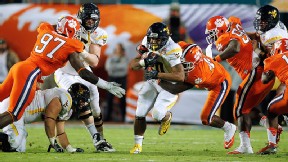 You know who loves Clemson right now? Washington, no longer on the hook for the sorriest defensive performance in a bowl this year.

The Big 12's continued existence looked more than a little shaky after Texas A&M, Colorado and Nebraska left, but with the announcement that West Virginia will leave the Big East and be accepted into the conference after a formal invitation, things could be looking up for the Big 12. Missouri's departure from the Big 12 has been held up somewhat, but conventional wisdom says the school will likely join the SEC very soon.
More: Can the Big East survive its latest loss, or will the conference dissolve?
"Wise move by both WV and the Big 12... now they should get Louisville and Cincinnati and get to 12 teams and make it a little better geographically..." -- SN commenter 85Bears1972
"Anyone else think the Big 12 will surpass the SEC in terms of the best league in the country in a couple of years? I think it is very possible." -- SN commenter vehiculized
---
TCU or WVU?
TCU and West Virginia have been doing good things in football over the past few years, but which program brings more to the table?

Game 1: SportsNation's burning questions for No. 1 Alabama at No. 10 Arkansas


Cash (Arkansas)
Joe Adams is having a great season for the hogs this year. If he has a big game against Bama can he make his way into the heisman watch?
SEC blogger Chris Low
I think Adams is one of the best players in the SEC after the catch. He's terrific in space and making people miss. But it's just so hard for receivers to make a legitimate run in the Heisman race no matter how special they are. Full transcript
Game 2: SportsNation's burning questions for No. 24 Oregon State at No. 3 Boise State


Adam (NV)
Who do you think will win this wknd between OSU vs Boise? Any chance the Beavers keep it close, or even pull the upset?
Pat Forde
Adam: Wouldn't be surprised if Oregon State keeps it close. Would be surprised if Oregon State wins. Like Boise to win. Full transcript
Game 3: SportsNation's burning questions for No. 22 West Virginia at No. 15 LSU


Walt (DC)
What will WVU do to compensate for lack of size going up against LSU's offense and defense lines?
Big East blogger Brian Bennett
I think the Mountaineers will be OK defensively. Offensive line is an issue. They need to get a push up front against what is always a talented defensive line. Perhaps some screens, the shotgun and a little old-fashioned zone read can slow that down. Full transcript
Game 4: SportsNation's burning questions for No. 16 Stanford at Notre Dame


Dave (NC)
I've had a bad weekend Andrea. I only care about UNC and Notre Dame sports when it comes to college and I'm from MA so the Pats let me down as well...... give me something to look forward to for UNC and or ND this week.
Andrea Adelson
Oh, Dave. I hope you are staying away from sharp objects ;) Both teams have been competitive, so there is that. Notre Dame is a few plays away from being 3-0, so there is that. I am not sure the Irish can beat Stanford -- the Cardinal have looked awfully good. But UNC can definitely beat Rutgers. From what I have seen of the Scarlet Knights, they haven't looked overly impressive and probably should have lost to FIU. Full transcript
Game 5: SportsNation's burning questions for South Carolina at Auburn


Sanders Colson (Atlanta)
Auburn won one they probably should have lost to Clemson. How do think they will do against S Carolina?
Mark Schlabach
I think it should be a really good game. Clemson had some success running the ball, so I'd expect to see a heavy dose of Marcus Lattimore. Clemson did a nice job shutting down AU's offense in the first half, too. That's happened twice in the last two games, but give AU credit for coming back. Newton threw the ball well at the end. Full transcript