SportsNation Blog Archives

Houston Cougars
Stanford has produced more than its fair share of famous alumni, from heads of governments in Japan (Taro Aso), Israel (Ehud Barak), Honduras (Ricardo Maduro), Peru (Alejandro Toledo) and the United States (Herbert Hoover) to our personal favorite, the late wine guy Robert Mondavi. The list of athletic alumni is hardly less impressive, including Tiger Woods and John Elway.
Toby Gerhart? Let's just say he's not quite there yet.
Gerhart is not, in fact, a midfielder with the United States national soccer team. Nor is he a goaltender for the Maple Leafs, a right tackle for the Packers or a reliever for the Twins. But try telling that to the nearly 70 percent of SportsNation that picked one of those options.
With 650 rushing yards through four games, including 334 against Washington and UCLA the last two weeks, Gerhart earned his place on ESPN.com's Heisman Watch. Now all he needs to do is introduce himself to SportsNation.
"

If it weren't for the fact that Toby Gerhart is only 14 miles away from the Pacific ocean, he'd be at the top of the Heisman list.

"

-- orangemochafraps
"

I would like to know why this list is mostly offense. I know its pretty and scoring points is cool but defense wins CHAMPIONSHIPS

"

-- rolltide_54
Colt McCoy has thrown five interceptions in four games. Tim Tebow has completed 19 passes against non-FCS opponents. And yet it's not all that easy to argue against the two of them splitting all 15 first-place votes in this week's ESPN.com Heisman Watch.
SportsNation tried to branch out in its rankings last week, giving the Heisman nod to Cal running back Jahvid Best, only to see him go silent in a bad loss at Oregon. Voters also ranked Jacory Harris third a week ago, ahead of McCoy. Miami's quarterback rewarded that faith by floundering at Virginia Tech.
So will this be strictly a two-person race, or is there room for more at the top?
Chaz (Chicago)
Is it possible that Jimmy Clausen is underrated? His numbers are amazing. His performance has been top drawer in every game this year. And he's proving to be one tough competitor playing w/ a tough injury for QBs. Yet, no one is talking about him for the Heisman-- when he should be in the conversation.
Mark Schlabach
He earned a lot of my respect Saturday night by going back into the game with the toe injury and throwing the winning TD. His numbers have been great. He'd probably be in my top five today, but the Irish couldn't lose another game for him to stay there. Full transcript.
"

Mardy Gilyard for heisman, how many diffrent ways does the kid has to score to get some heisman buzz. Do they want him to teleport to the endzone? He is by far the most exciting player to watch since young & bush.

"

-- lazarre11
"

Tebow has less than impressive numbers and is a runaway Heisman favorite? The Gators would be dominant with or without him. He is getting far too much credit for the talent around him.

"

-- bodhisamaya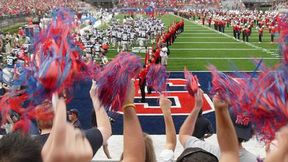 You can't blame fans like OleMIssOurYear for getting their hopes up. It's happened to us all (as has a game like the loss at South Carolina).
Next up for bubble popping? Maybe Miami. Maybe TCU. Maybe Cal. Maybe Houston.
Fans blogged their predictions for these and other games this week. Check out the voices and reactions of fans from across the country.
Week 4 predictions: awesomewes1 | uclabruin094 | Sportsguru6 | nunyabiz81 | spoofybeme2005 | jjreynoldsii | schubaka23 | utfan089 | tjroundup | SeAGoBLin15 | JoeRevs300 | D1Fortune
Rankings: sundevil22820 (No. 1 Florida) | canesinla (No. 1 Florida) | ADEVARTS (No. 1 Florida) | pnthrsfn1012 (No. 1 Florida) | randomdude21 (No. 1 Florida) | Slaton_20 (No. 1 Florida) | CheezusCrust (No. 1 Miami) | jjreynoldsii (No. 1 Alabama) | pigtailedtigerpiccolo (Overrated teams)

"

This year, it's all different. Darryll Clark is a totally different quarterback and Penn State's defense is more ready than ever before. Ricky Stanzi will have do it all by himself. Penn State 25, Iowa 12.

"

-- tjroundup

"

The Frogs are an exceptional red zone team, both offensively and defensively, so you can expect Clemson's rushing TD drought to continue. ... The Frogs' balanced attack and athletic defense will get it done in the second half. TCU 31-20.

"

-- bassmannash

"

This is tough. It's in Blacksburg, but I'm not sold on Tyrod Taylor. Can Miami continue this magical start? I say no. Virginia Tech 20-13.

"

-- spoofybeme2005

"

Texas Tech-Houston: Texas Tech. Why: Houston strikes me as a similar 'BCS-buster' type as teams like BYU, Ball State and East Carolina have been the past couple years.

"

-- nunyabiz81
"

Jahvid Best has at least two TDs and those will be the difference when Cal comes out of Eugene with a win. If Oregon had LeGarrette Blount this would be a closer game. Cal 35, Oregon 21.

"

-- awesomewes1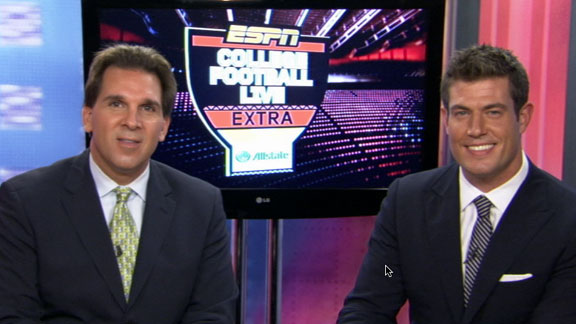 Carrying Minnesota didn't help Walter Mondale much (add that reference to the Herschel Walker post, throw in some Cure and you've got yourself a retro day in SportsNation), but carrying in Minnesota may prove to be the launching pad for Jahvid Best's Heisman run.
Combined with USC's loss at Washington, which presumably puts Cal in the Pac-10 driver's seat, Best earned a lot of eyeballs with five touchdowns and 131 rushing yards on the road against the Golden Gophers.
And once again, under the guise of a reality check, a look at how SportsNation's Heisman top five looked at this point in the season two years ago.
1. Andre Woodson, QB, Kentucky
2. Darren McFadden, RB, Arkansas
3. Glenn Dorsey, DT, LSU
4. Tim Tebow, QB, Florida
5. Brian Brohm, QB, Louisville
"

Take Tebow out of the top 5. I don't care who replaces him, but Tebow doesn't deserve it yet. What a boring, not impressive in any way performance against a lame Tenn. team.

"

-- callitirishdominance
"

JAKE LOCKER. MOST YARDS IN THE PAC 10 AGAINST 2 TOP 10 TEAMS IN THE NATION. JAKE LOCKER NEEDS TO BE IN THE HUNT AT LEAST. VOTE JAKE LOCKER!!!!!!!!!

"

-- fastdawgr