SportsNation Blog Archives

Terrell Owens
3. Is Terrell Owens right to blame the coaches in Cincinnati?
Randy Moss got in hot water for asking and answering his own questions. Terrell Owens has Chad Ochocinco to facilitate controversy. Productive on the field and quiet off it most of the season, T.O. said Tuesday that he blames the coaches for the Bengals' 2-11 record. So is he out of line or on the money?
"If I have said it once I've said it 1,000 times. TO has never told a lie. What he has to say to the media is usually dead on. The problem is that he says it to the media. That's why a plethora of organizations and former (present no doubt) teammates have such a problem with him." -- SN commenter Sons Keeper
1. Would you rather have Randy Moss or Terrell Owens?
Randy Moss is heading to Tennessee to prove the third team is the charm this season. Meanwhile, a few hours to the northeast, Terrell Owens is quietly putting together a Pro Bowl season. Yes, we said quietly. Aside from the occasional tweet,, T.O. hasn't made waves with the Bengals, but do you trust him more than Moss?
"We all know he's still got some juice, but it's running out fast and Revis and Cromartie were right about him being a slouch. To me, it seems like he's just an average receiver now ... getting old. I wish there was a fountain of youth ... bring back '98 Randy." -- SN commenter l33yang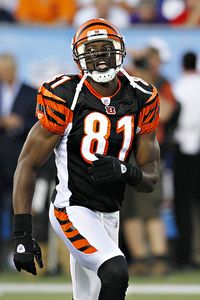 We keep waiting for Terrell Owens' Twitter reaction to a Sports Illustrated poll of his peers in which he took top honors as the NFL's most overrated player. Unfortunately, he seems more interested in his television show with teammate Chad Ochocinco and, somewhat curiously, Zenyatta. Go figure.
As James Walker notes in his AFC North blog, T.O. is on pace for a monster statistical season. But is the fact that the Bengals are languishing at 2-3 suggest the players have a point about his value? You can rank candidates for the league's most overrated player, but who did we miss? Who do you think deserves the overrated title?
Phil (Cincy)
Is Carson Palmer even a top 20 QB any more or do you feel the OC/receivers/OL has been a major part of the problem? How should the Bengals approach the position next year (high draft pick, FA, etc.)?
Football Outsiders' Bill Barnwell
I don't know if I could name 20 quarterbacks better than him, but I do think there's been some serious degradation there. He just doesn't look like the same guy that was there before the injury in 2008; whether it's because he never got the Tommy John surgery his elbow needed or because he's aging is hard to say. Don't think there's going to be very many quarterbacks available next year, and the Bengals have holes at wide receiver and in their front seven that should be high priority. Full transcript
zach (tn)
is T.O. or chad is the number 1 guy in cincy?
AFC North blogger James Walker
Terrell Owens is getting the most opportunties, but I think that's partially because he's getting the most single coverage. That is why the Bengals signed Owens, because teams did the same last year and the passing offense had no answers. Full transcript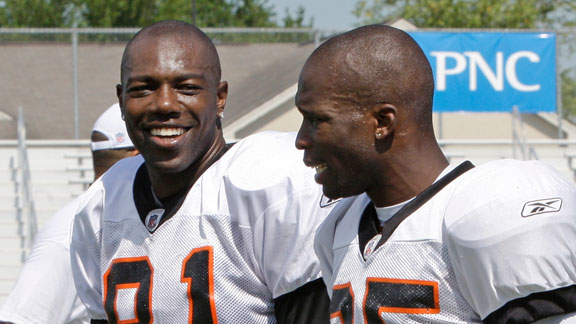 Who knew the Bengals would be the model of stability in the AFC North? Chad Ochocinco and Terrell Owens seem to be getting along just fine -- they're launching a combined reality show, in fact -- and the preseason offered little in the way of headlines.
The rest of the division? Well, that's where it gets interesting.
The Ravens made a splash Monday by adding T.J. Houshmandzadeh to a depth chart that already includes Anquan Boldin, Derrick Mason and Donte' Stallworth. The Browns are dealing with Montario Hardesty's season-ending knee injury and the Steelers are turning to third-stringers from Oregon at quarterback (thankfully for the city's fans, Dennis Dixon and not Akili Smith or Joey Harrington).
Kevin (OH)
JW, love the blog...who's been the biggest surprise (or disappointment) in the preason?
AFC North blogger James Walker
Browns QB Jake Delhomme has played very efficient football. I don't think the Browns could ask for a better preseason. They just need it to continue. Full transcript
Ricky (Cincinnati)
With Greshaim and Shipley, How would you rate the Bengals draft and where do you see them finishing the season?
Mel Kiper
I gave them a B grade the same day of the draft. That was my gut reaction. I think that's about right. Gresham is talented if he stays healthy. Shipley is quick. Not fast, but quick. He can return some kicks. He's a football player. The solid B is about right. The offense can be helped by them. As far as the season, I think the Ravens are the clear cut favorite to win and the Bengals are vying for that second spot. The Bengals will be in the mix for a wild card. Full transcript
Chicago has seen its fair share of memorable duos. Mike Ditka and Jim McMahon. Michael Jordan and Scottie Pippen. Mrs. O'Leary and her cow. Al Capone and Elliott Ness. Oprah and Stedman. But for pure entertainment potential, would anything really top pairing Manny Ramirez and Ozzie Guillen under the pressure of salvaging a playoff bid?
The details of how Ramirez will move, be it by trade or straight waiver claim, were still unclear Tuesday afternoon, but it appears a lock that the aging slugger will next suit up for the White Sox. Questions of AL Central supremacy aside, that would also place Guillen and Ramirez within approximately 300 miles of Terrell Owens and Chad Ochocinco in Cincinnati. Caught in the middle, can Indiana survive?
"

Of course it was a desperate move on the White Sox, that isn't some super secret realization. They are falling out of the race fast and need a shot in the arm. Manny can do that as long as he is interested. They are taking a chance, but I would do the same since it is only a month or two the White Sox have to put up with him.

"

-- AlMightyIronfist
"

manny will rake in chicago. he can hit when he wants to. and he will want to. and i dont really blame him for getting tossed from that game. the dodgers spit on him and them wanted one last bit of production from him before they threw him out with the trash.

"

-- pbigby