SportsNation Blog Archives

Prince Fielder
The Home Run Derby is nearing, and the captains have made their picks. Most of their picks, anyway. Yes, although David Wright's National League roster is filled -- with Michael Cuddyer, Carlos Gonzalez and Bryce Harper joining the New York Mets third baseman -- Yankees second baseman Robinson Cano has one more spot on his lineup, next to himself, Chris Davis and Prince Fielder. Some sluggers -- such as Nelson Cruz and Mark Trumbo -- have indicated they don't want to participate. So whom should Cano select for the last slot?
Prince Fielder won his second Home Run Derby on Monday, but honestly, unless you hit several thousand home runs like Josh Hamilton, the winner of the Home Run Derby is rarely the biggest story at the Home Run Derby. In this case, Royals fans enjoyed a little bit of schadenfreude at the expense of Robinson Cano, who (A) didn't select hometown hero Billy Butler for his American League team and (B) hit exactly zero home runs to massive boos and Bronx cheers from the Kansas City faithful.
---
More embarrassing?
Failing to put one out in the Derby is pretty galling, but is it worse than repeatedly screwing up a dunk in the NBA Dunk Contest?

---
OK with booing?
It's not the first time that a player has been blanked at the Derby, but it's the first time we can remember that the crowd was so happy about it.

---
Proper selections?
There were some good sluggers in this year's Derby, but we can't help but think that the event could benefit from guys like Adam Dunn. We're still weirded out that Wily Mo Pena never got an invite.

Captain Robinson Cano unveiled his choices for the American League's Home Run Derby team. Are they better than Matt Kemp's National League choices?
knappster56: "The rest of the country is going to see just how far Trumbo hits the ball next week. It's unreal."
Nepanyrush: "No Adam Dunn? 400 home runs and except for last year always near the league leaders in home runs and has never appeared in the home run derby. He is one person that I would really love to see. At the end of his career, he will have more home runs than any of these and it looks likely he will never be in a home run derby."
arhmcpo: "Good to see a relative unknown in Trumbo get selected. He's got the talent for sure, but since he's not a big name like these other guys, thought he might get left out."
KNVB962: "Cano is gonna win anyway, last year was a cake walk for him, he has the perfect swing for the derby."
Bronx52Bombers25: "Cano should've just picked non-power hitters for his team to make it easier for him to win again."
Johnny555888: "They should go by home run totals. The top 4 should in each league should be the first one asked. Its not really fair for other guys who have 10 more homers than Fielder."



Join the conversation or respond by signing in or creating a profile and blogging.
---
Where will Fielder sign?
Prince Fielder's reign in Milwaukee will likely come to an end soon, as the free agent has been rumored to be meeting with the Nationals. Will 2012 find him hitting home runs in Washington?

---
Fielder's rank?
Fielder's hitting prowess is beyond question, but it's a pretty good era for first basemen. Is he really one of the best in baseball?

---
Fielder or Votto?
Teams looking for a first baseman of the future have two attractive options: sign Prince Fielder now, or wait two years and go after the Reds' Joey Votto. Who would you go for?

Sure, there is the small matter of a spot in the World Series on the line as Albert Pujols and Prince Fielder trade home runs in the NLCS, but there's also the big matter of impending free agency. Or at least the matter of big money in free agency. Pujols won the day in Game 2 with five RBIs, but who is the prize this winter?
"Albert is a Legend. While he, as he said, has been blessed with this talent, we cardinal fans have been blessed to have him on our team for ten years. If STL doesn't resign him, the organization will forever be known as the one that let the best player in baseball get away. And the fans will NEVER forget it." -- SN commenter Hogphan919
"If Pujols really wants $30 million per for 10 years, I hope the Cardinals don't re-sign him. I'm sorry, but we Cardinals fans are 'blessed' to have a front office that rewards the loyalty of its fans by actually spending on team payroll." -- SN commenter AnthonyP005
---
Who is a bigger prize this winter?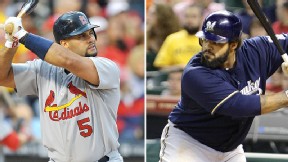 Pujols has a better track record, but is that exactly why the younger model of slugger may be preferred?

---
Who is better right now?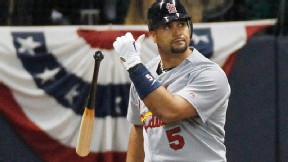 Pujols is hitting .414 with a 1.176 OPS, one home run and six RBIs this postseason. Fielder is hitting .333 with a 1.300 OPS, three homers and six RBIs.

---
What does the future hold?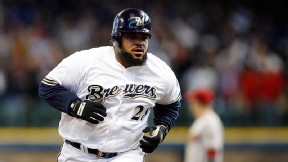 Fielder recently acknowledged this is likely his final season with the Brewers, but would a change of heart surprise you more than a change of scenery for Pujols?