SportsNation Blog Archives

Brandon Marshall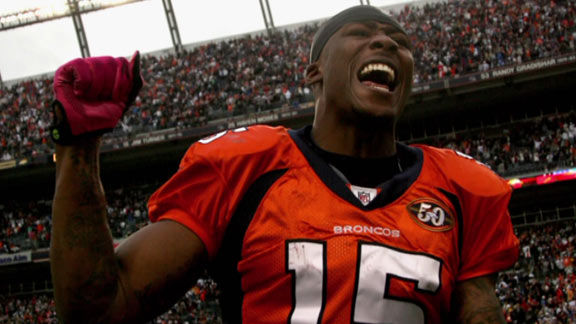 If you knew that Davone Bess led the Dolphins in receptions and receiving yards last season, you must either be a Dolphins fan or a fantasy owner who suffered through a really long 2009 season. So with no offense to Bess, the Dolphins should have a lot more offense now that he's not their go-to receiver.
Brandon Marshall is reportedly headed to Miami in exchange for a second-round pick in this year's draft and a second-round pick in next year's draft. When the Jets acquired Santonio Holmes for a pittance (translation: a fifth-round pick), a majority of SportsNation said that was a better deal than getting Marshall for a first-round pick would be. But after the Dolphins nabbed Marshall without surrendering a first-rounder, did they make the better deal? Rank the NFL's top receivers.
"

The Dolphins still have Chad Henne throwing the passes. Marshall will be more frustrated in Miami than he was in Denver...

"

-- rukus9
"

He's a good player, but I'm glad he's not coming to Seattle. We've got a lot more rebuilding to do than just at receiver, I'd rather have the picks.

"

-- korvallion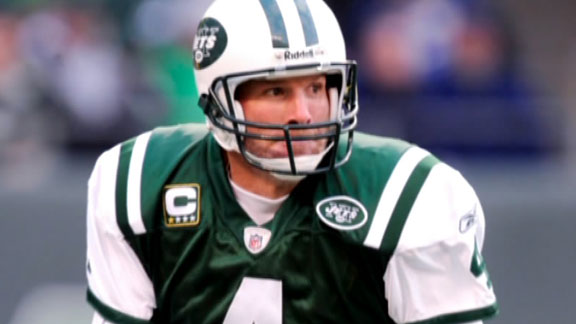 It's only fitting that the final hours of an NFL offseason short on action and long on headache-inducing drama come complete with a mad dash to the finish line.
Leading the way, of course, is Brett Favre, who is apparently a better bet to prolong his streak of headlines than consecutive starts. But since we've grown almost immune to his meanderings, the real fun starts with Eric Mangini, the coach who seems more willing to talk about his decision to keep starting Favre last season than who he will start when the Browns host Favre and the Vikings Sunday.
Then there's former Cowboys star Emmitt Smith effectively throwing Tony Romo under the bus, and Brandon Marshall, who seemed desperate to become a former Bronco, eyeing a contract extension.
Imagine tomorrow, when there's an actual game to talk about.
"

this makes ZERO sense why would you pay a guy more for acting foolish and not giving a hoot for your team ????? denver broncos orginization = MESS

"

-- rocketsandtitans
"

I find it funny that Mangini wants to keep his QB a secret, just because the QBs in question have roughly the same skill set, though Anderson has a stronger arm. Keeping the QB a mystery makes no difference....my Steelers seem to win, even though the rest of the league knows Big Ben's our starter....Mangini's a damn fool.

"

-- DamnTheBCS
"

i don't like farve...i've lost respect for his leadership with all his flip-flops too; but you can't act like he can't ball. he was fire last year before he tore his biceps. his age increases his chances of injury, sure, but i'm not gonna bet against brett farve.

"

-- jiro32
Josh McDaniels might be a play-calling and game-planning savant, but so far, when it comes to the all-important art of the ego massage, he might have some work to do.
Mere months after disagreements between McDaniels and Jay Cutler resulted in Cutler donning the raiments of a Chicago Bear, another key cog in the Broncos' offense might be on the outs. In a move that would have resulted in about a thousand laps for anyone who tried it in Pop Warner, Brandon Marshall was caught on video goofing off in practice. Marshall was suspended for, among other things, swatting away balls passed to him and sitting on his pads.
Fans believed Marshall would be on the bench when the season started, but these days, it looks like he'll be out of the Mile-High City for good. As Marshall is still an outsized talent, it could end up costing whichever team wants to pick him up (i.e., the Jets) dearly.
"

Go ahead Jets bring in a defensive minded head coach and then trade away one of your good LB's for a diva WR. They should only do the trade if its for draft picks only.

"

-- metalsiren00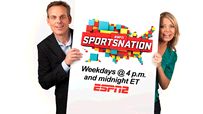 Michelle Beadle and Colin Cowherd aren't wearing face paint for "SportsNation" TV. It's called makeup in the world of television.
Argue the hot topics of the day and vote on the biggest stories from the world of sports. The show airs on ESPNEWS at 4 p.m. and ESPN2 at midnight ET.
Note: Broadcast voting results as of this afternoon (ET).

Which gives you more of a competitive advantage in sports?
Lost in the fog of PED stories is another source of supernatural athletic prowess: Being a werewolf. Coming soon to an NBA roster near you.
What do you think of Boise State trying to organize fans?
The Broncos want their fans to sit in alternating blue, white and orange sections. Is this another gimmick like the blue turf or a true expression of fandom?
Would you ever forgive someone who threw a cup of beer at you?
Who hasn't been to a party where a little beer got thrown? So does it make a difference if it happens in the field of play or amongst your "closest" friends?
Would the addition of Brandon Marshall make the Jets a playoff lock?
N.Y. would like a receiving threat for QB Mark Sanchez. Of course, that's only a rumor because actual contact between the team and wide receiver would be tampering.
Which quarterback would you rather have on your fantasy team?
Packers QB Aaron Rodgers threw for 4,038 yards and 28 TDs last season. Cowboys QB Tony Romo had 3,448 yards and 26 TDs.
What is "SportsNation" TV, and how do you make your voice heard? Read about the new ESPN show that features fan opinions with calls, tweets, polls, rankers and more.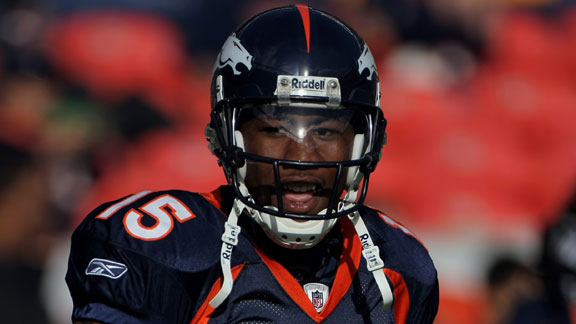 Brandon Marshall claims he has "trust issues" with the Broncos, who already ran their supposed franchise quarterback out of town this summer. Todd Haley, who created as much drama as an assistant coach can hope to muster in Dallas and Arizona, is doing damage control after comments that seemed to suggest Matt Cassel might not be his guy. And we haven't even gotten to Tom Cable's purportedly taking a coach's responsibility to bust chops a tad too literally.
May you live in interesting times, AFC West fans.
Granted, the on-the-field action in the AFC West may leave a little something to be desired this season -- 73 percent of SportsNation predicts the Chargers will win, including voters in Colorado, Kansas and Missouri. But the off-field drama could fill the void.
For now, the hot spot appears to be in Denver, where a majority of SportsNation thinks the Broncos should trade Marshall as soon as possible (although fans in Colorado are more inclined to let him play out the season angry).
"

Brandon Marshall will NEVER be happy playing for the Broncos. Nobody wants to play for that organization. They will be rebuilding for the next 5-7 years. They will have the worst record in the NFL for the next 3 seasons. They are a joke!

"

-- mcbrink26
"

This is getting stupid. Marshall is jumping on anything to get away from Denver. What a baby. People like this need to realize the NFL is not a right but a privilege. Play out your contract like a man and see if you get 1,000 yards without Cutler and then you can talk about a new contract. We need more receivers like Calvin or Andre Johnson.

"

-- ianreeves20
"

Capitalism, Communism, Socialism, Fuedalism or any other -ism you could think of, Marsall would be employed if there was a football team in the country. Don't let your bias or maybe jealousy of multi-million dollar athletes cloud you perspective. Brandon Marshall is not some bank teller that are a dime a dozen.

"

-- pakoneoh