SportsNation Blog Archives

Vince Young
What are the best touchdown plays ever in college football from each yard marker? Our analysts have come up with the most amazing scores from 1 yard to 99 yards, but we're giving you the chance to vote on two of the most controversial selections. From 8 yards out, do you favor Montana-to-Haines in the 1979 Cotton Bowl, or Vince Young's winning scramble in the 2006 BCS title game? From 64 yards out, was Kordell Stewart's 1994 Hail Mary to beat Michigan better than O.J. Simpson's Game of the Century run?
---
Montana or Young?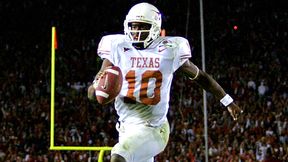 Montana's pass capped a big comeback, but Young's run was almost cinematic in its dramatic appropriateness.

---
Stewart or Simpson?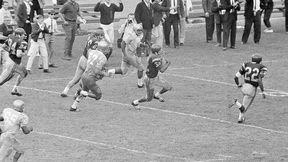 Stewart beat Michigan in the Big House in devastating fashion, while Simpson's run showcased his future as a star back in the NFL.

It's not exactly an apology, but Vince Young said Monday that he knows he could have handled his frustration with Jeff Fisher better during Sunday's loss against the Redskins. It might be more interesting to hear ideas on how he could have handled it worse. Regardless, we won't be hearing much at all from Young now that he has been placed on season-ending injured reserve. While the Titans figure out how they are going to win games with a third-string Rusty Smith, we'll leave you to debate Young's future and how much he still has to offer.
"He's been very immature in the way he's handled criticism and adversity. If he truly wished to be a "great QB" as he says ... he MUST learn to ignore all the criticism and learn from the mistakes ... grow from the adversity. All that talent ... and that potential ... being thwarted by his inability to drown out the "noise" and stay focused." -- texas386
"Unless you follow the Titans and watch every game he plays, you don't see his talent level. He mentally cannot handle his position and his T-Rex arm motions make his 0-10 yard passes very inaccurate. He's got above average arm strength and a pretty good deep ball, but he coughs up the ball and cannot emotionally handle this game. Look at how VY has behaved and compare it to how McNabb handled his benching for Grossman. You can look at VYs stats and look at his W/L record, but that doesn't speak to his contribution to the team." -- AndrewD3000
3. Is Vince Young the right choice at quarterback?
What's up with Vince Young? Every time it seems like he's solidified his hold on the Titans' starting QB job, something happens to undermine confidence in him. Rumors of missed meetings and workouts have dogged Young this week, leading some to believe that Kerry Collins may be a better choice for the Titans at this juncture. He's injured right now, but when he's healthy, should Collins start at QB?
"If VY is the starter and he was healthy enough to be the No. 2 QB last Sunday, then he was healthy enough to start. Someone is sending VY a message here: lets call it like it was." -- SN commenter 81WASIV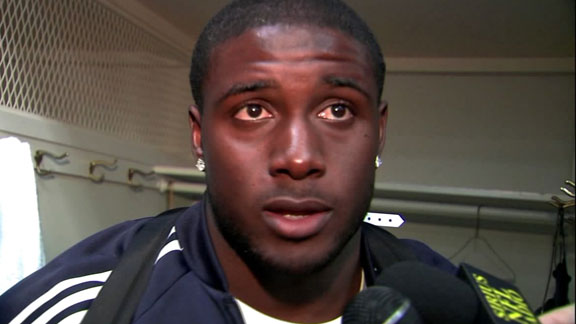 Will the New Orleans Saints ever wish they could vacate their 2006 first-round pick?
Giving back the Heisman Trophy he won by dominating college football for USC in the fall of 2005 almost assuredly wounded Reggie Bush's pride, but the leg injury he sustained in a Week 2 win against the 49ers is of slightly greater concern when it comes to his immediate future. Bush has a Super Bowl ring with the Saints and has produced highlights, but as recently as last week, only 20 percent of SportsNation considered him an NFL star.
Of course, take away the ring, and you could say the same of Jay Cutler and Vince Young, two other big names from the 2006 draft (or Matt Leinart, minus the highlights part). With Cutler off to a quick start for the Bears, is he the best bet of the hyped quartet to thrive?
SprungOnSports (Long Island)
What's the most important think you took from the big Bears win?
ESPN Chicago's Jeff Dickerson

That Martz can win games for this team. And Cutler played his best game ever...in my opinion. Full transcript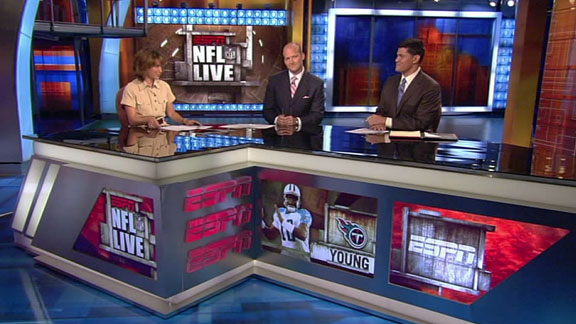 USC is looking at a lean few seasons, at the very least, as a result of Reggie Bush's time with the Trojans. Vince Young is worried about Roger Goodell handing him a suspension after the Titans quarterback was involved in an altercation in a strip club. And Matt Leinart is trying to fend off Derek Anderson for snaps in Arizona.
You want to try and convince us the 2006 Rose Bowl wasn't cursed?
What some called the greatest game ever played still looks like the high point in the careers of three of its biggest stars. Young made a Pro Bowl and played well last season, but this latest incident doesn't help his cause. Bush has a Super Bowl ring and his share of highlights, but he hasn't exactly been Barry Sanders. And Leinart has fewer than half as many career touchdown passes as J.P. Losman.
So while we await Goodell's reaction to Young's incident, what does the future hold for him?
William (Kenner)
Pat, I attended the recent Saints minicamp. I asked one of the Saints coaches (who I won't name), what will happen if Pierre Thomas continues to hold out. He said, certainly we want him back and believe he'll back. But either way, a healthy Bush is going to be the featured back and earn every cent of that $8 million. He also added that they felt Bush improved dramatically last season running the football. Your thoughts on Bush getting 15 carries a game? Could this be why they are playing hardball with Thomas?
NFC South blogger Pat Yasinskas
I thought Reggie looked faster than ever at minicamp. Someone close to him told me he's healthier than ever. Sounds like a formula for a big year, but I think Saints will be careful not to overuse him. If Pierre doesn't come back, they'll add another RB to the mix. Full transcript