SportsNation Blog Archives

David Price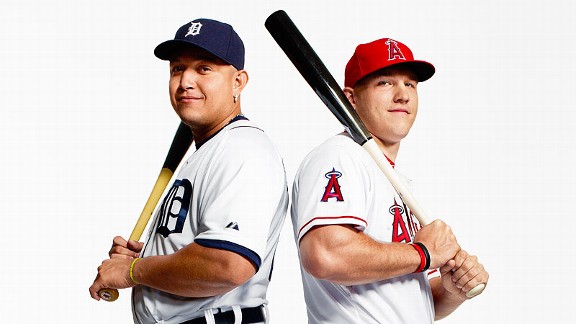 Chris Buck for ESPNMiguel Cabrera and Mike Trout battled it out for the AL MVP vote in 2012.
Voting for the 2013 ESPYS Awards is open, and today we're debating the best player in baseball from the past year. Miguel Cabrera pulled off the first Triple Crown in quite some time, but some stats have Mike Trout's 2012 season as far above Cabrera's. R.A. Dickey and David Price were nigh unhittable last season, and Buster Posey won NL MVP in the same year he added another World Series trophy to his case. Who gets your vote?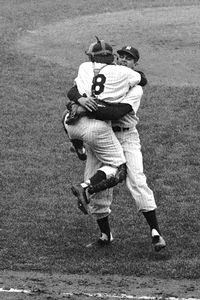 Now that we have a few days to catch our breath before the start of baseball's postseason (and thanks to the Padres for that), what are we to make of the teams still worrying about pitching rotations? Well, for the most part, SportsNation isn't exactly shocked by the playoff field.
Five of the eight active teams were ranked in SportsNation's top 10 on Opening Day, and the Giants were knocking on the door at No. 11. Only the Rangers (No. 16) and Reds (No. 23) really came out of nowhere.
But if either the Rangers or Reds are going to keep surprising, Cliff Lee and Edinson Volquez will likely need to break out their best Don Larsen impersonation. Lee rebounded from a weak August to dominate three of his final four starts, while Volquez missed the first half of the season but gets the first postseason start for the Reds after posting a 1.95 ERA in September. It's the time of year for aces to shine, but which teams have the best arms?
On Aug. 28, CC Sabathia gave up nine hits and five earned runs, including two home runs, in seven innings yet picked up a win against the White Sox. On Sept. 23, Felix Hernandez gave up two hits and one earned run in eight innings and took a loss against the Blue Jays. Who pitched better?
All right, it's a loaded question. Many people would point out Sabathia's start came with the Yankees locked in a tight AL East race and against a White Sox team still in contention at the time. Hernandez, on the other hand, was pitching in front of 12,000 fans wishing it was hockey season in Toronto. Others would answer that five is still five times as many as one.
Still others, namely David Price, would cough loudly and glance at the AL East standings and then at his own stat line ... and then back at the standings.
So a day after Sabathia, Hernandez and Price all won games, who should win the AL Cy Young? We posed the question in a number of ways, listing just the players, the players and their stats and just their stats. In all three cases, Sabathia got the nod.
M@ (Hattiesburg, MS)
As wide open as the AL CY Young race is, I haven't heard Jon Lester mentioned once, even though his numbers are better than C.C.'s. across the board, an equal to Felix. For instance, opponents hit .243 off CC, .213 against Felix and .214 against Lester. Did his flirtation with a no-hitter against the Yankees Saturday put him on the map, finally? Who would you give the CY to?
Joe Morgan (before Hernandez and Sabathia's wins Tuesday)
I think he's always been in the race in my mind. I like what Felix Hernandez has done, but he has won only 12 games. People say that he doesn't get support from his teamamtes, but guess what, every award is a team award. You can't win the MVP without your teammates. Do we look at an MVP candidate and say his team didn't give him a chance to drive in runs? The fact is that Felix has won 12 games and CC has won 20. It is harder to win in a championship environment in New York than in Felix's situation. Just look at AJ Burnett this year. Felix has done a good job this year, but he's not in the same difficulty level of pitching this year as CC. Full transcript
Scott (Boston, MA)
Whats your take on the AL CY Young race? Should it go to the guy with the best pitching stats (Felix Hernandez) or the guy with the most wins (CC) or the guy with the closest combination of both (Jon Lester)?
Nolan Ryan
That's a good question. I would also like to consider the impact that pitcher had on his team being competitive in a pennant race. I don't know who I'd pick. Full transcript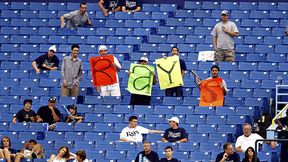 David Price does not make Alex Rodriguez-type money (at least not until the Yankees sign him in free agency down the road), but at just under $2 million for 2010, he does make a good living pitching for the Rays. And might we say, pitching well enough to be a factor in the Cy Young race and a reason the Rays will be in the postseason.
But after roughly 12,000 fans showed up for a potential clincher on Monday night (the Rays lost), Price tweeted that it was "embarrassing" to have a crowd like that for a game with that much potential meaning, a sentiment echoed by teammate Evan Longoria.
Price later apologized, but whether you think he needed to make amends or not, his comments clearly riled up some folks in SportsNation.
"I had to give up my eight lower-infield-seat season tickets because my business has tanked and would rather keep my 3 employees I have left on the payroll than pay for seats. I know baseball players don't read the paper that often and their busy schedules only have them watching ppv movies in their room instead of the news, but Tampa Bay unemployment is over 17%." -- gd10102
"Next year I will keep my embarrassing full season ticket money and spend that embarrassing disposable income on something where I don't get told I am embarrassing to the folks getting my money." -- lao149992
"I was a big supporter of St Pete building the stadium, and having watched a number of games there don't think the stadium is that bad or in such a terrible location. I do believe, however, that St Pete officials underestimated the fact that people from Tampa don't cross the bay bridges that often; without the larger population base across the bay, the team will never draw huge crowds." -- mshaw107
"I love Price, he's a great guy, but he shouldn't call out the fanbase like that. I've been supporting the team since they debuted and it makes me feel like crap to have to listen to that. They get paid millions of dollars to play baseball, they need to shut their mouths sometimes when the city they play in, the average person is barely making it/ or unemployed." -- raysfan1013
"I went to the game on Sunday and when they announced the lineup I almost puked. No CC, no Zobrist, no Joyce, no Pena, no big name at all. JoeMa had Aybar hitting 3rd and Rocco hitting cleanup. Sunday is always one of the best drawing days of the week for the Rays and Joe trots out a Durham Bulls lineup? I bet that keeps some people away too. You can't trust that if you go to a game you will see your favorite players." -- steve0skills
Glenn (Fresh Medows, NY)
What do you think about Longoria commenting on Ray's attendance about time, out of line or too late given the declaration that the Rays are not going to re-sign Crawford
Joe Morgan
It's easy for me, Longoria and other people to criticize the fans for not coming there, we all make a good living. But there are people out there that can't afford to go. The economy has taken its toll on people. If we don't realize that, then we are the problem, not them coming to the ball park. A lot of people can't afford the hundreds of dollars it takes to go to a game. Even though there are some stadiums half full, I will not criticize the fans for not going to the games. There are a lot of folks that just can't afford to go and have to spend that money on their families. It's not just baseball either. It's all of the major sports. Full transcript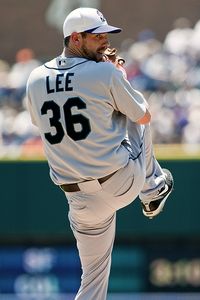 Cliff Lee hasn't had much difficulty polishing his Cy Young credentials against hitters in recent seasons. General managers, on the other hands, have mastered the art of keeping awards out of his hands.
Lee won the AL Cy Young in 2008 but any chance for a repeat in 2009 was derailed when the Indians traded him across leagues to the Phillies. Another offseason swap landed him back in the AL, but will a strong first half only serve to spark yet another trade? Or might Lee mount a Cy Young season from the depths of last place?
"If you guys think you're going to get him easily than you're kidding yourselves. This isn't Bill Bavasi running the team anymore, we are not giving up players like Choo and Cabrera for nobodies anymore. I would almost rather just keep Lee, get the two draft picks at the end of the year and watch Z do what he does best which is drafting great talent." -- SN commenter CGhereICome
Mike W (Chicago)
Lets start this off with Cliff Lee. What are the odds he goes to Cincinnati for a playoff push and what would it take to get him?
Jerry Crasnick
Mike, I find the Reds to be a very interesting stealth Cliff Lee candidate. There's something special going on with that team, Walt Jocketty has a history of making deals like this, and the owner, Bob Castellini, is a very motivated guy. But Edinson Volquez's comeback clearly complicates matters. I think they'd like to give Volquez another couple of weeks before they jump in with both feet on Lee. Full transcript.