SportsNation Blog Archives

Ottawa Senators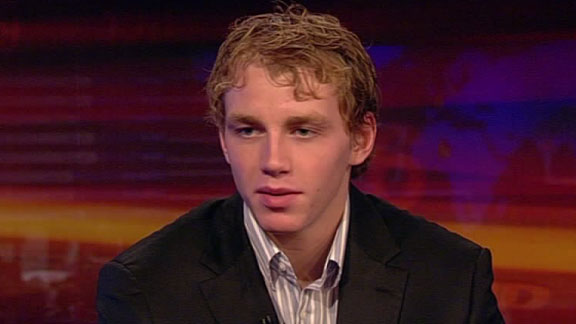 Believe it or not, the start of the NHL regular season is just about a week away. No, seriously, we're not kidding. We know the leaves haven't turned and summer doesn't actually end until today, but what the heck, it's been, what, at least three or four weeks since the Penguins won the Stanley Cup, right?
Then again, maybe that short offseason helps keep the NHL fresh in SportsNation's mind. A year ago, voters correctly predicted the Red Wings to win the Western Conference and made the Penguins their second choice, behind the Red Wings, to win it all.
Blackhawks star Patrick Kane and ESPN.com writer Scott Burnside stopped by chat Monday to help SportsNation get its ice legs before jetting off to Europe (Burnside to Stockholm for the Red Wings and Blues and Kane to Helsinki for the Blackhawks and Panthers).
Jason (Ellicott City, MD)
You are only rated an 86 in NHL. What is up with that?
Patrick Kane

I think an 86 is pretty good to be honest with you. I think the highest are Crosby and 94 and Ovechkin at 92. I thought I'd be better than Teows, but I am still on the cover. I got him by that. Full transcript
AJ (Champaign, Ill.)
How do the Blackhawks avoid a lull in their performance after they return from Finland?
Scott Burnside

AJ; Good question. The European experiment has been decidedly mixed in terms of how it affects teams. All four coaches who went last year got fired although the Pens did end up winning a Cup. I think the 'Hawks' youth and the nice steady hand of head coach Joel Quenneville will keep them from going off the rails when they get back from Finland. Full transcript
How big a move did the Blackhawks make in signing Marian Hossa? If Chicago lands the 2016 Olympics, Hossa will still have five more seasons to play for the team when the closing ceremonies wrap up in the Windy City.
After serving as a high-profile rental the last two seasons for the Penguins and Red Wings, Hossa is the proud, and wealthy, owner of a 12-year deal with a team on the rise. He's also the biggest impact player to change teams so far this summer, according to SportsNation voters.
But Hossa's deal was only one move on a busy day that also saw Marian Gaborik go to the Rangers, Nikolai Khabibulin go to the Oilers and Dany Heatley not go anywhere, despite the Senators working out a trade as he requested. No wonder SportsNation isn't sure it would want one of the game's most talented players.
"

No need to hate on Hossa. He left the Pens for a cup. Didn't work out for him. Now he's left for security and a steady pay check. Lets not beat the guy up too bad.

"

-- GoWings2008
"

Rangers shed themselves of one bloated contract, only to replace it with a bigger one. Gaborik has serious skills, no doubt, but his injury history would keep me from throwing that kind of money at him for 5 years. Typical Sather move, though.

"

-- rog247
"

Not quite sure what Edmonton is thinking not offering Roloson more than one year, and signing Khabibulan. Fans thinking he's going to be some kind of savior for the Oilers is kind of making me chuckle a bit. It doesn't help Edmonton. They have other glaring issues. Goaltending wasn't the problem.

"

-- kk1244
"

I'll say it again: Heatley deserves no slack. If a player requests a trade, he should automatically HAVE to waive any no-trade clause in his contract. The fact that Heatley can string up his team for a $4 million signing bonus and still get his way is ludicrous. But if Murray doesn't trade him, Heatley will just turn his petulant child act on the ice. A lose-lose situation for the Senators, and Heatley comes out of it grinning like a Cheshire cat.

"

-- jenniejenniewho
The NHL offseason lasts about as long as it takes the teams that played for the Stanley Cup to get home and do their laundry for training camp (although after eight months of hockey, it takes a few rinses), so we've got to move quickly. Free agency, Hall of Fame, NHL draft; let's show some hustle here, people.
The new Hockey Hall of Fame class includes Steve Yzerman, Luc Robitaille, Brian Leetch and Brett Hull. It doesn't include Alexander Mogilny or Dave Andreychuk.
Early results suggest SportsNation thinks Andreychuk will eventually find his way to Toronto, as will Mogilny, the high-scoring Russian who rocked on the NHL '94 on Sega.
Meanwhile, teams will soon be able to lure future Hall of Famers -- or Scott Gomez and Chris Drury, if you're the Rangers -- when free agency gets underway July 1.
"

If you induct Hull, you have to bring in his partner, Oates. Only appropriate that Hull and Oates get pulled into the HOF at the same time. Oates has just been caught by numbers the last couple of years. The only better passer in the NHL in the 90's was Gretzky.

"

-- jbwhite99
"

Leetch needs to be inducted in this class over Robataille or Andreychuk, if it comes to that. Leetch is truly one of the great defensemen of the past 30 years and should be an absolute lock as a first-ballot HOF'er.

"

-- pqshindelus