SportsNation Blog Archives

New York Islanders
It's just like the census, only this one is fun and doesn't come in the mail. And nobody from FOX News or MSNBC will yell at you about it. It's time for ESPN The Magazine's Ultimate Standings, in which SportsNation grades organizations on everything from ticket prices and stadium experience to the talent on the field, court or rink. Which team will end up on top this year? It depends on what you say.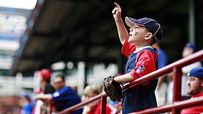 Take part in the 2010 MLB survey
2009 MLB Ultimate Standings
1. Los Angeles Angels (Overall: No. 1)
2. Milwaukee Brewers (Overall: No. 7)
3. Tampa Bay Rays (Overall: No. 16)
4. Minnesota Twins (Overall: No. 23)
5. Philadelphia Phillies (Overall: No. 24)
Take part in the 2010 NFL survey
2009 NFL Ultimate Standings
1. Pittsburgh Steelers (Overall: No. 3)
2. Green Bay Packers (Overall: No. 13)
3. Indianapolis Colts (Overall: No. 14)
4. Tennessee Titans (Overall: No. 15)
5. New England Patriots (Overall: No. 19)
Take part in the 2010 NBA survey
2009 NBA Ultimate Standings
1. Cleveland Cavaliers (Overall: No. 5)
2. San Antonio Spurs (Overall: No. 9)
3. New Orleans Hornets (Overall: No. 12)
4. Houston Rockets (Overall: No. 17)
5. Orlando Magic (Overall: No. 18)
Take part in the 2010 NHL survey
2009 NHL Ultimate Standings
1. Carolina Hurricanes (Overall: No. 2)
2. Detroit Red Wings (Overall: No. 4)
3. Washington Capitals (Overall: No. 6)
4. Pittsburgh Penguins (Overall: No. 8)
5. St. Louis Blues (Overall: No. 10)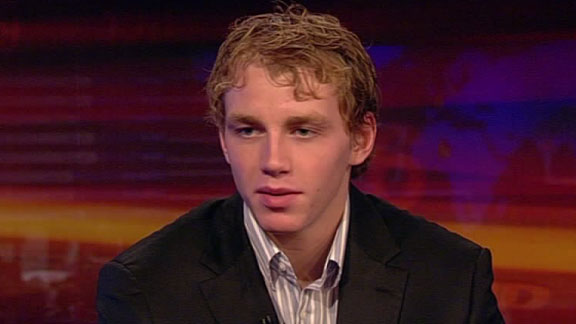 Believe it or not, the start of the NHL regular season is just about a week away. No, seriously, we're not kidding. We know the leaves haven't turned and summer doesn't actually end until today, but what the heck, it's been, what, at least three or four weeks since the Penguins won the Stanley Cup, right?
Then again, maybe that short offseason helps keep the NHL fresh in SportsNation's mind. A year ago, voters correctly predicted the Red Wings to win the Western Conference and made the Penguins their second choice, behind the Red Wings, to win it all.
Blackhawks star Patrick Kane and ESPN.com writer Scott Burnside stopped by chat Monday to help SportsNation get its ice legs before jetting off to Europe (Burnside to Stockholm for the Red Wings and Blues and Kane to Helsinki for the Blackhawks and Panthers).
Jason (Ellicott City, MD)
You are only rated an 86 in NHL. What is up with that?
Patrick Kane

I think an 86 is pretty good to be honest with you. I think the highest are Crosby and 94 and Ovechkin at 92. I thought I'd be better than Teows, but I am still on the cover. I got him by that. Full transcript
AJ (Champaign, Ill.)
How do the Blackhawks avoid a lull in their performance after they return from Finland?
Scott Burnside

AJ; Good question. The European experiment has been decidedly mixed in terms of how it affects teams. All four coaches who went last year got fired although the Pens did end up winning a Cup. I think the 'Hawks' youth and the nice steady hand of head coach Joel Quenneville will keep them from going off the rails when they get back from Finland. Full transcript