SportsNation Blog Archives

Philadelphia Flyers
---
Did someone want bonus hockey?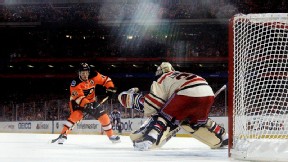 The Rangers won the Winter Classic after Henrik Lundqvist stopped a late Flyers penalty shot. John Tortorella, Rangers coach, called the officiating "disgusting," but did you see a conspiracy?

---
Winter Classic losing any luster?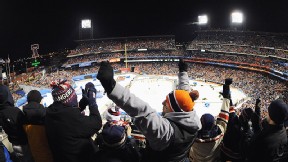 This was the NHL's fifth Winter Classic, not counting two Heritage Classic games in Canada over the years. Do you crave more outdoor hockey, or is the novelty fading?

---
Where should it go next?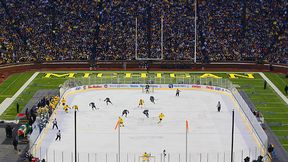 Sorry, Toronto, Montreal and every other place north of the border, we're following the NHL's lead and limiting the options to places like Michigan Stadium in the United States.

---
Were these the best in the East?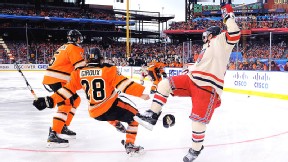 You can chime in with your complete NHL Power Rankings for this week here, but will the Eastern Conference title go through one of these teams?

Hockey has had two unfortunate incidents recently involving racist and homophobic behavior. The Flyers' Wayne Simmonds had a banana thrown at him during a game on Sunday, and now, he's being accused of calling Sean Avery a homophobic slur. Maple Leafs GM Brian Burke thinks the league should take action against Simmonds if he said what he's accused of saying, but what's your take?
Vote: Can sports be an instrument for social change?
"I wonder if the NHL is going to adopt a sensitivity training course for its players now. I know they want to have a clean image as the other sports are doing but why stop at just using one group? This is getting out of hand of what can or cannot be said anymore." -- SN commenter jaybird55395
---
A fine or suspension?
Wayne Simmonds said he was provoked by Sean Avery earlier in the game. He wouldn't be the first one to be riled by Avery's actions, but does that mean he should be free from punishment for his alleged slur?

We can understand if you don't want to take the time to grade your tech-support help on the other end of the telephone, but when we're talking about the dollars and emotion you've invested in sports, we think it's worth the effort. It's time for ESPN The Magazine's Ultimate Standings, in which SportsNation grades organizations on everything from ticket prices and stadium experience to the talent on the field, court or rink. Which team will end up on top this year? It depends on what you say.
Take part in the 2011 MLB survey
2010 MLB Ultimate Standings
1. Los Angeles Angels (Overall: No. 3)
2. Tampa Bay Rays (Overall: No. 6)
3. Colorado Rockies (Overall: No. 13)
4. Minnesota Twins (Overall: No. 14)
5. Atlanta Braves (Overall: No. 15)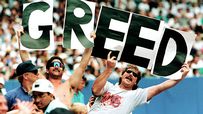 Take part in the 2011 NFL survey
2010 NFL Ultimate Standings
1. New Orleans Saints (Overall: No. 1)
2. Indianapolis Colts (Overall: No. 4)
3. Green Bay Packers (Overall: No. 9)
4. Arizona Cardinals (Overall: No. 19)
5. Baltimore Ravens (Overall: No. 20)
Take part in the 2011 NBA survey
2010 NBA Ultimate Standings
1. Orlando Magic (Overall: No. 2)
2. San Antonio Spurs (Overall: No. 7)
3. Cleveland Cavaliers (Overall: No. 10)
4. Dallas Mavericks (Overall: No. 24)
5. Oklahoma City Thunder (Overall: No. 25)
Take part in the 2011 NHL survey
2010 NHL Ultimate Standings
1. Pittsburgh Penguins (Overall: No. 5)
2. Detroit Red Wings (Overall: No. 8)
3. Washington Capitals (Overall: No. 11)
4. San Jose Sharks (Overall: No. 12)
5. Chicago Blackhawks (Overall: No. 16)
1. Which Philadelphia team is most likely to win a title?
These are good days in Philadelphia. You might even be to walk around in a Santa suit without taking snowball fire. And why not? The Phillies added Cliff Lee. The Eagles are flying high with Michael Vick. And the Flyers ended the Penguins' winning streak and claimed the NHL's best record in doing so. Best title bet? NHL Power Rankings
"'Flyers are incredibly deep on both at both fwd & D. Only issue was goaltending and well its been pretty solid so far." -- SN commenter gally155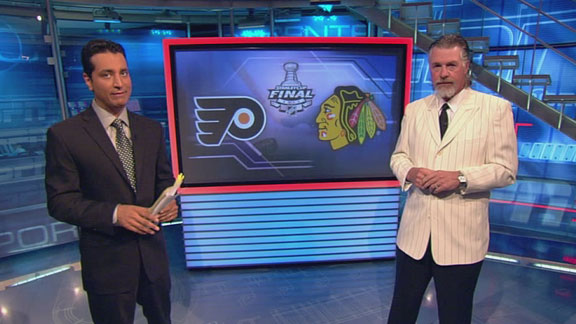 Anyone who resides in Chicago knows not to mess with goats. Or curses. And especially goats that might carry curses. Jonathan Toews may be only 22 years old, and he may be a Winnipeg native, but he clearly knows there is way too much negative sports history in the Windy City to start spitting (teeth) in karma's face.
After beating the Sharks in the Western Conference finals, Toews, who doubles as captain of the Blackhawks, wouldn't touch the Clarence Campbell Bowl, honoring a hockey superstition that players shouldn't touch any trophy that doesn't carry Lord Stanley's name. But after polishing off the Canadiens in the Eastern Conference finals, Flyers captain Mike Richards showed no such caution in snatching the Prince of Wales Trophy (which, by the way, the Duchess of York can get you a really good deal on).
The experts can talk about which team's defense is best or whether or not Michael Leighton can keep standing on his head in goal for the Flyers. We say go ahead and give Toews the Conn Smythe Trophy already. Just don't expect him to hold it.
bobby (miss)
who will have a better career towes or kane
Scott Burnside
bobby; That's sort of like the Betty and Veronica question (not that I'm comparing Patrick Kane to Betty. Or Veronica.) I think of Joe Sakic and Peter Forsberg in their prime in terms of two dynamic players who had distinct personalities and skill sets. Sakic and Toews are similar in terms of their leadership and all-around games while Kane may be the more dynamic and produce more points. If they can keep them both it's a pretty good debate for a team to have. Full transcript
TK (Chicago)
Is Toews the best player in the NHL right now? I get Crosby and Ovi are great offensive threats, but Toews can play 5on5, PP, PK, assist, score goals, block shots. There isn't anything he can't do where you can't say the same for Crosby and Ovi.
ESPN Chicago's Jesse Rogers
Tough one to answer. Sid can do all those things too. He and Ovi have more natural talent. If you lined them up, most GM's would take Sid, I believe, but Toews is rite there. What a stud to have as your captain and he's only 22. Full transcript