SportsNation Blog Archives

Houston Astros
It's finally happened: Alex Rodriguez's absurd salary has reached the level of parody. This season, A-Rod will be making more than an entire team, specifically the perennially awful Houston Astros. This reminds us of the time Babe Ruth was criticized for making more than President Herbert Hoover -- his response was that he "had a better year" than Hoover did. Rodriguez will likely miss most of this season, but given what the Astros' typical season looks like, we think he should probably go with Ruth's answer.
Brian Sannicandro: "Don't blame the Yankees. The entire system is broken and Bud Selig has done nothing to attempt to fix it. The $ buys nothing, otherwise they'd win the World Series every year. Still have to play the games."
Mark Pachankis: "Spending money doesn't guarantee a World Series championship, but NOT spending money guarantees you WON'T win a WS championship."
Michael Dye: "All this talk about the salary cap and no one seems to mention that last years WS winner were a team without a huge payroll. And the team before that couldn't afford to keep their best player after the season. I mean look at some of the teams that made the playoffs last year. Orioles, A's, Nationals, Reds, Giants. Those are all middle to lower market teams. "
Chris Heiselman: "The payroll luxury tax is a joke... it doesn't prevent teams from spending, which would in turn bring parity to baseball. Under the current system, the Yankees are able to be the gluttons of baseball, and the Astros are allowed to field a bad team to save money. Both teams, and especially Bud Selig, should be ashamed. Baseball has got to have a salary cap. Change this."
Doug Schnabel: "Baseball needs a salary "floor" in addition to a cap. A $25 million payroll for a MLB team is a joke, even if Houston is rebuilding."
Julie Wechter Beddow: "Payrolls under $50 million is just a slap in the face to their fan base. All teams make more then that from the private and shared TV contracts. Teams like the Marlins and Astros just field cheap teams to pocket the extra money."
Join the conversation or respond by signing in or creating a profile and blogging.
September 11, 2012
Sep
11
On Tuesday, "First Take" discussed Roger Clemens' desire to come back to pitch for the Astros, preferably against a team in playoff contention. Hugh Douglas thinks Clemens wants to pitch in order to stop his Hall of Fame clock, in order to prevent steroid accusations from derailing his path to Cooperstown. Stephen A. Smith barely wants to talk about the whole thing, but Skip Bayless applauds Clemens for wanting to play baseball at a high level again. What's your take?
Opening Day -- well, Opening Night, really, and we technically already had one of those in Japan, but who's counting? -- is finally here, as the Cardinals will take on the Marlins tonight in the first stateside regular-season MLB game. It's bound to be an exciting season with so many players having changed teams, but has the power structure been altered significantly?
Vote: Pick each division and pennant, and the winner of the World Series
Rank: Baseball's best teams? | Top players in the game?
---
World Series repeat?
The Cardinals prevailed over the Rangers in the 2011 World Series, but St. Louis lost its biggest gun this past offseason ...

---
Best player?
... which is a pretty big loss, considering he might be one of the best players of all time.

---
Odd one out?
The Red Sox missed the playoffs last season after an epic September collapse. Will they be on the outside looking in once again?

---
AL's best?
Prince Fielder and Albert Pujols were probably the two biggest additions to teams in the American League, meaning the balance of power could shift.

---
NL's best?
Likewise, the addition of Jose Reyes to the Marlins could give the team a huge upgrade -- offensively with new third baseman Hanley Ramirez, and defensively at shortstop.

The sale of just about any franchise is usually a hugely impactful event, but in the case of the Astros, it might have an effect far beyond Houston. MLB has reportedly required prospective owner Jim Crane to move the team to the AL West as part of his purchase deal. The move would even the number of teams in each league at 15 apiece, which would necessitate daily interleague play. Fans have generally reacted positively to occasional interleague matchups, but would the concept work as the rule rather than the exception?
"As a Cub fan it will be nice to have an even division, however it will be sad to see Houston go instead of Milwaukee who should have never been there anyway." -- SN commenter brad0392
"I really hate this. The Astros have been a NL team for 50 years!! I don't care about them being in the western division so long as it's in the NATIONAL LEAGUE. That's where they started." -- SN commenter Jonesy713
---
Change of scenery?
The Astros haven't been able to make much of a dent in the NL Central over the past few years. Might a change of scenery do them good?

---
Best fit?
The Cardinals and Brewers obviously are staying put, as they made the playoffs last season, but would the AL West benefit more from the Cubs or Pirates rather than the Astros?

With the trade deadline come and gone, the Houston Astros aren't likely to pop up in the news again until Jeff Bagwell's Hall of Fame fate is decided this winter. But is Bagwell evidence of why fans of a team that is 35-73 should be optimistic? Bagwell, of course, arrived in Houston as a prospect in a deadline deal, like those the Astros acquired for Michael Bourn, Jeff Keppinger and Hunter Pence. Rank 'Em: Deadline winners and losers?
"So the Astros are losers because they traded away two mediocre players, who, although nice, you can't build a competitive team around? Especially not with a farm system like theirs. They went from the worst team in baseball AND the second worst system to the worst team in baseball and a very respectable system that might still lack absolute star power but at least shows some depth." -- SN commenter so ebbes
---
Good day to be an Astros fan?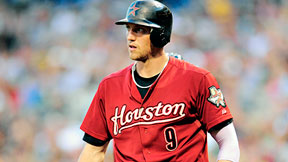 There may be more excitement in Oklahoma City and Corpus Christi, where two of the Astros' affiliates play, but should fans of the worst team in baseball be encouraged by trading the likes of Hunter Pence for prospects?