SportsNation Blog Archives

Roger Federer
Rafael Nadal won his seventh French Open after defeating Novak Djokovic. Is he the best active men's player?
lamsterca: "Nadal was so close in beating Djokovic earlier this year in AO final. So, why wouldn't anyone be shocking that Nadal beat Djokovic on his best surface? I'm actually surprised that Nadal lost a set in the final. I thought he would've won without even losing a set. Up until his final on Sunday, Nadal didn't even face a set point."
tericed1982: "Nadal is playing in a weak clay court era that is why he won so many trophies. Without Racket Technology, he will be nothing more than an average player"
majella77: "But Rafa's comments are illuminating as they are gracious. He called Djoker the best player in the world, and there's little argument to be made. Was hoping for a Djokovic win to keep alive the possible 'Golden Slam'."
SofaKing339843934: "Don't kid yourselves Roger fans, Federer is not winning another major unless both Nadal and Novak are injured at the same time"
sfgenesis: "Federer still can beat those guys in best of 3 indoors... he crushes them. But all the outdoor courts are slow... he doesn't stand a chance in a best of 5 when u must beat one of friday then the other on sunday."
read-this: "Nadal is really pretty unbelievable. In a few years I think we'll have said we've possibly seen the best two players in tennis history come before our eyes in the past decade or so....federer and nadal."

Join the conversation or respond by signing in or creating a profile and blogging.
Last year marked the first time since 2003 that Roger Federer wasn't a part of the final match at the U.S. Open. Was that the beginning of a trend, or a one-year break from normalcy? With Novak Djokovic and Rafael Nadal both nursing ailments, could the last chance be the best chance for Federer to continue his streak of years with at least one Grand Slam win? SN: Rank men's contenders
---
Will Novak Djokovic shrug off shoulder?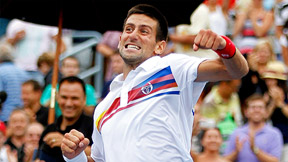 Novak Djokovic has lost just twice this season, but one came when he retired in the final in Cincinnati in his last Open tuneup, citing a right shoulder injury.

---
Roger Federer or Andy Murray?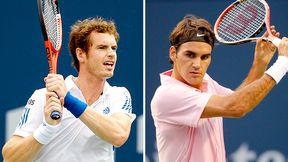 Roger Federer recently turned 30, and tennis players rarely win Slams past that point. Then again, at least in recent times, neither do Brits like Andy Murray, who is still looking for a first Slam.

---
What about Andy Roddick?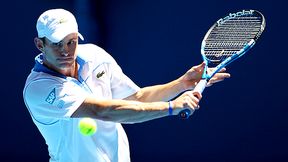 Djokovic is ailing, Rafael Nadal has blisters on his feet and burned fingers, and Federer is old. Do we hear a door opening for No. 21 Andy Roddick?

---
What's the perfect match?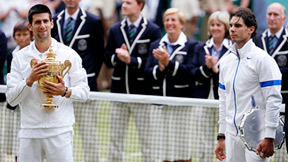 Djokovic is ranked No. 1, won the Australian Open and Wimbledon and has generally owned 2011. But is he the player you want to see in a marquee match?

Most of us can only dream of hitting a forehand like Roger Federer or backhanding a hard grounder like Carlos Guillen. So when they start adding degrees of difficulty that would make a Russian judge blush, consider us more than a little interested -- and jealous.
Federer eased past somebody named Brian Dabul in the first round of the U.S. Open on Monday, but it was a between-the-legs winner down the line that had the crowd in New York on its feet for a sustained standing ovation.
But is the shot Federer pulled off cooler than the behind-the-back flip to start a double play, as demonstrated here by Guillen in a recent Tigers game?
Meanwhile, there's just no pleasing some people. Circus shot or no circus shot, one SportsNation commenter had little good to say about Federer's performance.
"As a Fed fan, I wasn't too highly impressed. He played very aggressively and did quite well, don't get me wrong. But somewhere in the second set he seemed to let go of the throttle and allowed Dabul to play a few more games than he should have. His break point conversion should have been better, and I just feel he could have put Dabul away earlier. He hit some sloppy errors at times, not that many but they were still there. And I did not at all like the way he had about 3-4 stumbles throughout the match. His return of serve also could have been a bit better. All in all he played a pretty well to beat a clearly overmatched player." -- SN commenter NorseKatz
Roger Federer may be the greatest tennis player of all time, but is time running out on his greatness in the present tense? The No. 1 seed was eliminated in the quarterfinals at Wimbledon on Wednesday, marking the first time since 2002 that the Swiss master won't be in the final. Federer still has a Grand Slam win this year at the Australian Open, and it's not as if falling in the quarterfinals is an embarrassment that would get you suspended for two years by Nigerian president Goodluck Jonathan. But this is Federer we're talking about, and his postmatch injury hints notwithstanding, he's held to a certain standard.
Then again, at least one resident of SportsNation thinks the answer may have less to do with Federer slowing down than something else slowing down.
"This is not the same Wimbledon surface that Sampras played on. It is clearly much slower. I seriously doubt that Pete could have won as consistently on this grass surface. Same with the current Australian hard court. It is now slower than it was even 2 years ago." -- SN commenter azkaban822
Mark Zabierek (Heinz Field Parking Lot C)
At least Venus didn't claim injury in her press conference like Roger did. Was there a reason to mention the back and leg?
Greg Garber
Great point, Catrice (do people call you Cat?): There was a lot of eye-rolling when Fed dropped the injury card in his press conference. Felt like a rationalization/excuse to me. As Berdych and other have said, everyone's hurting at this point in the tournament. Full transcript
"

Roger needs to get his head in the game. Honestly I think Nadal has effected Rogers play. Roger was thinking about being in the Finals not getting to the finals. Rogers coach needs to chew him out and get him serious again. All sports are 90% mental.

"

-- Travis-Deal
"

I have great admiration for what Fed has accomplished, but Laver will always be the GOAT. Can you imagine what he would have done if he had not "lost" those 5 years as a pro?

"

-- happyincinci
It's tough to find a place to dive in after a weekend like we just watched. We'll get to the good (Mark Sanchez), the bad (Jay Cutler) and the ugly (still Jay Cutler) of the gridiron eventually, but when arguably the greatest tennis player of all time says he hit the greatest single shot of his career, well, you've got our attention, Mr. Federer.
Federer not only went between the legs for his winner against Novak Djokovic, he did it to earn match point in a contest that was closer -- and way more entertaining, thanks to Djokovic's antics -- than straight sets indicate.
The catch is the shot of Federer's career and a strong candidate for play of the year in sports might not have even been the best play of Sunday afternoon. Not with Brandon Stokley pulling in the miracle tip against the Bengals and pulling out an old video-game move by running across the field at the one-yard line to kill time.
"

Dear Lord! Wow. I loved this match and the way Roger Federer ended the match to win the match point was perfect. It was spectacular and awesome; and I also agree that it was unbelievable. What a way to end a match.

"

-- lakersyankeesgirl
"

guess that is how Orton throws the deep ball. Like hitting it off the cart path on your drive.

"

-- devilfishin