SportsNation Blog Archives

Vancouver Canucks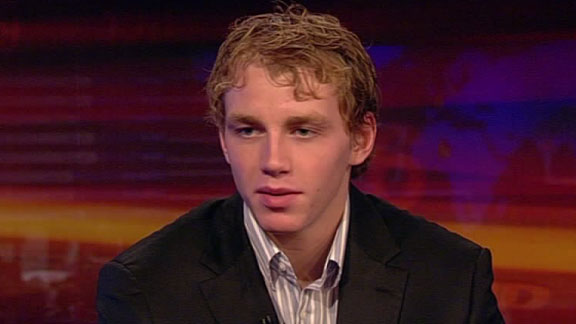 Believe it or not, the start of the NHL regular season is just about a week away. No, seriously, we're not kidding. We know the leaves haven't turned and summer doesn't actually end until today, but what the heck, it's been, what, at least three or four weeks since the Penguins won the Stanley Cup, right?
Then again, maybe that short offseason helps keep the NHL fresh in SportsNation's mind. A year ago, voters correctly predicted the Red Wings to win the Western Conference and made the Penguins their second choice, behind the Red Wings, to win it all.
Blackhawks star Patrick Kane and ESPN.com writer Scott Burnside stopped by chat Monday to help SportsNation get its ice legs before jetting off to Europe (Burnside to Stockholm for the Red Wings and Blues and Kane to Helsinki for the Blackhawks and Panthers).
Jason (Ellicott City, MD)
You are only rated an 86 in NHL. What is up with that?
Patrick Kane

I think an 86 is pretty good to be honest with you. I think the highest are Crosby and 94 and Ovechkin at 92. I thought I'd be better than Teows, but I am still on the cover. I got him by that. Full transcript
AJ (Champaign, Ill.)
How do the Blackhawks avoid a lull in their performance after they return from Finland?
Scott Burnside

AJ; Good question. The European experiment has been decidedly mixed in terms of how it affects teams. All four coaches who went last year got fired although the Pens did end up winning a Cup. I think the 'Hawks' youth and the nice steady hand of head coach Joel Quenneville will keep them from going off the rails when they get back from Finland. Full transcript
Like watching a shark documentary on the eve of an island vacation, the Rangers and Canadiens offered the rest of the NHL a sober reminder of the perils of free agency on the eve of this summer's spending season.
A year ago, SportsNation voters pegged Scott Gomez as the fifth-best forward in the Atlantic. But after another disappointing statistical season from the former free-agent prize, only 25 percent of voters think he'll be worth the $33.5 million remaining on his contract to the Canadiens, who traded for him this week.
Perhaps that's why the 'Nation is split on whether his old team or new team will fare better next season (although the Alaskan seems to have some pull in his home state).
"

Vancouver is quickly building a team that could contend for the cup in the next 2-3 years. With the US to Canada Dollar spread starting to move toward Canada, they will be able to sign many free agents and build around the twins. Vancouver is a beautiful and growing city that will get a lot of publicity in February with the Winter Olympics. Looks like management is getting ready to capitalize on the window of opportunity.

"

-- tcco007
"

Gomez has never been the same since he broke his pelvis during the lockout playing in Alaska. Class guy with lots of playmaking ability but one of his biggest weapons with the Devils was his speed which he has all but lost. He's an asset to any team, but not the "impact" player he used to be.

"

-- giggums
The NHL offseason lasts about as long as it takes the teams that played for the Stanley Cup to get home and do their laundry for training camp (although after eight months of hockey, it takes a few rinses), so we've got to move quickly. Free agency, Hall of Fame, NHL draft; let's show some hustle here, people.
The new Hockey Hall of Fame class includes Steve Yzerman, Luc Robitaille, Brian Leetch and Brett Hull. It doesn't include Alexander Mogilny or Dave Andreychuk.
Early results suggest SportsNation thinks Andreychuk will eventually find his way to Toronto, as will Mogilny, the high-scoring Russian who rocked on the NHL '94 on Sega.
Meanwhile, teams will soon be able to lure future Hall of Famers -- or Scott Gomez and Chris Drury, if you're the Rangers -- when free agency gets underway July 1.
"

If you induct Hull, you have to bring in his partner, Oates. Only appropriate that Hull and Oates get pulled into the HOF at the same time. Oates has just been caught by numbers the last couple of years. The only better passer in the NHL in the 90's was Gretzky.

"

-- jbwhite99
"

Leetch needs to be inducted in this class over Robataille or Andreychuk, if it comes to that. Leetch is truly one of the great defensemen of the past 30 years and should be an absolute lock as a first-ballot HOF'er.

"

-- pqshindelus