SportsNation Blog Archives

Dwyane Wade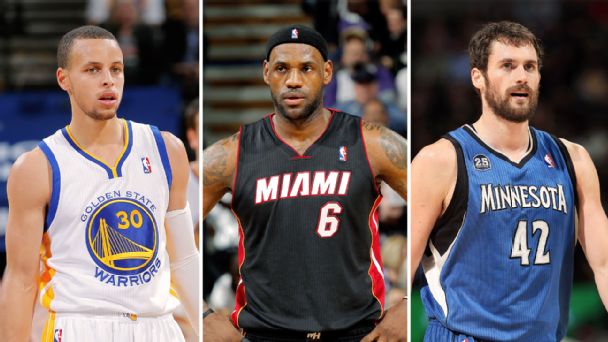 Getty Images
Love, Curry, Kobe All-Star starters
It will be a contest for the young -- and, in a couple of cases, the old -- when the 2014 All-Star Game tips off in New Orleans on Feb. 16. Or it could be, if everyone is healthy by then. The starters have been unveiled, with four first-time starters -- the Western Conference's Stephen Curry and Kevin Love and the Eastern Conference's Paul George and Kyrie Irving -- joining regulars such as LeBron James, Dwyane Wade, Carmelo Anthony, Kevin Durant and, yes, Kobe Bryant. (Blake Griffin was the other.) Wade and, especially, Bryant earned votes despite fighting through injuries this season. Who didn't deserve the call? Who did but must wait until next Thursday, when the reserves are announced? Cast your votes below!
Issac Baldizon/Getty Images

LeBron James' uncertain future?

All LeBron James wanted to do was to wish Dwyane Wade a happy birthday, but because everything LeBron does is subject to scrutiny normally reserved for graduate dissertations, we're talking about whether he'll stick around next year. LeBron's message to Wade was pretty standard for a birthday card, save for the last sentence, where LeBron said, "No matter what happens in the future we stuck together like brothers for life." That reference to the future has many wondering whether LeBron is setting the stage for an exit from Miami this offseason, perhaps to return to Cleveland or try his luck in Los Angeles. Or, he could be merely referencing the folly of trying to predict the future. We'd believe either explanation, to be totally honest.

Should Heat fans be worried?

Don't get us wrong: Indiana Pacers versus Miami Heat still seems an inevitable Eastern Conference finals matchup. Still, the latter -- you know, the team that has won two straight NBA championships -- doesn't look so hot these days. After back-to-back losses to the Knicks and Nets, Miami was outscored 43-18 in the first quarter Wednesday at the Washington Wizards en route to a 114-97 defeat. And you can't blame injuries; the Big Three played, with Chris Bosh (26 points) leading the way, followed by LeBron James (25). But Dwyane Wade (eight points on 11 shots, no free throw attempts) and Ray Allen (scoreless) both struggled, and Greg Oden's return (six points in eight minutes) seemed the most potentially positive development on the night. Is it time to panic in South Florida?